Liverpool shines on Light Night 2013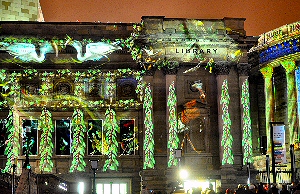 FRIDAY, 17 May 2013, might have been a bit cold and damp, but the City was extremely active as it was illuminated for Light
Night 2013, (the 4th instalment of the annual festival), with over 130 special events celebrating what the City's world-class culture has to offer.

Visitors enjoyed 5 dazzling light projections, street theatre, the public reopening of Liverpool Central Library and the launch of LOOK/13 Liverpool International Photography Festival amidst scores of parades, workshops, performances, open studios and more.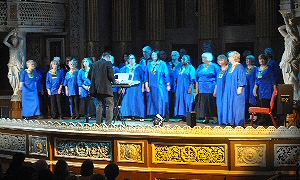 A wedding proposal was accepted at the top of the Anglican Cathedral during the festival, and Liverpool Central Library received over 15,000 visitors.

This year event was the biggest programme ever, making it the largest of the UK wide, Museums at Night initiative.

Charlotte Corrie of Open Culture, co-ordinators of Light Night said:- "It's been the most popular Light Night yet! The success of Light Night is down to the tremendous contribution of all the arts organisations and creatives that have taken part this year, offering a real showcase of the year-round offer. The public response has been excellent, and we're so happy to see the festival going from strength to strength each year. Everyone is invited to the next one on Friday 16th May 2014."

Make sure you don't miss next year's Light Night in Liverpool; sign up to the mailing list now at:- lightnightliverpool.co.uk.
To see our photographic coverage please click on here now.

Email our newsroom to:- news24@southportreporter.com with your views on this event and let us know what you though about it...

KEEP up-2-d

ate




with our free daily news emails.



Are you subscribed? Si

g

n

u

p

today

to

our daily email news service via... Formb

y

-

Re

p

orter

.com



If you subscribed you can keep in up-to-date with what's going on in and around Merseyside. It is free and we do not send out massive amounts of emails. Also your email is kept under the UK's Data Protection Act, so you can be sure that you will not have problems.
...HAPPY BIRTHDAY...
If you have someone you want to say happy birthday to, for free, then use the email address below to send us the names you want us say happy birthday to, and/or a photograph. Email us today!