NORTHERN RAIL TRIUMPHS AGAIN AT HEALTH AND SAFETY AWARDS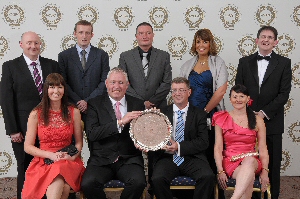 NORTHERN Rail, the UK's largest rail operator, has yet again had its outstanding commitment to health and safety commended at this year's RoSPA Occupational Health and Safety Awards.

Winning the 'Transport, Storage and Distribution Industry Sector Award' for the fifth year in a row, Northern's Safety and Assurance Director, Gary Stewart, commented:- "Once again our dedication to the health and safety of our customers and employees has been rewarded and we are delighted to take this award for the fifth consecutive year."

The RoSPA Occupational Health and Safety Awards scheme is the largest and longest-running programme of its kind in the UK
and recognises commitment to accident and ill health prevention. It not only looks at accident records, but also entrants' overarching health and safety management systems, including important practices such as strong leadership and workforce involvement.

David Rawlins, awards manager at RoSPA, said:- "RoSPA firmly believes that organisations that demonstrate commitment to continuous improvement in accident and ill health prevention deserve recognition. Northern Rail has shown that it is committed to striving for such continuous improvement and we are delighted to honour it through the presentation of an award."
MAN ARRESTED FOR POSSESSION OF AN AIR RIFLE IN PUBLIC
MERSEYSIDE Police have confirmed that a man has been arrested for possessing an air weapon in Southport on 24 May 2013. The 28 year old local man was arrested shortly after 9am by officers responding to reports that a man had been seen in Hesketh Drive armed with a weapon. Following his arrest, a search of nearby gardens in Hilbre Drive led to the recovery of an air rifle. There is no information to suggest the weapon has been fired or any reports that anyone has been threatened with it. The man was placed into Police Custody and later questioned about the incident.

Your Transport, Your Say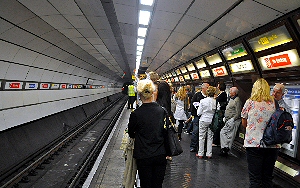 TAKE note, as Mersey travel are bringing Mobile Transport Surgeries to a place near you!!!

► Do you have a question about public transport?

► Can we help you access buses and trains in Merseyside?

► Do you want to find out more about walking and cycling in your area?

► Want to learn more?

From Monday, 3 June to Friday, 7 June 2013, Merseytravel will be hosting mobile transport surgeries on board a special bus travelling across Merseyside, with representatives from Merseytravel and bus and train operators on board to answer public transport queries.

The mobile surgeries are free to attend and there is no need to book an appointment:-

Liverpool - Monday, 3 June 2013
10am to 11am
Asda Walton, Utting Avenue, Walton, L4 9XU
12pm to 1pm
Tesco Old Swan, St Oswald's Street, Old Swan, L13 2BY
Sefton - Tuesday 4 June 2013
10am to 11am
Asda Aintree, Ormskirk Road, Aintree L10 3LN
12pm to 1pm
Bootle Bus Station, Washington Parade, Bootle, L20 4RE
Wirral - Wednesday 5 June 2013
11am to 12pm
Heswall Bus Station, Telegraph Road, CH60 0AL
1pm to 2pm
Asda Bromborough, Welton Road, Croft Business Park, Bromborough, CH62 3QP
Knowsley - Thursday, 6 June 2013
11pm to 12pm
Tesco Prescot, Cables Retail Park, Steley Way, Prescot, L34 5NQ
1pm to 2pm
Halewood Bus Station, Hilingden Road, Halewood, L26 9TY
St Helens - Friday, 7 June 2013
10am to 5pm
Church Square, St Helens, WA10 1AD