BURGLARY WARNING FOR FORMBY, BIRKDALE AND AINSDALE RESIDENTS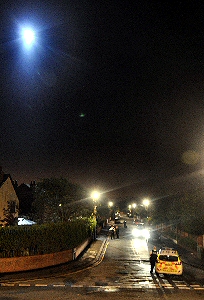 MERSEYSIDE Police are reminding residents to always lock their homes and vehicles properly at night after several burglaries and thefts.

A taxi driver had his taking stolen after he left it unlocked on his parent's driveway in Birkdale overnight. Also a tradesman had his van stolen, along with his wife's handbag and purse, after a side door to the family home in Hillside was left insecure.

Local police are investigating the crimes and neighbourhood inspector Nigel Stewart called on people to take more time to secure their property and deter thieves.

He said:- "Burglars are opportunistic so it is vital that we all do everything we can to stop them in their tracks. In recent incidents, people have left front doors or patio doors unlocked while they were elsewhere in the house, or their vehicles unlocked overnight when they went to bed. This, unfortunately, has enabled offenders to get inside and steal their hard-earned belongings. One poor man has had his days takings stolen from his cab, another has had his work van stolen, and people have had handbags, cash, coats and mobiles also taken. It is an easy thing to forget but so important to do, especially during the lighter nights and warmer weather. It doesn't take long to double-check you've locked up your house or car properly and it could save you the hours of stress and upset that come with being burgled."

Simple steps to deter burglars and car thieves, include:-

► Lock front and back doors when you are elsewhere in the house or in your back garden.

► Make sure you lock UPVC doors properly by lifting the handle and turning the key.

► Make use of your burglar alarm when you are going out or to bed at night.

► Keep valuables such as laptops, phones and handbags out of sight and away from windows where someone peering in can spot them.

► Don't leave valuables on display in your vehicle - take them with you or, if you can't, at least put them out of sight in the boot.

► Always lock your vehicle, even if only leaving it unattended for a few moments, and activate the alarm.
SOUTHPORT GOLFER SHOWS WHO'S BOSS WITH A HOLE-IN-ONE AT HESKETH
A Southport golfer has received a limited edition BOSS watch after scoring a hole-in-one during a recent competition at his club. Malcolm Dean, 52, scored his ace on the 183 yard, par-three fourth, in the Saturday competition at his club, Hesketh Artisans, and the 17 handicapper was rewarded with membership of the exclusive BOSS Watches H1 Club and a specially commissioned, commemorative timepiece. The luxury German brand has pledged to reward club golfers with an exclusive watch for every hole-in-one recorded during a club competition between 15 April and 31 October 2013, with nearly 4,000 holes-in-one recorded annually, BOSS Watches could feasibly be giving away £1m worth in 2013. The scheme is open to any golfer whose club uses HowDidiDo - a free to use, web-based social network for golfers; and anybody playing in official club competitions will be eligible. Currently, more than 1,800 clubs use the website. Stephen Brydon, commercial director for MGS Distribution, the official licensed UK distributor for BOSS Watches, said:- "Congratulations to Malcolm on what, to most of us, is a once in a lifetime achievement. To the majority of amateur golfers, recording a hole-in-one will be the most memorable thing they achieve in golf; yet all many have to show for it is a dent in their bank balance after buying a round of drinks in the clubhouse. We aim to make it a lot more memorable for them by presenting them with an exclusive BOSS watch, only available to golfers who record a hole-in-one, so they are truly exclusive and will provide a constant reminder of the sight of their ball popping into the hole and the emotions attached to that very moment. It also adds a frisson of extra excitement to club competitions for golfers who may not be in with a chance of winning the event, for they know that every time they stand on the tee on a par-three, they are just one shot away from winning a stunning timepiece."

Mayor slams waste contract decision
THE Mayor of Liverpool Joe Anderson has hit out at the decision by the Merseyside Recycling and Waste Authority to award a £1 billion plus contract to a company based in Teeside.

The "Energy from Waste" contract for disposing Merseyside waste was awarded to SITA UK Limited working in partnership with energy and utilities giant Sembcorp UK and investment firm I-Environment (part of a Japanese Corporation).

The contract is worth over £1 billion and will last for 30 years. It is expected to create hundreds of jobs during the construction of the new facility at the Wilton International site in Teeside. A further 50 permanent jobs will be created at the Teeside site once the plant is operational.

The Mayor said:- "I feel the City and the wider City Region has had a massive opportunity for major infrastructure investment snatched from its grasp and hundreds of potential jobs which we desperately need have gone to the North East. I want to understand why the City Region leaders have not been involved in such a huge decision and why I, as the Mayor of Liverpool, with Liverpool contributing more to the Merseyside Recycling and Waste Authority than any other authority, had to read about the decision in a press release after the decision was made. I also want to understand how it can be more environmentally friendly and more cost effective to ship the waste of Merseyside all the way to Teeside some 150 miles away rather than dispose of our own waste locally. Although local authorities on Merseyside didn't want the facility on their patch a bid was put in to have it in Ellesmere Port, which would have allowed people living in the City Region to apply for the jobs created"
Action Fund launched to help Lancashire's communities
COMMUNITY groups are being offered the chance to get their hands on a share of £50,000 thanks to Lancashire's Police and Crime Commissioner.

Clive Grunshaw is launching his Commissioner's Community Action Fund in a bid to help those projects up and down Lancashire which need a cash boost to help their vital community work.

The aim of the fund is to help make the county's communities a safer and better place to live, and it will be available to organisations whose work helps achieve that and addresses the key priorities in the Commissioner's Police and Crime Plan.

Clive Grunshaw said:- "I am delighted to be launching my Community Action Fund. I am committed to working with local residents and community groups to support them in making where they live a safer and better place; whether that is through a project to reduce anti-social behaviour, tackle re-offending or help the elderly community feel safer. The fund will offer small grants to help groups tackle local concerns and deliver my priorities in their area. It is about helping local people, who understand the needs of their community, secure the funding they need to implement local solutions. I know Lancashire's residents are full of innovative ideas and are determined to make sure their communities are the best they can be, and I look forward to finding out more about the projects I can help."

The Commissioner will be looking for applications to address key areas of his Police and Crime Plan; including protecting vulnerable people, tackling crime, anti-social behaviour and reoffending; as well as show they are innovative, will make a difference and include as many sections of the community as possible.

Lancashire Partnership Against Crime (LANPAC) will administer the fund on the Commissioner's behalf, and vice-chairman David Smith said:- "We are delighted to be able to support the establishment of the Commissioner's fund. LANPAC's aims and objectives are about making Lancashire's communities safer, which fits very neatly with what the Commissioner and his staff are seeking to achieve."

The fund will be open to all Lancashire-based groups and organisations with a constitution, and it is hoped it will make a real difference to communities. Terry Hephrun, Chairman of the Safer Future Communities Network and chief officer at Burnley Council for Voluntary Services (CVS), said:- "It's been proven over a number of years that small amounts of money given to local groups can tackle an awful lot and improve local communities. I'm delighted to hear the Police and Crime Commissioner is making £50,000 available for the county."

And Michael Wedgeworth, Chairman of Third Sector Lancashire, said:- "We organised a hustings during the PCC elections and each of the candidates gave us an undertaking they would work with the community. Therefore we are delighted to see the elected Police and Crime Commissioner has taken an early step to ensure community organisations of all sorts can bid for this absolutely essential funding."