The sky's the limit for Rhys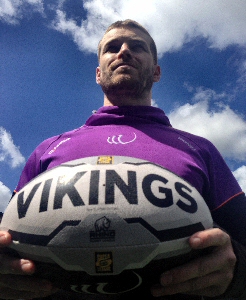 WIDENES Vikings' player retention policy continues to gather momentum and the club are now pleased to announce that Rhys Hanbury has become the latest player to sign an extended contract.

The 27 year old has put pen to paper on a deal that will see him pulling on Vikings colours until the end of the 2016 season.

Wollongong-born Rhys played his junior rugby with Illawarra Wests before beginning his senior career with South Sydney Rabbitohs, making his debut aged 18 in 2004, before moving on to Wests Tigers in 2008.

Equally at home at full back or half back, Rhys had made 21 NRL appearances before linking up with the Crusaders in 2010 where he was joint top try scorer in his 1st season.

Since his arrival at the Vikings ahead of the 2012 Super League campaign, Hanbury has been a consistent and often inspirational performer, and the man himself says he is delighted to commit his long-term future to the team, commenting:- "It's good to get my future settled. It was an easy decision to stay at the club and in the Super League competition, but returning home was definitely another big option for me and my partner. When I first arrived in this country, the original plan was to just give it a go for a couple of seasons at most, but we've been over here for four years now, which is a long time to be away from our family and friends. Having said that; we're still enjoying ourselves and we're confident that we've made the right choice."

Following Widnes' return to the top flight in 2012, Rhys has been a dominant force and a huge attacking threat in a team that has had to find its feet quickly and hit the ground running amongst the game's elite. It's an evolution that Hanbury is thrilled to be a part of, as he explains:- "The building work that has been done at the club is there for all to see and even though we're only half-way through the current season, we've already proven ourselves as a much stronger team than last year. Individually, before I picked up the hamstring injury, I reckon that I was probably playing some of the best footy of my life. Obviously I'm keen to build on that and not go backwards. The fans at Widnes have been great with me from day one. As a team, we go out there each week to get them the wins they deserve, and as we continue to grow, hopefully our crowds will do the same."

Sponsored by Red Elec for the 2013 Super League season, back in April, Hanbury was named in Brian McClennan's initial 27 -man Exiles squad for their forthcoming game versus England at the Halliwell Jones Stadium in mid-June. It's a clash that Rhys is determined to be a part of:- "The thought of pulling on an Exiles shirt and featuring in that game is something that really excites me. Brett Hodgson is a great player and a brilliant choice as captain, and he's pretty much nailed-on for the full back role. But, hopefully I can push myself into the team somewhere and my versatility may have a part to play in that."

Delighted to have retained the services of the highly sought after Australian playmaker, Vikings Head Coach Denis Betts, added:- "Rhys has really come on this year and is enjoying his rugby. Before he got injured he was definitely one of the form players in Super League. Positionally, he looks completely at home in the full back position and his pace, strength and bravery put him into some strong positions on the field, which he's then able to exploit. We always knew in our mind that we wanted to keep Rhys, and it's great news that we've agreed terms and secured him for the next three years. There's quite a few of the lads at Widnes, who believe that representative rugby league is well within their reach, so being selected for The Exiles squad is obviously great news for Rhys. As a club it's also another step on the ladder for us, and it's good to see that our team is being spotted and one of our key performers has been recognised in this way. We're not trying to make any statements with our signings, it's more a case that Rhys is here, he wants to be here and we want him to stay here. Being out of contract at the end of the current season, we know that he could've chosen a number of clubs to go to. Ultimately, the decision was down to him and he chose to remain at Widnes, and we're really pleased that he will be contributing massively towards the future of this club."

In his Vikings career thus far, Rhys has made 36 appearances, scored 22 tries, added 34 goals and 1 field goal for a personal haul of 157 points.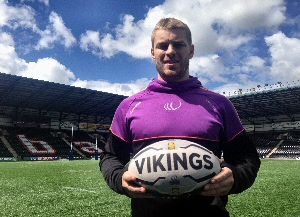 Rhys is pictured above modelling one of the new 2013 Maltacourt lightweight hoodies, which will soon be available in the Vikings Superstore (within Tesco Extra), in a choice of purple / white or purple / black. RRP £44.99.

Merseytravel's new Chief Executive takes the helm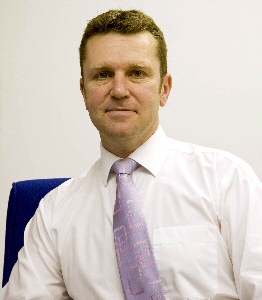 MERSEYTRAVEL'S new Chief Executive/Director General has now taken charge of the organisation responsible for transport throughout the City region, with a pledge to focus on efficiency, openness and transparency.

David Brown, 47, who was previously head of the South Yorkshire Passenger Transport Executive, said he wants to build on the recent work focusing on transparency and on activities that add value.

"I am excited by this new challenge and committed to further developing the initiatives led by the Chair, as well as strengthening Merseytravel's commitment to working closely in partnership with the Districts and other partners to support the continued economic development of Merseyside." said Mr Brown.

Cllr Liam Robinson, Chair of Merseytravel, said:- "I am looking forward to working closely with David, who is undoubtedly the best person to lead integrated transport in the City region into the future."

Mr Brown has been involved in the adoption by the Department for Transport of major rail projects such as a High Speed Rail station in South Yorkshire, and commitment to electrification of the Midland Main Line and to £230m investment in improving journey times on the East Coast Main Line.

He has also led the largest Bus Partnership in the UK, and is Chair of the Passenger Transport Executive Group, which promotes the interests of the 6 Passenger Transport Executives.

He added:- "My overall priority is simply to ensure that Merseytravel is focused on delivering the best possible integrated transport system for Merseyside and the people who live work and visit here. I am looking forward to meeting stakeholders throughout the City region in the next few weeks."
Women's Aid welcomes new research which backs compulsory sex and relationships education for all children
WOMEN'S Aid supports calls for comprehensive sex and relationships education to be made a compulsory part of the curriculum for boys and girls, and welcomes research that has been released by EVAW showing the majority of parents support such education. The report reveals that, although some good work is being done to educate young people on issues such as domestic violence, it is minimal, under-resourced, and not properly supported by government.

Based on work with 160,000 women and girls every year, Women's Aid believes specialist-led education on the social aspects of sex and relationships, including consent, abuse, and what healthy relationships look like is vital to young people's development. Without such education to challenge myths about abuse and damaging understandings of masculinity and femininity, girls and women will continue to face domestic and sexual abuse across the UK.

Polly Neate, Women's Aid Chief Executive said:- "With the public attention focused on the abuse of young people like never before, it is vital we act now to ensure all our children are equipped with the tools they need to negotiate safe, healthy, supportive relationships. We urge the government to commit to support comprehensive sex and relationships education for boys and girls to stem the tide of sexual abuse and domestic violence."
Liverpool school is in the running for National Award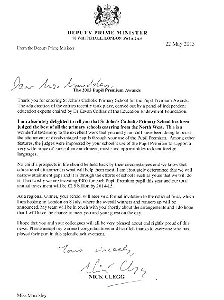 A Liverpool school has found out on 24 May 2013, with a letter from Nick Clegg that is the regional winner of the 2013 Pupil Premium Awards in the primary school category. St John's Catholic Primary School, Liverpool, has received the letter about the award that now means the school will now be invited to attend a reception hosted by the Deputy Prime Minister in London when the national winner will be announced. You can see the letter by clicking on here. As you can see via that file, the letter was sent from the Deputy Prime Minister, to St John's Catholic Primary School, informing them of them that they had won and congratulating them on their success. The Pupil Premium was announced in 2010 by the Deputy Prime Minister, is additional funding for schools to help children eligible for free school meals in reaching their potential and help schools reduce educational inequalities. It's up to schools to decide how best to use this money, with almost £500 allocated per pupil. Evidence shows children from low income families generally do not achieve as well as pupils from more advantaged backgrounds. The Pupil Premium Awards recognise the schools that are doing the best in using the Pupil Premium to make a real difference to the attainment of disadvantaged pupils. For more information on the Awards visit:- pupilpremiumawards.co.uk. For more information on the Pupil Premium visit:- education.gov.uk/schools/pupilsupport/premium.