Charity warns one drink is too many if you're driving
THE road safety charity Brake have urged drivers to pledge to not drink any alcohol before getting behind the wheel this summer, as Police across England and Wales begin their month long summer drink and drug driving enforcement campaign. The campaign, sees forces stepping up roadside checks for alcohol and drugs and speaking to the public about the risks. Last summer 83,000 drivers were stopped and breathalysed and 6% failed (or refused).

Julie Townsend, deputy chief executive, Brake, the road safety charity, said:- "Even very small amounts of alcohol increase your risk of crashing dramatically, yet every year thousands of drivers risk it, and too often this results in tragedy. We need everyone on board with the message that it's none for the road, and if you do risk it, you will be caught. Police will be out in force over the next month spreading the message that drink driving kills and there is no excuse for it. We're also urging the government to help end alcohol-induced carnage on our roads, and tackle confusion about what's safe and what's not, by lowering the limit to a zero tolerance level."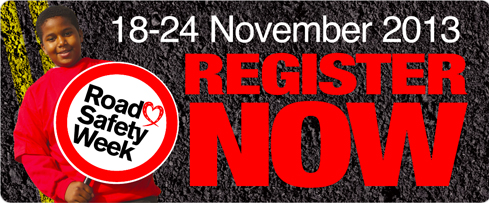 Facts about drink driving
Each month in Great Britain 23 people are killed and 108 people are seriously injured by drivers over the drink drive limit. It is estimated that a further 65 people are killed annually by drivers who have been drinking, but are under the limit. In 2011 (latest available statistics) drink drive deaths (caused by drivers over the limit) increased by 12% and serious injuries increased by 3%.
Calls for government action
Brake welcomed recently unveiled government plans to streamline Police procedures to make it simpler to prosecute drink drive offenders, but called for bolder action to tackle deadly drink driving. Brake is urging government to lower the limit to 20mg alcohol per 100ml blood, an effective zero tolerance limit.

England and Wales have a drink drive limit of 80mg alcohol per 100ml blood, the highest in Europe, encouraging many to believe that 1 or 2 drinks before driving is okay. But research shows just 20mg to 50mg alcohol increases crash risk by 3 times.

Evidence from abroad shows that lowering the limit also reduces drink driving among drivers who exceed the limit by a larger margin and reduces deaths and injuries caused by drink drivers.

Northern Ireland and Scotland announced plans to reduce their limit to 50mg, while in Northern Ireland novice and at-work drivers will have a zero-tolerance limit of 20mg.

Read more about Brake's Not a drop, not a drag campaign.
Brake
Brake is an independent road safety charity. Brake exists to stop the five deaths and 66 serious injuries that happen on UK roads every day and to care for families bereaved and seriously injured in road crashes. Brake runs awareness-raising campaigns, community education programmes, events such as Road Safety Week that runs over 18 November to 24 November 2013, and a Fleet Safety Forum, providing advice to companies. Brake's support division cares for road crash victims through a helpline and other services.

Road crashes are not accidents; they are devastating and preventable events, not chance mishaps. Calling them accidents undermines work to make roads safer, and can cause insult to families whose lives have been torn apart by needless casualties.

£4m windfall for underpaid workers
MORE than 26,000 workers denied the National Minimum Wage by their employers have received a £4 million windfall after action by HM Revenue and Customs (HMRC). In 2012/13, HMRC investigated 1,693 complaints against employers for allegedly breaching minimum wage rules. This resulted in 708 employers receiving automatic penalty charges of up to £5,000 and 26,519 employees receiving an average of £300 in back pay, topping up wages that had previously been paid below the legal minimum rate. HMRC has 10 National Minimum Wage compliance teams across the UK, working from 18 locations. In the 2012/13 financial year the North West team, based in Preston and Stockport, handled cases resulting in arrears of £308,269 being paid back and charged 76 employers with penalties.

Employment Minister, Jo Swinson said:- "Paying less than the minimum wage is totally unacceptable. Whenever we find examples of businesses breaking the law we will crack down on them. Supporting fairness in the workplace is one of our key priorities and the National Minimum Wage is one way of making sure this happens. It supports as many workers as possible without damaging their employment prospects, which is why effectively enforcing the minimum wage is critically important in making sure it stays a success. The figures from last year show that HMRC can really help individuals who have been underpaid to claim back the money they are owed."

Cases where HMRC have taken action against employers in the past year include:-
► A Merseyside based retailer treating supervisory staff as salaried workers and failing to record all of the hours worked. Workers appeared to be being paid at or above the National Minimum Wage, however, when all the hours worked were taken into account it was found that rates fell well below. The investigation resulted in total arrears of over £55,900 for 320 workers.

► A Cheshire nursing home providing living accommodation for foreign workers and charging those workers in excess of the allowable accommodation allowance. These deductions reduced pay below National Minimum Wage levels and resulted in total arrears of over £36,000 for 23 workers.

► A Manchester retailer that found themselves in financial difficulty and simply decided not to pay their workers. This situation continued for a number of months with workers only being paid small amounts sporadically. A complaint was made and upon investigation total arrears of over £24,000 were found for nine workers.

► A major fashion chain ordered to pay their 90 unpaid interns almost £60,000.

► A multi-outlet retailer, which required employees to purchase specific items of clothing from their range, ordered to repay almost £170,000 for over 6,000 workers.

► A national retailer, who required their employees to attend work pre-and-post opening hours without pay, ordered to pay arrears of wages exceeding £193,000 for almost 3,500 workers.

► A recruitment agency, requiring their workers to attend training at a client's business without pay, ordered to pay £28,000 for 300 workers.

Michelle Wyer, Assistant Director of HMRC's National Minimum Wage team, said:- "Paying the National Minimum Wage is not a choice – it's the law. HMRC enforces the rules, protecting workers in the North West from rogue employers, ensuring they get at least the wage to which they are legally entitled. Where an employer ignores these rules, we will take steps to ensure arrears are paid out in full and the employer fined. In the most serious cases, criminal prosecution can follow."

The vast majority of National Minimum Wage abuse cases are dealt with by HMRC using civil penalty powers, as this route is usually the most appropriate and provides the most cost effective resolution for taxpayers. However, in more severe cases HMRC will take criminal action and seek a prosecution. Anyone who believes they are not being paid National Minimum Wage can call the Pay and Work Rights Helpline on 0800 917 2368. Currently calls to the helpline from interns, who are working for nothing or for "expenses only", are being fast-tracked to HMRC enforcement officers for investigation. In 2012/13, 17,775 people called the Pay and Work Rights Helpline for advice or to report an illegal wage, leading to HMRC opening 1,408 enquiries into employers.