RENT – 20th ANNIVERSARY CONCERT - TOUR EXTENDED DUE TO PHENOMENAL PUBLIC DEMAND!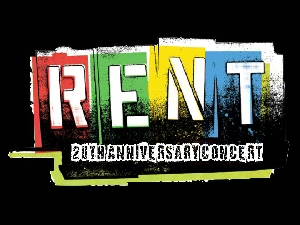 JP Productions today announces the lead casting details for their forthcoming UK tour of the smash-hit Tony Award winning Broadway musical 'Rent'.

Celebrating 20 years since its first staged performance, West End leading lady and Atomic Kitten star Natasha Hamilton stars in this iconic concert of the smash-hit musical, which will also star the runner-up of ITV's 'Superstar', Rory Taylor.

The show last toured the UK in April this year, performing 10 dates across the country to rave reviews; so due to overwhelming public demand the show is back for its final run, with Natasha taking on a starring role.

Rent:- 20th Anniversary Concert will be coming to The Auditorium at Echo Arena Liverpool on Saturday, 30 November 2013, as part of a 15 date UK tour.

Commenting on the show Natasha Hamilton, who will be playing the role of sexy lesbian performance artist Maureen; made famous by Idina Menzel, Nicole Sherzinger and Denise Van Outen said:- "I love Rent so I am made up to be playing the role of Maureen! She's a great character…a little bit cheeky, flirtatious and injects some real comedy moments into the show." Whilst Rory Taylor said:- "I had the most amazing time on tour with Rent, 20th Anniversary Concert in April and I am so excited that the public want more! I can't wait to get back on the road and play the role of Roger again."



NATASHA HAMILTON:- is known for being ⅓ of the UK's most internationally successful girl group of the last 10 years with more than 10 million worldwide record sales. These days she's also known as a TV personality, wife, mother and businesswoman. Now she can add actress to the impressive list since landing the lead role of Mrs Johnstone in the highly acclaimed West End show Blood Brothers.

After months of excited speculation in the press, Natasha embarked on the momentous ITV2 show:- 'The Big Reunion'. The show saw the Musical Theatre star return to her pop roots as she rejoined the other Atomic Kittens in the much anticipated reunion early in 2013. A sell-out arena tour followed.



RORY TAYLOR:- has been a professional singer since the age of 14 and has recently shot to fame after appearing in:- 'Superstar' on ITV. Rory was runner up in Andrew Lloyd Webber's TV search for an actor, to play the role of Jesus in an arena tour of his hit musical:- 'Jesus Christ Superstar'. Rory is lead singer in a band called:- '54321'. He sings with his cousin and three brothers and the band are resident in The Cavern Club, Liverpool. With the band, Rory has supported Mel C, Westlife and McFly on major arena tours. The band have also performed at a number of international festivals, where they have supported The Beach Boys. Rory has released 2 albums:- 'What We Did With Our Days' and 'Motion Picture Scenery'.

RENT:- is set in the East Village of New York City, RENT is about falling in love, finding your voice and living for today. Winner of the Tony Award for Best Musical and the Pulitzer Prize for Drama, this musical has become a pop cultural phenomenon with songs that rock and a story that resonates with audiences of all ages. Based loosely on Puccini's La Boheme, the show follows a year in the life of a group of friends struggling to make it in the big City under the shadow of HIV/AIDS.

Rent includes songs Seasons of Love, Out Tonight, Without You, Will I and Finale B.

Previous cast members include Mel B, Denise Van Outen, Jesse Wallace, Idina Menzel and Adam Pascal. Rent last toured the UK in 2001 and was last in the West-End in 2007.

A film of the musical was released in 2005 starring original Broadway cast members Idina Menzel and Adam Pascal.

The shows composer Jonathan Larson died unexpectedly the morning of Rent's 1st Off-Broadway preview. Larson died of an aortic dissection believed to have been caused by undiagnosed Marfan syndrome. The Broadway production closed on 7 September 2008 after a 12 year run of 5,124 performances, the ninth-longest-running Broadway show of all time. The production grossed over $280 million. The full cast will be announced over the coming weeks.

Back on the beat in memory of former colleagues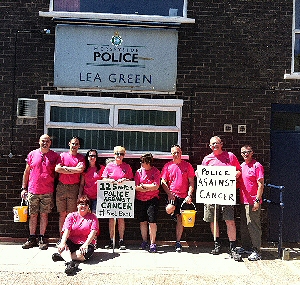 MERSEYSIDE Police Officers will be walking up to 125 miles to raise money for charity in memory of former colleagues.

Staff from the Force's training academy will be walking from Southport to Moreton over 5 days to raise £10,000.

The walk will include every Police station across the force and is in memory of 2 former colleagues who died prematurely a few years ago.

Jeanette McLaren was just 50 when she passed away in October 2011 after a long battle with cancer.

Retired constable Lynton Davies was also 50 when he died suddenly from a heart attack in July last year; just as he'd achieved an ambition to become a trained coach driver.

The walkers include several high ranking staff and they plan to divide the £10,000 they hope to raise between 2 charities.

They include the Woodlands Hospice in Fazakerley that looks after people who are terminally ill and near the end of their lives. Jeanette spent time there before she died.

The 2nd charity to benefit from the money raised is Ronald McDonald House at Alder Hey Hospital where families can stay while their sick children are treated.

Lynton was the father of twins who were seriously ill when they were 1st born and the family spent time at Ronald McDonald House during their treatment.

PC Steve Cantillon from the Driver Training Unit at the academy, is one of the organisers of the event.

He said:- "The happiest days of my career were spent walking the beats of Wallasey. With this in mind, a group of colleagues and I came up with the idea of walking the entire Force area, calling at all 51 Police stations en route. Our motivation is simple; to raise money to help the charities that helped 2 very dear colleagues that we lost when they were very young."

If you would like to donate money to the cause, go to:- justgiving.com/Ultimatefootbeat.
Formby High student selected for Olympic development programme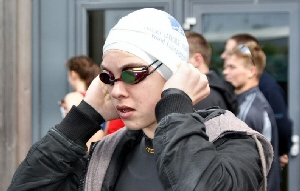 A Year 10 student, Joshua Chapman, who goes to Formby High School has recently been selected to join Triathlon England's Olympic Youth Development Programme.

Last month Josh, 15, completed a 750m open water swim in Crosby Marina and a 5km run in 28.39 minutes, coming first in his age group (under 20s) and twelfth overall from a field of international competitors.

This strong performance secured him a place in the Aquathlon World Championships in Hyde Park, London this September.

Josh has competed three Aquathlons since April and has come first each time. This fantastic achievement has placed him top of the 2013 North West Triathlon Series table.

Josh has represented the school and county at swimming and cross country running, has completed the Crosby Sefton Triathalon five times and has won two silver and one gold medal for swimming and gold for the 1500m in National Air Training Corps events.

He trains with Southport Swimming Club, cycles at the UCLA Preston, runs at Edge Hill University and is a member of Tri Team Wigan. As part of his new development programme Josh has committed to doing eight hours of swimming, four hours of cycling and 3 hours of running each and every week!