'Most wanted' tax fugitive jailed
A Warrington company director, who was named in a HM Revenue and Customs (HMRC) Most Wanted list as a tax fraudster after he absconded to the USA, was jailed on the 31 May.

Jonathan Nugent, 53, a director of a computer company, was originally charged with a £5.5 million VAT fraud in 1998. He was released on bail but absconded to the USA in 2000 before his trial began. Last year HMRC named Nugent as one of its most wanted fraudsters still on the run, linking him to a £22 million tax fraud.

After the launch of the Most Wanted list, Nugent was tracked down by the HMRC Fugitive Unit with the help of the US authorities. He was deported to the Republic of Ireland on immigration offences and then extradited to the UK on a European Arrest Warrant to face trial.

Nugent was originally arrested after investigators found he had used his company to help others smuggle goods into the UK, evade UK duty, and use false paperwork and invoices to reclaim millions of pounds in VAT repayments. The laundered money was hidden in offshore bank accounts.

Mike O'Grady, HMRC Assistant Director of Criminal Investigation, said:- "The sentence demonstrates that we do not forget or give up on tax fraud cases, whatever the time lapse from offence to capture. We strongly suspect that Nugent left the UK on an Irish passport, which he'd originally obtained as soon as his co-conspirators were arrested, and flew with his family to the USA via Eire. Once we had located him, the American authorities were able to use visa violations to deport him quickly so that we could enforce the arrest warrant."

Nugent, a former computer dealer, was a director of Clear Technology Limited, based on Lovely Lane, Warrington, Cheshire. He lived in Great Sankey, Warrington, at the time of the fraud. Investigations by former Customs and Excise officers (now HMRC) proved that Nugent and others smuggled computer components from Hong Kong and Eire into the UK between 1994 and 1998. This allowed the gang to evade UK customs duty on importation and VAT on sales within the UK.

Nugent played a key role as he introduced the smuggled goods into his company records by using false invoices. These invoices were then used to support false VAT declarations, reducing the VAT due to HMRC, resulting in the evasion of approximately £5.5 million. Nugent laundered the profits from the fraud by either making large cash withdrawals or organising transfers to false business accounts set up by his co-conspirators. The money was eventually transferred into accounts in Hong Kong and Switzerland in the names of the main conspirators, including Nugent; who also used the alias Newgent in the fraud.

In 1999, Nugent was charged with conspiracy to Cheat the Public Revenue. He was due to face trial alongside other conspirators in September 2000, but absconded from the UK on 27 March 2000, breaching bail conditions. Other gang members involved in the smuggling and money laundering were jailed for over 16 years in 2001.

As a result of his recapture and arrest in 2012, Nugent pleaded guilty on 3 May 2013 at Manchester Crown Court and was sentenced to 4 years and 6 months jail.
Students invited to take part in secret engineering challenge day
SCHOOLS across the UK can now apply to host an exciting engineering challenge day, organised free-of-charge by the Institution of Engineering and Technology (IET).

45 schools will be chosen to host this year's IET Faraday Challenge Days, where 6 teams of students, aged 12 to 13, can compete against one another to find the best solution to an engineering related challenge. The events will be free of charge and set up by IET staff and volunteers.

However, to avoid unfair preparation, the challenge itself will not be revealed until the day of the event. In previous years, students have been tasked with designing and building a device for remote surgery and a drinks dispenser for competitive race walkers.

Holly Margerison, Faraday Education Manager at the IET, said:- "Last year's Faraday Challenge Days were such a great success that we're really looking forward to running the competition again this year. These days are a fantastic opportunity to get school-age young people turned onto engineering and technology, at a time when they will be deciding what they want to pursue as a career in the future."

As well as 45 school-hosted challenge days, there will be 12 extra dates held at IET Academic Partner universities across the UK.

The winners of each event will win prizes for themselves and a trophy for their school. The top three teams from across the UK will get an all-expenses paid trip to the National Final in June 2014 to compete for a cash prize of up to £1,000 for their school.

In the summer term of each year the IET launches the application round for UK schools to host a Faraday Challenge Day in the following academic year. The application round is now open. Download the application form from the IET Faraday website and send it to:- faraday@theiet.org. The deadline for e-mailing applications is Friday, 12 July 2013.
Hague right on Europe says Former Lib Dem Leader
FOREIGN Secretary William Hague's proposal to give national parliaments working together a veto on proposed EU legislation has been welcomed by a former leader of the Liberal Democrat MEPs in Brussels. Chris Davies (North West of England) said that he strongly supported the subsidiarity principle that decisions should be taken at the lowest practical level. The Liberal Democrat MEP said that on issues such as financial regulation and environmental matters it was clear that cross-border measures were essential, but he warned of 'creeping centralisation' from Brussels. Davies said:- "Politicians with the chance to do what they think will make a difference for the better are always tempted to do so, and lawmakers in Brussels are no different. But sometimes this will fly in the face of the EU commitment that decisions should be made at the lowest practical level. All proposed EU laws are subject to a so-called 'subsidiarity test', but I am not convinced this always stands up to scrutiny. National parliaments are best placed to be the guardians of this principle. William Hague's plan is along the right lines. All proposals for new EU laws should have to pass a scrutiny test. National parliaments should communicate with one another and be given a period of time in which to object. If say, half a dozen are agreed that the measure is not required then it should go no further in Brussels. Europe should be concentrating on what's needed most, building a stronger economy, a fairer society and a better environment."

Ivory poaching hits record levels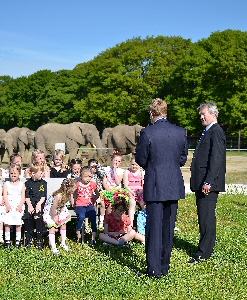 A new drive to help save the elephant has been launched by the Government, in the wake of the highest levels of ivory poaching since records began.

The Convention on International Trade in Endangered Species (CITES) estimates that in 2011 at least 17,000 elephants have been killed illegally in Africa alone but the real figure may be much higher. At the same time, a You Gov poll commissioned by Defra shows that more than a third of UK consumers are still unaware that parts of elephants (and other endangered species) are popular ingredients in traditional alternative medicines.

Ivory is often used to carve valued ornaments and is falsely believed to help cure some diseases. If this continues, elephants could become extinct within our lifetime.

Speaking at the launch at Knowsley Safari Park, Environment Secretary Owen Paterson said:- "Today, we are here to highlight the plight of this iconic and majestic animal, to ensure it's still here for our children, and for future generations. It's totally unacceptable that elephants are being poached at such an alarming rate, fed by a high demand for traditional Asian medicine. We are calling on people never to buy ivory or products that contain it, as if we buy, elephants die."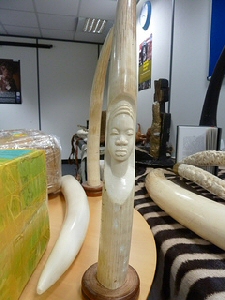 Broadcaster and writer Ben Fogle who is supporting the campaign said:- "It's unacceptable that elephants are being killed purely for their ivory. We must do all we can to stop this devastating crime and the ever increasing demand for ivory products. I am supporting the 'If They're Gone...' campaign to raise awareness of the crisis situation which these truly breathtaking animals are in. We all need to act now before it's too late."

Part of the year long endangered-species campaign:- 'If They're Gone', the elephant season will run for 3 months, offering practical advice to consumers and tourists about how can play their part. Over 20 partners including wildlife organisations, zoos and safari parks have joined this fight to save them.

Eveline De Wolf, Head of Animal Management at Knowsley Safari comments:- "Many people will never see a herd of elephants in the wild, which is why safari parks have such an important role to play in helping communities understand the impact of poaching on this keystone species. At Knowsley Safari, we have the power to make a difference, and through conservation and education, we are working to make sure that our children's children grow up in a world where an elephant is more than just a memory."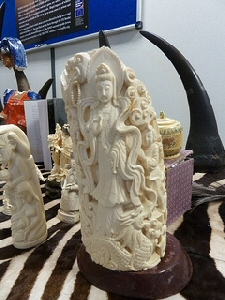 You can take the following steps to help protect the elephant:-
► Don't buy ivory. If you buy, elephants die.

► Think before you buy anything that could be made from or contain body parts of endangered species such as certain alternative traditional medicines;

► Ask where products have come from and if they have been produced sustainably;

► Get involved and support wildlife conservation programmes;

► Spread the word - tell your friends and family about elephants and how important it is to help protect them; and

► Report any suspicious activity concerning the buying and selling of wildlife products to your local Police.

As part of the campaign, a primary school poster competition has been developed in partnership with Eco-Schools. Children from across the country have been invited to submit posters with the chance of winning a tour of Parliament.

'If They're Gone...' focuses on the increasing threat to four endangered species; rhinos, elephants, orangutans and the tigers.

For more information visit the:- 'If They're Gone' Facebook page.