Region's young people flying the flag for the Big Society
DAVID Cameron's 'Big Society' model, the coalition policy ideal that aims to empower local people and communities, is being embraced by young people from the North West and across the UK, according to a new survey.

To mark National Volunteers' Week, a new survey of volunteers carried out by national disability charity Vitalise, which runs the Sandpipers respite break centre in Southport, has discovered that young volunteers are leading the way when it comes to improving themselves; and society.

The survey highlighted the particular challenges faced by younger people in getting a foothold in the world of work. Over half the 16 to 25 year olds surveyed were unemployed, compared with less than a quarter of 26 to 45 year olds. For 20% of 16 to 25 year olds, volunteering with Vitalise had been their only experience of a work environment to date.

However, the younger volunteers not in work remained upbeat, with 84% of the 16 to 25 year olds believing that volunteering had improved their prospects of getting paid work. Of the 16 to 25 year olds now in work, nearly half said that volunteering had helped them gain paid employment and 80% believed that volunteering had improved their prospects of advancement in their jobs.

Vitalise runs the largest residential volunteer programme of any UK charity. Each year the charity's army of volunteers give a total of over 4,000 weeks of their time in order to live and work at Sandpipers and the charity's 2 other respite break centres for people with disabilities and carers. The volunteers are integral to Vitalise's mission to enhance the lives of people with disabilities and carers by providing vital opportunities for social interaction. The volunteers enable Sandpipers' guests to take full advantage of the inclusive social activities and excursions provided by the centre.

Across all age groups, the personal benefits of volunteering were very clear. Over 99% of the respondents said that volunteering for Vitalise had improved their understanding and attitude towards people with disabilities, with 84% saying it had that improved their understanding and attitude towards diverse nationalities and cultures. Over 90% said that they felt more confident and well-rounded as a result of volunteering. And when it comes to improving society, the motivational effect of volunteering was also very clear: 80% of the volunteers surveyed said that volunteering had inspired them to play a greater part in society and get more involved in their local communities.

Vitalise Chief Executive Chris Simmonds commented:- "This current generation of young people is so often demonised by society and the media, but our survey shows they have a thing or two to teach the rest of us when it comes to making the world a better place. As a charity our aim is to improve the quality of life of people with disabilities by providing them with revitalising experiences, and it is safe to say that without the contribution of our volunteers we would not be able to achieve that mission. What's particularly gratifying about this survey is that it shows that volunteers are benefitting just as much as from the volunteering experience as the people they are supporting. Not only do volunteers become more optimistic about their own futures, but they are also inspired to play a role in improving society too. Vitalise's volunteers are an incredibly diverse bunch, coming from a wide range of backgrounds, ages and nationalities, and the vast majority of them come away energised and enriched by the experience. This year Vitalise celebrates its 50th birthday. We owe our very existence to the inspirational efforts of our founding volunteers all those years ago, so in that same spirit I hope this survey will inspire many more people to try their hand at volunteering and take advantage of the many life-enhancing benefits it provides."

Vitalise Vice President Esther Rantzen CBE also commented on the findings:- "Finding ways to support some of the most vulnerable and isolated people in society is an issue I'm passionate about and volunteering has a hugely important part to play in opening up social opportunities for disabled and older people. This is why I find the results of Vitalise's survey so inspiring. Younger people are defying society's perception of them and setting a brilliant example for the rest of us to follow. Not only are they determined to forge a more productive future for themselves, but they are also exhibiting an equal determination to improve society for everyone. As the population gets older and families more fragmented, the need for people to consider the needs of others will become ever more important. I applaud the UK's volunteers for showing us one way to make the world a better place."

Echoing the findings of the survey, recent volunteer Leah Bevan said:- "For me the experience was transformative, it gave me a huge confidence boost and a greater awareness of the challenges some people face in life. However it also gave me a great sense of optimism watching people overcoming barriers and the volunteers, staff and carers helping them. I felt part of a team who were making a real difference and felt empowered and enthusiastic at a time when I felt quite disconnected from things."

Vitalise is a national charity providing essential respite breaks for people with disabilities; including Alzheimer's and dementia; and carers at Sandpipers and two other accessible centres in Chigwell in Essex and Southampton. Each centre provides 24-hour nursing care on call, personal support and a range of accessible excursions, activities and entertainment. Vitalise; formerly the Winged Fellowship Trust; is celebrating its 50th anniversary in 2013.

People wanting more information about volunteering for Vitalise are requested to call:- 0303 303 0147, email or go online.

LAUNCHES NEW PRIZE TO SUPPORT EMERGING MUSIC TALENT ON MERSEYSIDE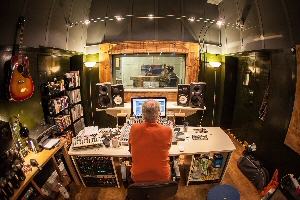 FOLLOWING on from the great success of 2012's Merseyrail Unsigned competition, Merseyrail are pleased to announce the launch of the MERSEYRAIL SOUND STATION PRIZE - presented by the innovative new Merseyrail Sound Station network.

This is an opportunity for emerging Merseyside musicians to WIN A YEAR OF PROFESSIONAL MUSIC INDUSTRY MANAGEMENT AND RECORDING TIME. The music industry is constantly evolving and this prize will give one lucky artist the opportunity to be guided by some of the most experienced industry names for a full year. All interested musicians need to do is pop along to one of the SOUND STATION UPLOAD LOCATIONS on the Merseyrail network and film themselves performing an original track, before posting it on the Merseyrail Sound Station Facebook wall.

The upload locations can be found at the following stations - Liverpool Central, Liverpool South Parkway, Maghull, Southport, Kirkby, Ormskirk, Wallasey Grove Road, Hoylake, Rock Ferry & Formby. Full entry details and Terms & Conditions can be found at:- MerseyrailSoundStation.com.

The winners of last year's prize BEACH SKULLS - who also featured as session guests on the first Merseyrail Sound Station Podcast - said of winning last year's award:- "It was a watershed moment, an indicator that what we were doing was pretty rad and that people were digging our vibe and what we are about. It got us attention through the coverage in the local papers, the opportunity to record at Rockfield Studios where Oasis had recorded and a sound, shiny glass trophy!"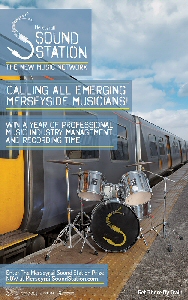 The innovative, Merseyrail Sound Station platform is here to celebrate emerging new music from Merseyside. Each month sees a free podcast available to download from MerseyrailSoundStation.com and iTunes, featuring exclusive live sessions with some of the region's most exciting new bands, the latest new sounds from across the Merseyrail network, and breaking new music news from Liverpool. The website will also feature photos and live videos from the sessions, as well as interviews with the bands taking part.
The second edition of the Merseyrail Sound Station Podcast is available NOW. It features GREAT PLAIN SUNDANCE live in session and some of the best emerging new Merseyside music.

Merseyrail Sound Station is recorded at Tankfield Recording Studio, based at Fallen Industries Studios, Wirral, with esteemed Record Producer Michael Johnson. Michael has previously worked with artists such as New Order, Soft Cell and Joy Division. The project underlines Merseyrail's commitment to supporting creativity in the region and working in partnership with local business.

Maarten Spaargaren, managing director of Merseyrail, commented:- "Sound Station is an original, clever initiative, which helps us connect with all the budding young musicians out there waiting for their big break. We're very happy to be behind this promotion."

Visit MerseyrailSoundStation.com where the first two editions of the Merseyrail Sound Station Podcast are available, as well as full details on the Merseyrail Sound Station Prize.
50 years of laying the foundations of learning
ON Friday, 7 June 2013, marks 50 years since the foundation stone was laid at Garston Church of England Primary School, and since then it has educated around 14,000 children. m Local people purchased 400,000 bricks costing 6p each (2.5p new money) to cover the £12,300 funding shortfall, and enable it to be built. During construction, 50 local brick setters offered their services, 337 people volunteered to help with construction and local people threw notes and coins into builder's wheelbarrows. To celebrate the half century, a special service is being held at St Michael's Church to remember how the community came together to deliver the school. Pupils will then march back to school in a recreation of the original parade, carrying banners and balloons before holding a party in the afternoon. Among those taking part will be people who contributed towards the brick fund back in 1963.

Headteacher Rick Widdowson said:- "This school would not have been built if it were not for the generosity of the local community. We felt it was really important to make sure that they were involved in the celebrations as they have been fantastic supporters of the school over the last 50 years."

Councillor Jane Corbett, Cabinet member for education said:- "This school is right at the heart of the local community. Generations of local children have been taught at Garston and I am delighted they are celebrating 50 years of success."