BEST FOOT FORWARD FOR CHARITY SHOP WORKER AND DEDICATED FUNDRAISER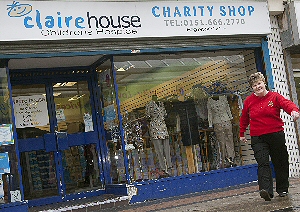 A charity shop worker and dedicated fundraiser has put her own health problems on one side to raise money for the children's hospice cause which she volunteers for.

It was 3rd time lucky at this year's Wirral Walk for Susan C'Ailceta who has epilepsy and learning disabilities and volunteers at the Claire House charity shop in The Grange and Pyramids Shopping Centre in Birkenhead.

Susan was among the estimated 3,500 walkers who stepped out in blazing sunshine for this year's 15 mile Wirral Walk, from
Seacombe Ferry on the River Mersey to Thurstaston Country Park at the mouth of the Dee estuary.

Susan, 48, raised more than £150 for the 10 bedded hospice which provides respite, end of life and bereavement care for children and young adults with complex medical needs.

Susan from Rock Ferry had to abandon her first attempt partway through in 2011 due to bad weather, while last year she was taken into hospital for emergency treatment just before the walk.

But this year she set off from Seacombe at 8.30am, and after a midway break to rest, eat and take medication, proudly stepped over the finish line at 3.45pm.

"I was very tired but it was brilliant, I was so pleased. I had my photo taken then, and while I was walking. It was such a great feeling to finally finish it, and to help raise money for the children at Claire House. They do such a great job there. The organisation of the walk by the Rotary Club was very good, there were drinks laid on all the way, which really helped me." said Susan.

Kitted out in Claire House T-shirt, leggings and walking trainers, Sue initially accompanied a relative, who was raising money for another charity, but he went on ahead. "I enjoyed walking along at my own pace and chatting to everybody, they were so friendly." added Susan.

A swimmer and long-distance runner in her 20s, Susan now keeps fit by walking daily near her home in Birkenhead.

She works at the Claire House shop every Friday and Saturday and colleagues there have dubbed her "Raffle Sue" because of her fundraising work.

"I love working in the shop, it's such good fun, and the girls are lovely to work with." said Susan.

Also raising cash for the charity was another Grange and Pyramids shop worker, Jess Jeffries from H&T Pawnbrokers.

The 23 year old former Prenton High School pupil was joined by her sister Abbey, 18, a trainee hairdresser, and their friend Susie Tucker, 24, who works in Rock Ferry.

Together they raised more than £250 for Claire House, completing the trek in just under 6 hours.

"My feet are killing me now, but it was all worth it. The hardest thing was about three miles from the end, when our feet were really hurting, but we kept pushing on. Then towards the end at Thurstaston we heard the bands and all the music, and that gave us a real boost to finish. We chose Claire House because as a company that's our selected charity this year, and we've got lots of things happening to help raise money for them." said Jess.

Derek Millar, Commercial Director for The Grange and Pyramids Shopping Centre, said:- "Susan and Jess have gone to fantastic efforts to raise money for a local cause which is close to many people's hearts on the Wirral. They should rightly be proud of their achievements."

Located on the Wirral, Claire House Children's Hospice also supports the whole family, providing support and counselling for as long as is needed. Its specialist nursing team also work in the community through the Hospice to Home scheme, which offers care and support in the family home.

Steph Clark, Wirral Area Fundraiser for Claire House, said:- "The participants last weekend certainly did walk the walk and everyone at Claire House is so delighted with the support we had on the day. While we support children, young people and families from across the North West, the hospice is based on the Wirral so we really rely on the support of the local community, who came out in their droves for us at the Wirral Coastal Walk. Claire House needs £6,500 every single day to provide a first class level of care to children and young people with complex medical conditions. The money raised through the Wirral Coastal Walk will support Claire House is all sorts of ways, from paying our nurses and buying much needed medicines, through to taking the children to the zoo or providing a home-cooked meal to a family who haven't had the chance to sit down together in months."

The Claire House charity shop in The Grange and Pyramids Shopping Centre can organise for donations to be picked up on a Monday or Thursday morning. To find out more, call the shop on:- 0151 666 2770. More volunteers always welcome too.

North West Motorway Police Group conducts Operation Coalition on the region's motorway network
Police Officers from the North West Motorway Police Group target criminal's travelling on the North West region's motorway network. On Wednesday, 5 June 2013, a day of action drives home the message to all those travelling on the region's motorways that officers from the North West Motorway Police Group will arrest anyone engaged in any criminal activity on the motorway network in the North West. The North West Motorway Police Group brings together roads policing officers from Cheshire, Greater Manchester, Merseyside and Lancashire under a collaborative agreement to Police together the whole of the regions motorway network. The motorway network in the North West is responsible for linking most of the North West region's major towns and cities and accounts for 22% of all motorways in England. The North West motorways carry in excess of 350,000 vehicles per day and over 250 million tons of goods per year. It is the responsibility of the officers who work for the North West Motorway Police Group not only to ensure this network of roads is kept running, but also to make sure that those who use it are safe and criminals do not use the network to further their illegal activity. The economic consequences of disruption to the network Policed by the North West Motorway Police Group is huge as the network carries ? of all heavy freight traffic and a 3rd of all road traffic. Assistant Chief Constable Ruth Purdie who is responsible for the North West Motorway Police Group explains:- "The role of the traditional traffic officer has changed considerably in recent years with the responsibility of not only enforcing road traffic legislation and responding to incidents, but becoming intelligence led to deny criminals the use of the road network to conduct their criminal activity. As people have become more mobile travelling the length and breadth of the region on the motorway network, it has become easier, not just for the law abiding citizen to use the motorway to go about their business, but the network also provides the criminal fraternity the ability to move from one area to another easily. Criminals no longer limit their activity to the community down the road but often commit crime in one area then use the motorways to quickly return back to where they live, believing they can evade Police detection. By working across the region, Police forces can target and disrupt criminal's lives stopping them as they travel from one Force area to the next, conducting their illegal business. Members of the public often don't see this side of road policing activity and can believe roads policing officers only role is to deal with motorway collisions but this is not the case."

Superintendent Craig Thompson, who is responsible for the North West Motorway Police Group's Operation Coalition on Wednesday, 5 June 2013 commented that:- "Operation Coalition is a great example of the wide range of knowledge and skills needed by all the officers who work for the North West Motorway Police Group. Officers from the North West Motorway Police Group have encountered a wide range of different criminal activity during the day of action. This has included stopping a range of people whose vehicles failed to meet the required safety standards and posed a danger to other road users. A number of criminals using the network to transport either themselves or illegal goods such as drugs from one part of the region to another and numerous incidents of driving behaviour that gave real cause for concern. This has clearly demonstrated the diversity of activity undertaken North West Motorway Group officers. The motorways are known to be the safest type of roads to travel on; however the life of a roads policing officer is very stressful and like today they have to be able to switch from dealing with one type of incident to another. Caring for those who are injured or in shock following a collision, irate drivers held up in tailbacks, angry drivers who are stopped because their vehicles are illegal and a danger to other road users, and dealing with serious and organised crime gangs are all examples of what officers working on the network have encountered under today's Operation."

Everyone working for the North West Motorway Police Group from Police and highways officers to call takers in the Regional Control Centre, have to be able to respond quickly to emerging incidents everyday on the motorway network. The range of different and diverse incidents staff are required to deal with, requires dedication, professionalism, expert skills and knowledge to enable them to do what is required of them in a very challenging work environment which is the motorway network.
Letters to the Editor:- "The kids are alright!"
"It's National Volunteers Week and I think it's high time we stopped being so down on young people. It's fashionable these days to blame this current generation for so many of society's ills, but we've done a survey of our volunteers which shows that young people have a thing or 2 to teach the rest of us when it comes to making the world a better place. I work for national disability charity Vitalise. We run the Sandpipers respite break centre in Southport, which provides much-needed respite breaks for people with disabilities and carers from across the region. We simply couldn't do this without the hundreds of volunteers who willingly give up their free time to provide support and companionship for our guests each year. 8 out of 10 of our volunteers are between 16 and 25 years old. Some of them come from the local area, while others travel half way round the world to give their precious time to Vitalise, but they all share a common desire to improve themselves and the society they live in. Young people face enormous challenges in getting a foothold in the world of work. For a 5th of our young volunteers, Vitalise was their 1st experience of a work environment. Despite this, they remained optimistic; 84% of them believed that volunteering had improved their prospects of getting paid work. Volunteering also helped our young volunteers become better people. 99% of them said that it had improved their understanding and attitude towards people with disabilities, with 84% saying it had that improved their understanding and attitude towards different nationalities and cultures. 9 out of 10 said that they felt more confident and well-rounded, as a result of volunteering. What's more, volunteering also inspired our young volunteers to make the world a better place - 8 out of 10 of them said they had been inspired to get more involved in their local communities and play a greater part in society. So I would like to invite your readers to be inspired too, and spend a week of their time; or just the odd day; helping our disabled guests have a much-needed break. It's tremendous fun and a fantastic opportunity for you to put your experience to good use, gain new skills and make new friends from all over the world, so why not give it a try? For more info call:- 0303 303 0147 or email:- volunteer@vitalise.org.uk." Colin Brook, Vitalise