Anger over escalation of antisocial parking in Formby again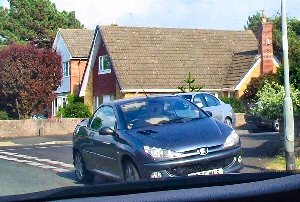 IN Formby the traffic system has come again close to collapse as the weather brought out day trippers to Freshfield and Formby beach. Residents in the areas affected are bracing them selves for even more problems as the summer goes on. Originally the problem of dangerously parked and illegally parked cars was restricted to around the National Trust reserve at Freshfield, affecting the roads like Victoria Road, but since the introduction of the new restricted parking areas, the problem has moved and escalated to Lifeboat Road area. On Saturday, 8 June 2013 residents called the Police on a number of occasions to report cars, on park areas, blocking drives, on junctions, double parking as well as parking on private property. The result was that Merseyside Police used the Beach Safe on Sunday, 9 June 2013 to try and help the flow of the traffic in the area and keep the peace between visitors to the area and residents. Merseyside Police said when we contacted them that:- "We are aware of the situation and advice that people heading to Formby and to other areas of our coastline, as this has affected Ainsdale Residents as well, that they should use public transport as much as possible. Sadly, it is a Sefton Council issue and not one that we can resolve as it is down to lack of parking facilities in that area and the signs directing traffic to alternative parking in the area! We have been made aware of the escalation of this issue and we are monitoring the situation. We appreciate that this is a new issue to most residents and that some have had abuse when asking motorists to move when obstructed. For that reason we will be working with the other members of the 'Beach Safe' campaign, like Sefton Rangers, the RNLI, Southport Lifeboat and the Fire and Ambulance services over the next few months over this issue. As the hot weather and the summer approach, we ask that if residents do have any issues with illegal parking, that they should not call 999, but call 101 instead. The 999 number should only be used for situations where life is threatened, people are injured, offenders are nearby or if immediate action is required. 101 is for low priority situations like anti social and dangerous parking. Our officers will be issuing tickets to cars dangerously parked over the summer, so if you are heading to the beach, remember to park sensibly if you do come by car!"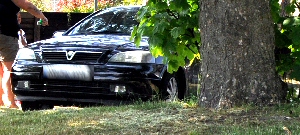 One resident said:- "We try our best to keep the area clean and tidy. We can not though let our kids out to play on the grass as cars are now parking on it and damaging it!"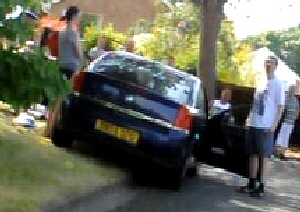 When it comes to parking on greens, we have been told by a Road Traffic expert that that under Section 34 of the Road Traffic Act 1988 makes it a 'criminal offence' to drive over, or park on land (including a green) not forming part of a road without lawful authority to do so. But other rules do apply that could lead to prosecution and fines being handed out to the owner and/or driver of the vehicle in question, like Section 12 of the Inclosure Act 1857 or Section 29 of the Commons Act 1876. So drivers be aware! On 10 June 2013, in response to the outcry, Formby's Labour Councillor Nina Killen also commented that the weekends parking was anti social. One of the many Tweets read "On-street parking works as long as cars don't double park and block driveways. That is unacceptable nuisance for residents" also saying:- "I've requested parking restrictions to stop obstructive/dangerous double parking."
Click here to see a related news item we ran a few weeks back. Also if you are affected or you feel that we are being to harsh on the people parking their cars? Please do email us via our newsroom email address:- news24@southportreporter.com.

"BAG IT AND BIN IT" SAYS MP FOR SOUTHPORT AS DOG FOULING ON THE RISE FOR 1ST TIME IN 10 YEARS

AS the dog population sits at approximately 8 million and is only set to grow so too is the problem with dog mess. For the first time in ten years a rise in dog fouling has been reported and with 64% of people considering it to be the most offensive litter item, something needs to be done to tackle the problem. Dr John Pugh, MP for Southport, is this year lending support to The Big Scoop, an initiative to be launched on 14 June 2013, by Dogs Trust and Keep Britain Tidy with the help of celebrity campaigner Ben Fogle to urge people to not only collect their dog's mess but dispose of it properly too. Dogs Trust approached all MPs asking whether the issue of dog fouling is affecting their constituents and the overwhelming feedback was a resounding yes. Says Dr John Pugh, MP for Southport:- "Dog fouling is a matter which is raised on a fairly regular basis whether directly in emails, phone calls and letters or when we go out canvassing the streets. I can point out that it is also a matter which directly affects our own office! It is clear that fault lies with a few irresponsible owners; the vast majority of dog owners in Southport are responsible and always remember to 'bag it and bin it. I support The Big Scoop as an excellent initiative to highlight the problems of dog fouling and urge people to take responsibility for their dogs." The Big Scoop will engage with children, Councils and park wardens to raise awareness of the importance of responsible dog ownership. Children will be asked to show their support and don specially designed capes transforming them into Scooper Heroes and Councils will be supplied with free poo bags and literature on the issue. Celebrity supporter Ben Fogle adds:- "Thousands of pounds are spent each year on ensuring public spaces are kept clean and this could all be so much easier if dog owners remembered the simple message to 'Bag it, Bin it.' Sadly it's becoming a recurring sight to see bags of dog mess hanging from tree branches, fences, gates, basically anywhere but in a bin. It's a two step process and one which all dog owners need to be on board with. After all we all know that the Dog Poo Fairy doesn't exist!" Activity will start on 14 June 2013 and Scooper Heroes and Council led activities will be arranged to garner support for The Big Scoop. To find out more please visit:- thebigscoop.org.uk.
Law Society Excellence Awards now open for nomination
THE Law Society is inviting legal professionals to enter the Excellence Awards 2013. Now in its seventh year, and bigger than ever before, the event showcases some of the brightest minds and most innovative firms in England and Wales. This year, the focus is on individuals and teams across the legal sector who are setting new precedents in the profession.

Law Society Vice-President Nick Fluck said:- "If you or your team are breaking new ground, if you have shown great innovation, if your work has been outstanding, we want to hear from you. Now is not the time for modesty and playing down your achievements. By entering the Excellence Awards, you can build your reputation, achieve the respect of your peers and spend some well-deserved time in the spotlight in return for your hard work. This year's expanded event at the Park Plaza Hotel in Westminster is hoping to see first hand the kind of innovation and talent that drives the profession forward."

There are seventeen categories in the 2013 Excellence Awards. New awards for this year include Excellence in Diversity and Inclusion, Excellence in Pro Bono, Excellence in Marketing and Communications, Excellence in Business Development and Innovation, and Excellence in Exporting Legal Services.

The remaining categories for teams are The Lexcel Award for Excellence in Practice Management, Legal Sector Alliance Award for Excellence in Environmental Responsibility; Excellence in Client Service; Excellence in Learning & Development and the CQS Award for Excellence in Conveyancing Practice.

Categories for individuals are: The Law Society Gazette Legal Personality of the Year; Legal Business Woman of the Year; Solicitor Advocate of the Year; Junior Lawyer of the Year; Solicitor of the Year (In House and Private Practice) and Lifetime Achievement Award.

Nominations are now open until August 9 2013. Visit the website for more details.

The shortlist will be announced on 16 September 2013. The winners will be announced at a gala awards dinner on 22 October 2013, at the Park Plaza Hotel, Westminster Bridge, London.