Matisse:-

Jazz Tours To Southport

Report by Natasha Clarke.

THE VIBRANT IMAGES of French painter, sculptor and designer Henri Matisse (1869-1954) are currently on display at the Atkinson Art Gallery in Southport.





The collection of prints being exhibited were created by Matisse in 1947 for his most important book, entitled Jazz. The artwork in this limited edition book is accompanied by text written in Matisse's own undulating style of handwriting.

He first began to paint in 1869 whilst recovering from an appendectomy and remarked "the moment I had this box of colour in my hands I had the feeling that my life was there."


In the 1930s Matisse invented a unique artistic technique using paper cut-outs to create paintings, murals, stage designs and stained glass windows.

Art-lovers can appreciate twenty of these revolutionary designs, which have been presented to the Atkinson Gallery in a National Touring Exhibition until January 3rd2003. Amongst the luminously coloured and imaginative collection are prints entitled Le Loup (The Wolf), Le Coeur (The Heart) and L'enterrement de Pierrot (Pierrot's funeral).

According to Matisse, the subjects in Jazz "with their lively and violent tones, derive from crystallisations of memories, circuses, folktales and voyages."
The work was created whilst Matisse was suffering from increasingly ill health and confined to his sickbed. He created the prints by cutting out shapes with coloured paper, which were pasted down and stencilled onto paper by an assistant using a special printing technique called pochoir.

Matisse's display is drawn from the Arts Council Collection, which is one of the largest loan collections of modern British art in the world.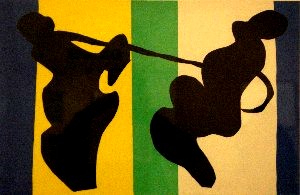 Two other exhibitions are currently being presented at The Atkinson Gallery:- Ship Ahoy, which is a collection of ship paintings and maritime scenes from the Gallery's permanent collection and Snowed In, which is artists' interpretations of winter, is it bleak or a winter wonderland?

The Atkinson Gallery is situated in the main shopping centre on Lord Street between the Library and Southport Arts Centre and is open Monday, Tuesday, Wednesday and Friday 10am to 5pm and Thursday and Saturday 10am to 1pm. Admission is free.