Burbo Offshore Wind Farm
Update!
Report by Adrian Maddocks.
SEASCAPE Energy is proposing to build a thirty turbine wind farm just off the coast of Liverpool on Burbo Bank. Each turbine will be capable of generating 3MW of electricity, a combined total of 90MW. This is enough electricity to power over 72,000 homes or roughly 12% of all the houses in Merseyside. The turbines will stand 130m tall, bigger than the turbines at Seaforth Docks. Yet the closest turbine to Southport will be over 20km away, so the turbines will be barely visible from Southport Pier or the beach. Burbo Offshore will save an equivalent of 270,000 tonnes/year of Carbon Dioxide emissions, one of the main contributors to Global Warming and Sea Level Rise. The turbines will provide clean, renewable electricity that is non-polluting and environmentally friendly.

SeaScape Energy has recently submitted its Environmental Statement (ES) for the Burbo Offshore Wind Farm. The ES was the culmination of twelve months of consultation and research on the effect the proposed development could have on the Liverpool Bay area. SeaScape are pleased to say that our studies have shown there will be no harmful effects anywhere in Liverpool Bay.

The next phase of the project is to undertake more detailed monitoring of the wind farm. This will include several boreholes to provide a detailed assessment of the sediments on-site, to help with the engineering of the foundations. Detailed designs of the turbine foundations, their installation methods and subsea cable connections will be prepared. Contractors will be appointed to carry out the work and SeaScape hopes to use as many local companies from the North West as possible. The onshore connection to North Wirral will be progressed, with the possibility of constructing the substation and installing the onshore cables towards the end of 2004.

Investigations into different foundation types for the meteorological mast have put back its installation until 2003. The construction of the wind farm itself is now expected to take place in 2005.

Copies of the Environmental Statement and the Non-Technical Summary are available to download from the SeaScape Energy website at www.seascape-energy.com. A paper copy of the Non-Technical Summary is available free of charge from SeaScape Energy.

Crosby Coastguard Station View (Above)

Southport Pier View (Above)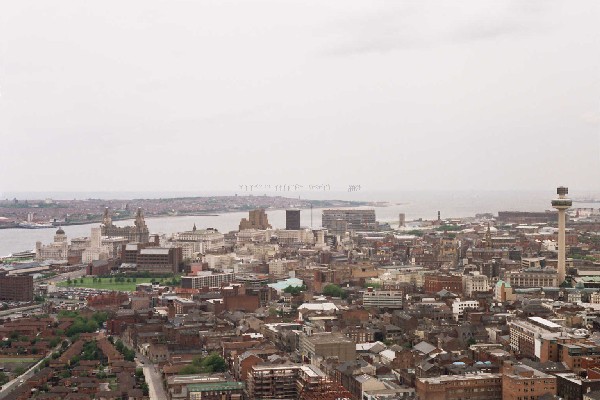 Anglican Cathederal View (Above)