The Chancellor delivers a package of measures enabling long term growth and investment
RESPONDING to the Chancellor's Spending Review on 26 June 2013, the Federation of Small Businesses (FSB) is pleased that George Osborne has listened to the small business community. The FSB welcomes the longer-term approach to capital spending across the whole of Government and the planned investment on infrastructure projects. Furthermore small firms across the country will hope the planned improvements to the road network will enable companies to develop and grow their businesses. With more public sector job losses expected between now and 2015, it is important that small and medium-sized (SME) firms are able to do their bit and fill the gap. FSB research has shown that SMEs take on a disproportionate number of long-term unemployed. It is crucial that Government provides the right support so they can grow their business and create jobs. John Allan, National Chairman, Federation of Small Businesses, said:- "It is good that the Government has taken a long term view of how to plan capital spending to the end of the decade, it is something we raised in our submission. However what we now need is a clear timetable for delivery. Small firms tell us that school leavers aren't ready for the world of work with many concerned about their ability in maths and English. Giving the funding direct to schools should be used to address this issue. The continued investment in science, technology and apprenticeships is also good news."

Commenting on infrastructure spending, Mr Allan continued:- "Businesses are heavily reliant on local infrastructure. Small firms use roads far more than rail with 66 per cent of FSB members using the roads for work. Given that, it is encouraging to hear the Chancellor say that money will go to improve local road networks. The FSB has called for a road repair and renewal fund which would help smaller projects get up and running to improve roads sooner rather than later. When the details of this announcement are set out tomorrow, we hope there will be a clear timetable for delivery. With an ever-increasing use of technology small firms need a reliable broadband network. While there is little detail about broadband spending, we hope this will come tomorrow within the economic infrastructure plan. The FSB wants to see stronger commitment to, and a radical shift in, the Government's approach to broadband deployment. The FSB has long been calling for universal connectivity because it is not acceptable that thousands of small businesses in rural and remote locations are left unconnected and therefore unable to take advantage of digitalisation."

Commenting on skills and education investment:- "The investment in strengthening the skills base in the long-term is welcomed by the FSB. Indeed maintaining funding for apprenticeships for those 19 and over, and reforming the system to allow businesses to have more involvement is good news. However, time must be taken to get these reforms right and piloting any new system is crucial. Equally, the FSB agrees that reforms are needed to the education system as many small businesses are not satisfied with the skills of school leavers, particularly around numeracy and literacy and other key employability skills. Business involvement in these reforms is crucial. University Technical Colleges and Studio Schools offer an interesting way of increasing business involvement in education and skills and so further investment in this area is also welcomed."

Commenting on the freeze in Council tax:- "Businesses on the high street will hope that the continued freeze in Council tax will mean more money in the pockets of customers. But they continue to be penalised by ever-increasing business rates – particularly last year's 5.6% increase. Business rates are the third highest outgoing for a business after rent and wages and radical reform of the tax is needed to make it fairer for small firms."

Commenting on energy and flood defences:- "The commitment of further investment in energy production will hopefully lead to more stability in energy bills for businesses, where they are quite volatile at the moment. Equally the commitment to new flood defences for the rest of this decade is welcomed. However, with the agreement between the Government and the insurance industry due to come to an end at the weekend, the FSB hopes this is renewed and means that businesses will be able to insure themselves."

Liverpool has its Ear to the Ground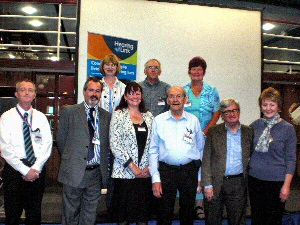 LOCAL and national organisations in Liverpool came together recently to support a social and information event for people with hearing loss.

Ear to the Ground was a free event for people with hearing loss, their family, friends and others to find out about services and help available to them locally and nationally.
For people who use hearing aids or cochlear implants, it was a chance to find out more about hearing loops and how they can be improved in their local area.

More than 100 local people attended the event, with organisations and groups from across the region taking part. The event was held at The Liner Hotel, Lord Nelson Street, in Liverpool, on Saturday, 15 June 2013.

It was organised by the UK charity Hearing Link. Collaborative partners were Hear Here (Hard of Hearing project), The North West Federation of Hard of Hearing Clubs, Aintree University Hospital, British Tinnitus Association, ATLA (the Association of Teaching of Lipreading to Adults), Careline Liverpool's social care contact service and the Cochlear Implant User Group. The event was sponsored by The Leach Trust.

A special feature of the day was a presentation by Tony Kay, Head of Audiology Services, from Aintree University Hospital, NHS Trust Foundation, who spoke about its excellent Audiology Services whose mission statement is 'to be the Center of choice for hearing, balance and tinnitus services'.

Dr Lorraine Gailey, Chief Executive of Hearing Link, said:- "It was a pleasure to welcome so many people from Liverpool along to our first Ear to the Ground event in the City. It was a rare opportunity for them to find out more about the support and services that may assist them or family members in managing the challenges that hearing loss can present. When you have hearing loss, it can be easy to withdraw into yourself and to find yourself isolated. This event was a good way for people to connect with others who also live with hearing loss. I would like to thank all the local organisations and individuals who helped make this event a success."

Tony Kay, Head of Audiology Services, Aintree University Hospital NHS Foundation Trust, added:- "It was a privilege to be invited to support and present at this event. I was amazed to see so many organisations and patients attend this information and social event on a Saturday and it was heartening to have so many patients express an interest in finding out more about the services we offer at Aintree. My thanks goes to all at Hearing Link for allowing organisations to promote their services and making the event possible."

For further information about Hearing Link and the services and support it offers, call its helpdesk on:- 03001111113 or by email.
...Events wanted...
IF you have any charity events taking place in Merseyside and want us to give it a plug, them please do let us know. But please send at least 3 weeks before your event! Email us to news24@merseyreporter.com with your full event information and contact details!