SAFETY FIRST! NEW MEASURES TO LOOK AFTER LIVERPOOL PRIDE CROWDS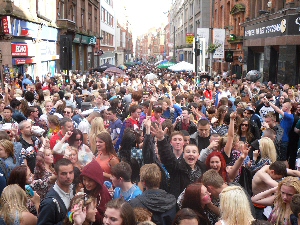 AS part of its commitment to remaining one of the City's most safe and welcoming events for families and partygoers alike, Liverpool Pride will be introducing controlled access to its sites this year.

Since the first Pride in 2010, the annual event has been an overwhelming success, becoming a much loved addition to the City's summer calendar of events, with visitor numbers significantly exceeding estimated figures year on year.

In that short time it has become the largest free LGBT Pride event in the UK outside of London; in 2012, it brought 55,000 visitors to the City from all over the country, and prides itself on providing a host of family friendly activities to ensure the event remains inclusive for all.

This year Liverpool Pride will take place on Saturday, 3 August 2013. In a bid to ensure sufficient crowd safety, discourage underage drinking and anti-social behaviour and maintain a pleasant environment for all attending the festival, the 2 festival sites at the Pier Head and Stanley Street quarter will be subject to controlled access ahead of entry.

Visitors planning to attend Pride are warned this year that alcoholic drinks purchased outside of the festival sites and drinks in glass containers will not be allowed in to the festival. Food and soft drinks in sealed plastic bottles may still be brought along.

The addition of controlled access comes from following discussion with Liverpool City Council and Merseyside Police.

James Davies, Liverpool Pride festival manager said:- "Our City's Pride has grown to become the UK's largest free LGBT hosted event outside of London in just three years. To keep the party and celebrations safe and enjoyable for everyone we've taken the step to introduce controlled access to our sites. The safety of our festival goers remains our number one priority and we are delighted that thanks to the support of Liverpool City Council, our sponsors and Stanley St Quarter bars that we can continue to keep the festival free for all."

Liverpool Pride is working closely with the on-site festival bar providers and City gay bars, particularly in the Stanley Street Quarter, to ensure drinks prices stay reasonable for those who will be enjoying an alcoholic drink on the day. Access to the Waterfront location will be via Mann Island, Water Street or the Mersey Ferry from the Wirral. Stanley St Quarter will be accessible from Dale Street at North John Street, and Tithebarn Street for those arriving from Moorfields Station. Those taking part in the Pride march are reminded that City bye-laws ban alcohol from being consumed or opened throughout the rest of the City Center. Although this will be the first year that Liverpool Pride has introduced a perimeter fence, it is not the first Pride festival to do so. London Pride, which is also a completely free festival, fences its main Trafalgar Sq festival site to maintain the safety of visitors.

Frevo Drop comes to Liverpool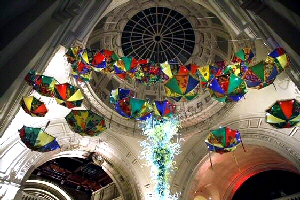 A stunning exhibition of hand-painted and illuminated umbrellas is going on display as part of this year's Brazilica festival.

Frevo Drop is curated by arts collective Braziliality, and comes to Liverpool from the London VandA Museum.

The installation of 30 original frevo umbrellas will be available to view in Metquarter from Friday, 12 July 2013, right through the Brazilica festival week. Metquarter will also be holding costume-making workshops suitable for all the family.

Frevo is a Brazilian style of high tempo carnival music and dance so distinct to the culture of the north east region of Perambuco that it is recognised by UNESCO. Dancers with frevo bands are known for their energetic moves accompanied with the waving of colourful parasols.

The relevance of the umbrellas is more than just spectacle, and can be traced back the late 19th Century and the origins of the dance, when competition between frevo bands on parade could be deadly. Fights would erupt in the crowds, and bands had to resort to hiring protection. The Brazilian martial art capoeira was illegal on the streets, so fighters would cover up their moves as dance and used the seemingly harmless props of umbrellas as weapons to avoid arrest.

Today, frevo costumes and parasols are still inspired by the traditional folk styles of Perambuco, and needless to say the dance forms part of Carnival celebrations and is no longer associated with violence.

Alicia Bastos of Braziliality said:- "It is exciting for us to be able to bring Frevo Drop to Liverpool and to be part of Brazilica, an event that shares our passion for Brazilian arts and culture. Frevo has a fascinating history and we hope people will enjoy coming to see the installation in Metquarter, which will look fantastic!"

Frevo Drop will be free to view between the Metquarter's opening hours of 9.30am to 6pm every day, and is part of Brazilica's exciting events programme.

Now in its third year, Brazilica 2012 attracted crowds of more than 80,000, and this year's festivities are expected to be busier than ever with attractions including Frevo Drop spread over a full week leading up to the main carnival event on Saturday July 20.

Jennina O'Neill, Center manager at Metquarter said:- "We are delighted to be working with Brazilica and to be hosting the Frevo Drop exhibition at Metquarter. As one of the top style destinations in the heart of Liverpool, it seems the perfect fit to partner with one of the City's most exciting, lively and colourful festivals. Frevo Drop is a visually stunning and unusual exhibition and we're sure it will attract a great deal of attention. We'll also be hosting a series of family-friendly costume–making workshops during the Brazilica week; so we're definitely expecting festival fever to be running high amongst our visitors."