SUPERHEROES WANTED!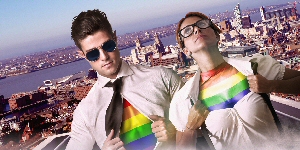 SUPERHERO themed Liverpool Pride 2013 takes place on Saturday, 3 August 2013, at Liverpool's iconic Pier Head and throughout the Stanley Street Quarter and we are looking for Superhero Volunteers to help make it the biggest and best festival yet!

Voluntary roles range from March Stewards, General Stewards, Bucket Shakers and Advisors to work on the festival (and also for all year round fundraising), Bag Packers, and anyone with experience of running / organising small fundraising events and sponsored activities.
Do you want to get closer to all of the exciting Pride action than the general public?

Are you up for a little hard work with maximum rewards?

Do you want to meet new people, whilst gaining experience of working at a large scale outdoor event?

If so, then Pride 2013 needs you!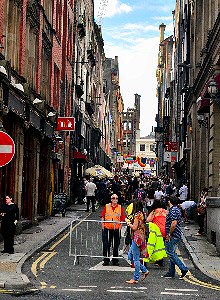 If you are interested in taking part and helping this fabulous event run as smoothly as possible you can register online or contact James Licence, Volunteer and Fundraising Co-ordinator at:- james.licence@liverpoolpride.co.uk for further information or to arrange a chat.

Training sessions will be provided and Pride 2013 also welcomes applications from any potential volunteers who have a disability or injury and will help to find them a suitable role.

Volunteers will get a free t-shirt, lunch and refreshments, an amazing reference (which will look great on your CV) and an invitation to the volunteer feedback party later in the year!

In addition to the events taking part at the Pier Head and the Stanley Street Quarter there will also be a weekend of cultural events taking place at some of Liverpool's most influential arts and cultural establishments.

Make sure you check out liverpoolpride.co.uk, @LiverpoolPride on Twitter and facebook.com/LiverpoolPride to have your say and for all of the latest pride news.
Click on here to see what happened in 2012.

MEP secures deal on cleaner cars
A North West MEP has secured a deal to get more miles to the gallon out of new cars. An average improvement of 30% by 2020 is expected following the outcome of negotiations in Brussels between MEPs and officials from EU governments.

The deal will also secure reductions in CO2 emissions from new cars to 95g per kilometre from the present average of 132g. And new testing arrangements will be introduced to ensure that performance figures more closely reflect real driving conditions. The new requirements will apply to every vehicle made here or imported into the European Union.

Liberal Democrat MEP Chris Davies won parliamentary support for the 95g target back in 2007, and was a member of the negotiating team that has now seen it confirmed in law. He described it as a win-win outcome that would help the environment while cutting the costs of driving. "We want to build a stronger, greener economy and this is a great example of doing just that. Everyone wants more fuel-efficient cars with low emissions and this will help keep European car manufacturers ahead of the game."

Davies said that changing the test arrangements was also essential to give the public accurate information. "The way in which cars are tested at present bears no resemblance to the real world. It's been a cheats' charter that must be curbed."

The North West of England gets a major economic boost from making cars and car parts; many of which depend on green technologies for a competitive edge.

A study by the European Commission suggests that the fuel efficiency deal could save as much as £850 for an average driver secure a 6% reduction in UK oil imports by 2020.
TITAN AND SOCA ARREST 4 PEOPLE AS PART OF ANDREW MORAN FUGITIVE INVESTIGATION
Police investigating how 1 of Britain's most wanted fugitives managed to evade capture for 4 years have now arrested 4 people after a series of early morning raids in Manchester on Tuesday, 25 June 2013. Officers from Titan (the North West Regional Organised Crime Unit) assisted by Lancashire Constabulary and the Serious Organised Crime Agency (SOCA), raided three houses in Radcliffe, Chorlton and Prestwich. A 27 year old woman, a 29 year old woman and a 27 year old man have been arrested for assisting an offender and money laundering and a 39 year old man has been arrested on suspicion of assisting an offender and making an untrue statement to procure a passport. They are all accused of helping 31 year old Andrew Moran evade capture and will be questioned during the course of the day. Moran, who had been on the run since 2009, was arrested on Friday, 10 May 2013, after a raid at a luxury villa in the Calpe area of Alicante. 2 handguns, 60 rounds of ammunition and a machete were recovered. Full details here. Moran was 1 of 7 men targeted as part of a multi-agency initiative to combat organised crime in Salford. He was also on the most wanted list for Crimestoppers' Operation Captura campaign, and his arrest means 50 fugitives have now been caught since it was launched. In May 2005 Moran and his criminal associate, 29 year old Stephen Devalda, held up a Royal Mail van outside Asda in Colne, Lancashire. A handgun, machete and baseball bat were used during the £25,000 raid in which a security guard was injured. Moran was later arrested, but during his trial at Burnley Crown Court in February 2009 he assaulted four security guards, vaulted over the dock and escaped. He was subsequently convicted in his absence of conspiracy to commit armed robbery. Detective Chief Inspector Janet Hudson from TITAN said:- "These arrests were made as part of our continued investigation into how Moran was able to evade capture for so many years. This should demonstrate our commitment to tracking down not only those who try to evade justice but those who are believed to have helped dangerous offenders to stay on the run."