1ST EVER NATIONAL STUDENT RACE DAY
IN a bid to attract students into the fun and excitement of horseracing, 6 of Britain's best known racecourses have teamed up to host a 1st ever National Student Raceday on Saturday, 26 October 2013. The new initiative is being organised by Lovetheraces who hope to attract the biggest-ever student attendance in British racing's history. The venues involved are Aintree, Newbury, Doncaster, Chepstow, Stratford-on-Avon and Wolverhampton; the 6 racecourses holding race meetings around Britain on the day.

Tickets will be available via student unions and Lovetheraces.com at a uniform entry price of just £10. Plus, Great British Racing will be providing selected universities with free transport to their nearest racecourse.

Several universities have already signed up to promote the Day and many others are expected to be on-board ahead of Freshers' Week. Lovetheraces will also be promoting the day to students via targeted advertising and social media.

The raceday, which is set to take place soon after the start of the academic year, will provide newcomers with a strong choice of Flat and Jumps fixtures, including the Old Roan Chase Day at Aintree, Racing Post Trophy Day at Doncaster, St Simon Stakes Day at Newbury, the Silver Trophy Hurdle at Chepstow and competitive cards at Stratford and Wolverhampton.

Rod Street, chief executive at Great British Racing, commented:- "We've seen the success of student race days in Ireland and are keen to introduce increasing numbers of young people to the delights of British racing so our own National Student Raceday seemed the perfect opportunity. We're particularly pleased that all 6 courses agreed to support the Day which was chosen due to its close proximity to the start of term."

Students wishing to apply should visit:- lovetheraces.com for further details. Ticket sales are limited to a maximum of 4 tickets per booking and a valid NUS card will be required.
KIDS IN THE NORTH WEST GET A CREATIVE VOICE THROUGH DIGITAL TECHNOLOGIES
YOUNG people in the North West of England want to create and not just use digital technology, according to a new survey released by 'Make Things Do Stuff', a free new website for young people to get involved with making digital technologies.

Even though only 7 per cent of 9 to 18 year olds in the North West know how to use coding, 65% would like to learn computer programming so that they can create gadgets. The survey additionally found that 67% would be happy to put in that extra bit of effort to learn how to design their own Apps, games and animation by joining an after school computer coding club.

Steven Flower, U18 Co-ordinator at Manchester based MadLab, said:- "It's good to see that kids are keen to learn about coding in their free time to be able to create their own digital technologies. We're always amazed at how quickly young people pick up and develop the skills that they need to be able to build things like Apps, websites and even robots. At MadLab we are keen to inspire the next generation of talent across the region, so having a readily available learning platform like MakeThingsDoStuff.co.uk is a great advantage as kids can either learn from home or find about some clubs and events in their area that they can join."

Make Things Do Stuff, led by Mozilla, Nesta and Nominet Trust, aims to inspire and support young people who want to get into, or further develop their experience of digital making. Digital technologies touch every aspect of life, from socialising and business; to controlling cars and watching the latest movies.

Through the new website and a series of UK-wide events, Make Things Do Stuff helps young people to explore new ways of bringing their interests to life through making; be it fashion, sport, music or gaming.

The website gives young people the tools and support that they need to become creators, not just users of the web and digital technologies. The site showcases a host of digital tools, tips and links to projects that they can get involved in, showing them how to develop their ideas further through the creation of a website; by designing an app; developing their own game; or building a real life gadget.

Beyond the website, there are lots of great digital making activities being run across the UK for young people to get involved in the Make Things Do Stuff summer of making. The possibilities of digital-making are endless, all that is needed is a little imagination and the tools to make those ideas a reality.

All of the Make Things Do Stuff online digital tutorials covering Apps, animation, games, remixes, physical computing and websites are free to use - visit:- makethingsdostuff.co.uk.

APPEAL FOR INFORMATION - FRAUD - LORD STREET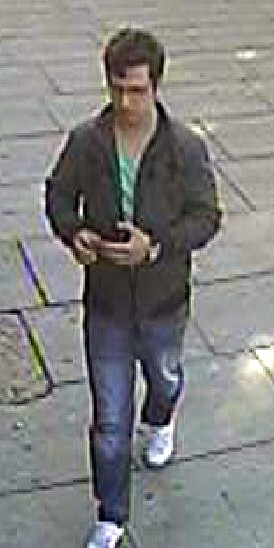 MERSEYSIDE Police have issued a CCTV still of a man officers would like to speak to in connection with the discovery of a device attached to an ATM machine in Southport on Saturday, 15 June 2013.

Officers were called to an ATM on Lord Street after members of staff had received a number of reports of cash not being dispensed. The ATM was examined and a device was found to have been attached to the machine.

The device has been recovered and is currently being examined by the Police.

Officers believe the man pictured may be able to assist them with their enquiries.

Dedicated Neighbourhood Constable Alan Wrigg, said:- "The general advice is if you are not happy with the ATM and feel it may have been tampered with, then call us. We would rather come out and investigate it than not be told and someone suffers the consequences. People should look out if anything does not seem right, if there are any scratches, or if the card holder / cash dispenser is loose. They are only placed on there as a temporary thing and if you poke or tap it a bit it can come off. We believe the man pictured may be able to help us with our enquiries and we would ask him or anyone who recognises him to contact us."

It is not believed this device was at that cashpoint for a long period of time, and officers are investigating CCTV footage. An investigation into the full circumstances of the incident is ongoing.

Anyone with information is asked to contact Merseyside Police on:- 0151 777 3425 or Crimestoppers on:- 0800 555 111.
CRACKDOWN TO PUT THE BITE ON IRRESPONSIBLE DOG OWNERSHIP
MERSEYSIDE Police and their partners will be carrying out an operation to tackle irresponsible dog ownership. Officers from Merseyside Police's dog section, along with neighbourhood officers and partner organisations, will be out and about in Merseyside's parks and open spaces over the next 6 weeks. Officers will be meeting dog owners and other park users and talking to them about any concerns.

The operation is in response to concerns voiced by residents and comes following a number of incidents involving dog attacks, both in Merseyside and other areas of the UK.

Assistant Chief Constable Ian Pilling will be meet with Consultant Plastic Surgeon Mr Christian Duncan from Alder Hey Children's Hospital and Chief Inspector Simon Small from the RSPCA to launch the event.

Officers will be working with the RSPCA, Local Authority Dog Wardens and The Dogs Trust to tackle the issues of irresponsible dog ownership and status-type dogs. There will be an opportunity for dogs to be micro-chipped for free. Neighbourhood officers will be carrying out spot checks in the area and officers from the dog section will be on hand to deal with any dogs thought to be banned under the Dangerous Dogs Act or any breaches of the legislation.

Assistant Chief Constable Ian Pilling said:- "We are not trying to demonise dogs or their owners, but we are working with our partners to promote responsible dog ownership and to make sure that owners are aware of the impact on the wider community of their dogs actions. In most cases dogs become part of an owners family, and we make no excuses for targeting those owners who use their dogs to intimidate others, or allow their dogs to roam the streets causing anti-social behaviour. Owners have to be aware that they may well be held accountable for their actions under the law, and could end up with a criminal record."

RSPCA chief inspector Simon Small said:- "The RSPCA role is very much to promote responsible ownership, which is vital in protecting the welfare of dogs as well as people in the area. We are working to tackle the problems associated with over breeding and have already microchipped more than 130 dogs, providing a link between them and their owners."

Christian Duncan, Consultant Plastic Surgeon at Alder Hey said:- "Here at Alder Hey, we treat huge numbers of dog bite injuries every year; during the summer it's more than one a day. While the vast majority of these are not life threatening they can still have a devastating impact with many children requiring surgery and most suffering permanent scarring. These bites are from literally every kind of dog, not just the obvious dangerous dog breeds. There is no such dog as a safe dog where children are concerned and we therefore urge all dog owners to act responsibly and be aware of the dangers to children."