Waist no time in shaping your future Ė become part of the Hoola Nation fitness trend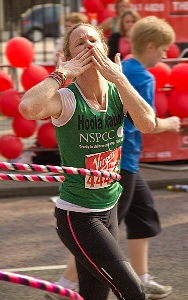 ARE you a sports enthusiast, existing fitness instructor, Hoola Hooping-lover or simply want an exciting part-time career change? If so, then Hoola Nation wants you.

Hoola Nation, an established fitness group running classes across North Wales and Chester, is looking to expand. It wants to offer its fun and exciting Hoola Hooping classes to a wider catchment area and is recruiting fitness instructors to join this fast-growing fitness trend.

To become a Hoola Nation instructor, you need to complete an online skills-based module and participate in a one-day training workshop. The workshop concludes with an exam to ensure that all instructors meet the necessary skill level required by Hoola Nation. The next weekend of workshops are being held at Northgate Arena, Chester on 28 September and 29 September 2013. The online training and one-day workshop costs £240 and potential instructors can select to focus on training for adults or children.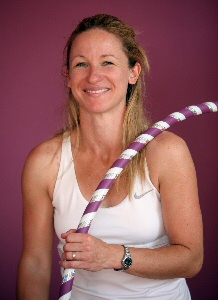 Hoola Nation runs classes for adults and children, promoting itself as providing a positive environment, for those who want to feel good about themselves and workout with a smile. Hoola Hooping is proven to be beneficial for the core and works the waist area with visible results.

Sasha Kenney, founder of Hoola Nation commented:- ďHoola Hooping really does work and itís great fun too. Not only does it strengthen your core muscles and drops inches from the waist line, it also makes you feel fit and healthy. You canít help but smile whilst youíre playing with the hoop, bringing that feel good factor we all love to the workout. I stand by the principle that a workout with a smile is a workout worthwhile!Ē

Sasha Kenney herself has become a popular local icon and an ambassador for womenís fitness. Her latest achievement has seen her name in the 2013 Guinness Book of Records as running the fastest marathon whilst hoola hooping after completing the 2012 London Marathon in just 5 hours and 5 minutes, breaking the previous record of 6 hours.

Hoola Hooping is taking the UK by storm and itís fast becoming one of the leading fitness classes, with celebrities including Davina McCall, Beyonce and Kelly Osbourne all boasting Hoola Hooping as their workout of choice.

If you are interested in becoming a Hoola Hooping instructor, contact Sasha Kenney on email:- sasha@hoolanation.co.uk to find out more and join in the fun.
For all editorial enquiries please contact Sian Edwards at:- sian@zebra-comms.co.uk or call:- 01978 660806.

Dora The Explorer Has Fun-Filled Adventures Across Merseyside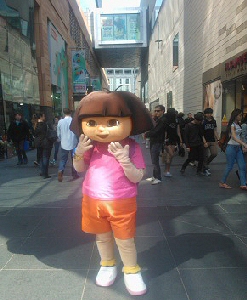 EVERYONE'S favourite little explorer has embarked on a fun-filled 2 days of Merseyside and gave fans a huge treat with a number of meet and greets and personal appearances.

Dora took time out of her busy schedule ahead of her highly anticipated show Dora the Explorer Live:- Search for the City of Lost Toys, at Liverpool Empire Theatre, between Friday, 12 July ro Sunday, 14 July 2013, to go on a new adventure exploring some of the regionís top sights and attractions.

Dora at Claire HouseDoraís first stop was to surprise the children at Claire House Childrenís Hospice. Claire House is based on the Wirral and offers respite, care and support for children and young adults with complex medical conditions and their families. Their incredible work provides a happy and supportive environment with laughter, positivity and care at their core. Dora was delighted to meet the children their and her visit certainly lifted the spirits and left everyone with a smile on their face

Dora in Liverpool ONENext up was to Liverpoolís popular retail destination Liverpool ONE. Dora enjoyed seeing the vast array of shops the city had to offer and gave visitors an unexpected treat as she mingled with shoppers, stopping for photos with all her fans.

Dora ended her sight-seeing excursion last Friday with a wild safari adventure, meeting all of the animals and exploring Knowsley Safari. Dora learnt all about the conservation work undertaken to protect the many species and enjoyed an up close experience feeding Rigsby the giraffe.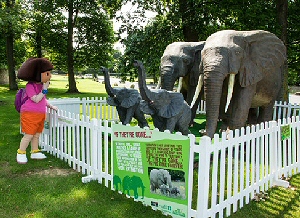 KSPDORA KSP ELEPHANTS; The adventure isnít over for fans, if you missed her last week donít panic! Dora will be returning to Merseyside at the Liverpool Empire Theatre from 12 July to 14 July 2013, with a LIVE musical adventure in Nickelodeonís Dora the Explorer LIVE! Search for the City of Lost Toys.

Dora the Explorer has lost her teddy bear, and the search is on to retrieve him! With the help of the audience, Map, Backpack, Boots, Diego and their courageous friends, Dora uses her map-reading, counting, musical and language skills to successfully pass through the number pyramid and the mixed-up jungle to reach the City of Lost Toys. But watch out; you never know what that sneaky fox Swiper might be up to along the way!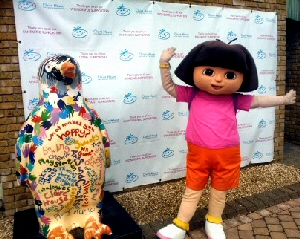 Nickelodeonís Dora the Explorer LIVE! Search for the City of Lost Toys has delighted more than 2 million people all over the world, and now itís time for Dora the Explorer fans in Liverpool to enjoy this 2 act, song and dance spectacular that invites them to think, sing and play along. For more information please visit:- atgtickets.com/liverpool for all the details!