Mayor of Sefton presents awards at BEN's Alexandra House Care Centre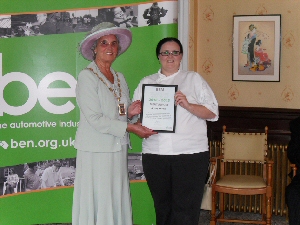 EACH year BEN, the automotive industry charity encourages and supports its staff to progress their own continuing professional development and take the opportunity of furthering their own knowledge and skills.

This year staff certificates were kindly presented by the Mayor of Sefton, Cllr Maureen Fearn and Consort Frank Winrow, in the presence of specially invited guests. The Annual Training Awards is a prestigious occasion which recognises individual staff achievements at the BEN's Care Centre in Southport.

Jean Woolliscroft, BEN's National Training Co-ordinator commented:- "This is a continuation of the commitment to personal development shown annually by our staff. Achievements are many and varied from Induction to specialist Dementia and 'End of Life' courses, level 2 & 3 Diplomas (and Apprenticeships) in Health & Social Care to Professional Cookery. An array of achievements that will ensure each person providing care & support to BEN's residents is qualified with all the relevant skills and knowledge. In turn the residents are treated with dignity and respect in order to enrich their daily lives."

To get in contact the details are:-
Jan Habeck, Alexandra House Care Centre, 2 to 4 Lord Road, Southport, Merseyside, PR8 1QD.
The phone number for the care centre is:- 01704 543715.
WILL THE NHS MAKE 75? UNISON WARNING AS NHS HITS 65
AS the NHS reaches 65, UNISON, the UK's largest union, is warning that Tory mismanagement may mean the NHS as we know it does not reach 75.

To celebrate 65 years of publically provided, free at the point of use healthcare, the union will be holding events across the country this week. From birthday cupcakes and evening dances to rallies and speeches, the union will be thanking NHS staff for their life-saving work – see full round-up of regional events below.

The union will also be raising the profile of the huge threats to the health service posed by the Tories. The NHS is being undermined by shrinking budgets as the cost of healthcare rises, the unprecedented demand for huge efficiency savings, job losses and the increasing involvement of private companies. The billions wasted on the chaotic top down re-organisation of the NHS is making a bad situation worse said the union.

To safeguard the NHS for the next 65 years, UNISON is calling for minimum staffing levels to ensure patients and staff are safe, and for decent funding, with the NHS budget properly protected, so it cannot be clawed back by the Treasury. The union is also warning that patients must come before profits, with taxpayers' money being spent on improving care, not going to enrich the shareholders of private healthcare companies or on employing expensive and unnecessary management consultants.

Christina McAnea, UNISON head of health, said:- "We are deeply concerned that the NHS as we know it will not make its next important milestone. True to form, the Tories are running our health service into the ground. By constantly running down the NHS and its workers, the government is trying to soften up the public mood, so that it can sell the NHS off and cut it to the bone without too much of a fight. Unless we act to protect the NHS now, we could face treatment rationing or patients may have to pay top ups for different treatments. We are warning the Tory-led coalition that they will have a fight on their hands when it comes to protecting our NHS."

Free family fun day out in Merseyside from Motability
DISABLED motorists and their families can explore all their mobility options with ease this summer, by heading to the Motability One Big Day event at the Aintree Racecourse, Merseyside on Thursday, 8 August 2013. The One Big Day event will showcase a wide range of cars available on the Motability Scheme, as well as a whole host of fun family activities throughout the day such as meeting Billy the Bear and free goodie bags.

Hosted by Motability, the leading car scheme for disabled people, the One Big Day event at Aintree racecourse will have more than 50 cars on display from 14 manufacturers including Wheelchair Accessible Vehicles (WAVs), and a wide range of adaptations, scooters and powered wheelchairs. Motability advisors and specialists from WAV and adaptations companies will be on hand to offer guidance and advice. Visitors will also be able to book in for free test drives in a range of both standard and adapted cars.

In addition to this, visitors to One Big Day can enjoy a free cup of tea, coffee or a soft drink. Family entertainment including free face painting, balloon modelling and appearances from Motability mascot 'Billy the Bear' will ensure the whole family has a great day out. Parking is free and scooters and wheelchairs are available for hire.

Mike Betts chief executive, Motability Operations explains:- "The Motability One Big Day events have continued to grow in popularity with more and more people coming along each year. We've increased the size and scope of the events for 2013, holding five One Big Days across the UK and following the success of our 2008 event at Aintree Racecourse we're really looking forward to returning. We've worked hard to ensure that the events include family activities, specialist advisors and even more cars, scooters and adapted vehicles to test drive than ever before."

The One Big Day event at the Aintree Racecourse, Merseyside is taking place on Thursday, 8 August 2013, between 9am and 4pm.

Full details on all Motability One Big Day events can be found at:- motability.co.uk/onebigday.

For more information on leasing a car through the Motability Scheme, visit motability.co.uk or call:- 0800 953 7000.
Students have a 'Wicked' time in London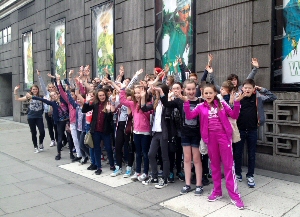 A group of Year 7 students from Formby High School recently spent an action-packed 2 days in London enjoying a wide range of cross-curricular activities from science and history to drama!

The students visited a working laboratory in the London School of Medicine and Dentistry. There they had the chance to meet the technicians and experts, tour the world-class facilities and take part in an interactive workshop called:- 'Introduction to the Centre of the Cell.' They then visited the Natural History Museum, the Tower of London, Westfield Shopping Centre and even found the time to squeeze in a West End show!
Miss Grant, teacher of English at Formby High School said:- "It was a pleasure to accompany a group of such enthusiastic students to London. We all thoroughly enjoyed ourselves."
Bernie, a student in Year 7, said:- "I am really grateful for the opportunity to visit London; my favourite part was going to see Wicked in the West End. It was the best trip I have ever been on."