NSPCC Underwear Rule Campaign to Help Parents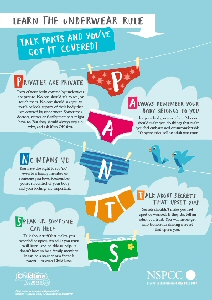 THE NSPCC is launching an 'Underwear Rule' campaign to help parents protect their children from sexual abuse. The 'Underwear Rule' is aimed at helping support parents and carers to explain how to make it easier to have conversations with primary school age children about sexual abuse. There is supportive guidance for parents explaining the Underwear Rule, with the NSPCC's easy-to-remember guide – Talk PANTS – that helps children understand the key points of the Rule. (information and downloads available online)

► Privates are private.

► Always remember your body belongs to you.

► No means no.

► Talk about secrets that upset you.

► Speak up, someone can help.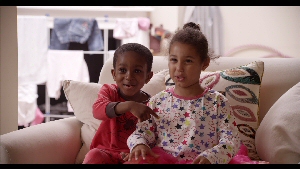 It comes as a new online YouGov poll shows half the parents of 5 to 17 year olds who took part in the survey have never spoken to their sons or daughters about the issue. And of those who have 43% said it was a difficult conversation.

11% of UK adults surveyed said primary school children faced the biggest risk of sexual abuse from someone they don't know with 51% listing 'stranger danger' an area of concern for children of this age. However, previous NSPCC research has shown that in at least 90% of cases the offender was known to the child.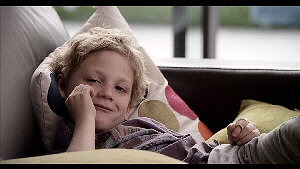 Awareness of sexual abuse has risen dramatically since the vast catalogue of assaults committed by Jimmy Savile were revealed last year, with the NSPCC's helpline experiencing a huge rise in calls. But while parents want to help their children stay safe from sexual abuse many don't always have the confidence to explain how.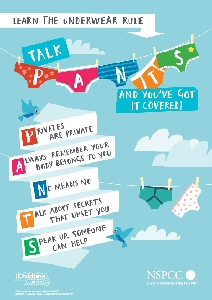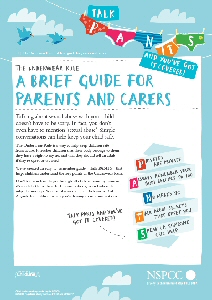 The importance of this is underlined by one of the YouGov findings which shows more than 83% of those taking part said they thought parents of 5 to 11 year olds were responsible for talking to them about the risk.

The 6 week advertising campaign, which will be aired on nearly 60 local radio stations throughout the North West and the UK is being supported by Netmums and will help these parents teach the 'Underwear Rule' to their children during simple conversations. The campaign complements the organisation's ChildLine Schools Service which is visiting every primary school in the UK advising children on how to stay safe from all forms of abuse.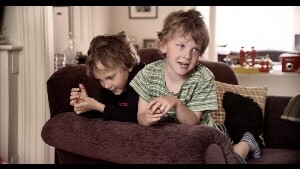 Peter Wanless, CEO of the NSPCC, said:- "The shocking case of Savile has horrified many parents and understandably it has heightened concerns around sexual abuse. But most abuse is closer to home and if we are to tackle this issue we must prevent it before it even starts. To do this we must educate our children about staying safe and speaking out. Parents have told us they lack confidence in approaching this difficult but important issue. We've worked with parent groups to devise a simple, age appropriate way of making sure children speak up if something happens. It's a quick conversation but could make a big difference. It's really easier than you may think and you don't have to mention abuse or sex at all. Just ask them to remember the 'Underwear Rule'. Of course telling kids about crossing the road, stranger danger and bullying are really important but this should be discussed as well. Most parents still think that stranger danger is a threat facing children from the adult world but most abuse is committed by someone known to the child with stranger abuse being very rare. This means traditional messages like 'don't take sweets from strangers' are important but don't work for much of the abuse that is occurring."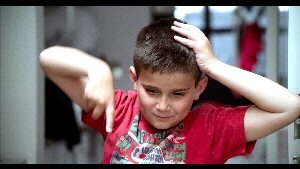 Siobhan Freegard of Netmums, which is supporting the campaign said:- "It's every parents' worst nightmare to find their child has been touched inappropriately - and no family wants to think it will ever happen to them. But as the statistics show it does happen to one in 20 kids, and nine times out of ten by someone known to the child. So by talking about it, you are taking the first steps to keeping your children safe. No one can deny it's a tough conversation to have. As a mum I can talk openly to my children about stranger-danger. I can talk easily about bullying and how to always tell an adult. But talking about them being touched intimately feels much more difficult. As parents we need to find a way to make our kids aware of the danger without scaring them, and that's exactly why the NSPCC is promoting the Underwear Rule. It's clear, simple and easy for even young kids to understand. Think of it as a green cross code against sexual abuse. That is why I am encouraging parents to learn the underwear rule and talk PANTS with their children."

DANCE TO THE SAMBA BEAT FROM DUSK TIL DAWN AT BRAZILICA'S AFTER PARTY!
BRAZILICA is the hotly anticipated event of Liverpool's summer, and as the sun sets on 9 days of samba shenanigans, organisers can now reveal plans for exclusive after show party to keep the post carnival blues at bay for a little while longer. With a dazzling array of live performances and DJ acts, guests will be invited to continue enjoying the lively atmosphere of the carnival spectacular, bringing an electric climax to Liverpool's largest free festival.

Brazilica – now in its 3rd year, is THE extravagant celebration of Brazilian culture. Attracting crowds of more than 80,000 in 2012, this year's festivities are expected to be busier than ever with attractions spread over a full week leading up to the main carnival event on Saturday, 20 July 2013.

After all the action of the Rio-style carnival main event finishes, the party continues at its new location: HAUS Warehouse on Greenland Street – off Jamaica Street, for what promises to be an unforgettable evening of great food, drink and of course music.

All the beautiful Carnival Queens, Samba bands and drum troops will be there cutting loose and enjoying the party, joining them will be a collection of live performances from a vibrant array of artists featured in the carnival. The night will then carry on with some amazing DJ acts playing out Samba and Latin-House vibes keeping the crowds on their feet and entertained until 4am.

If that wasn't enough, guests will also be able to enjoy a true flavour of Brazil with food vendors selling traditional tasty treats. There will also be a fabulous Caipirinha cocktail-shack at the event, so be sure to get your mouth in shape for some amazing exotic and fruity taste sensations.

With its incredible line up and lively atmosphere, be sure not to miss this Brazilian sound sensation. Prices for this awesome night's entertainment start from just £6 with an on the night door price of £10. To purchase tickets please visit:- skdl.it/12kZUnq.

For further information on the event visit the Brazilica website or their Facebook or Twitter pages.

Brazilica promises to wow the crowds bringing Samba to the streets of Liverpool and this is the perfect way to bring a week of celebrating Brazilian life and culture to an explosive close for another year.
MAJOR MILESTONE FOR MERSEYSIDE SCHEME
A local warmth scheme is celebrating after reaching a major milestone. In total, more than £7.5million has been spent in Merseyside to support vulnerable people with heating and insulation measures.

npower Health Through Warmth has leveraged £6.5million in the region, raising money from many sources, including charities, grants and local authorities to help fund work. In addition, a further £1million has been contributed from the unique npower Health Through Warmth Crisis Fund.

npower Health Through Warmth is managed locally by Energy Project Plus, in partnership with local authorities in Halton, Sefton, Wirral, Knowsley and Liverpool, to offer insulation and to install or repair heating systems for vulnerable people whose health is made worse by cold living conditions.

The scheme is available to homeowners who have a long-term illness, a low income with little or no savings and who are unable to fully fund measures, such as a new boiler or heating system. You do not have to be, or become, an npower customer to benefit from the scheme.

Local co-ordinator Robbie McAndrew comments:- "We're delighted to have reached such a major milestone and would like to thank everyone involved for helping make the scheme such a success. We hope to continue to build our relationships with community organisations to help identify people in need, so even more local residents can benefit from the scheme."

Elaine Midwinter, npower Health Through Warmth scheme manager, continues:- "Although summer is here and we are all enjoying the warmer weather, we're keen to make people aware that help is still available from Health Through Warmth. It is great to have reached this fantastic milestone, but we hope to help even more people in Merseyside in the coming months so they are ready for the winter."

Since the scheme was founded in 2000, more than 80,000 vulnerable residents in England and Wales have been referred to npower Health Through Warmth for aid with heating and insulation. More than £68.3million has been levered to help fund the work required, which includes £1.8million from charitable organisations. In addition, £9million has been contributed from the npower Health Through Warmth Crisis Fund.
Tell us which bike you like!
THE LAUNCH of Liverpool's Cycle Hire scheme is drawing ever closer – now people are being invited to hop on a range of bikes from all over Europe and help pick the best for the City.
Liverpool's Cycle Hire Demonstration Week takes place from Tuesday, 9 July to Wednesday, 17 July 2013, bringing 5 leading suppliers to the City to showcase their systems. Each will set up their unique cycle hire stations and bikes in the City centre, giving everyone the chance to take the bikes for a spin and see which they like best.

Ever wondered how they do it in Italy? You can try out the 'Bicincitta'. Think the German approach might be the best fit for Liverpool? Hop onto the 'Nextbike'. Arriva Deutsche Bahn's cycle hire system will bring a pan-European flavour to proceedings, while there will be UK suppliers on-hand in the shape of Hourbike and Grand Scheme.

Liverpool City Council's Cabinet Member for Transport, Councillor Tim Moore, said:- "We think our cycle hire scheme has the potential to massively boost sustainable transport in Liverpool and we want everyone to benefit from it; from commuters and tourists to shoppers and students. We are already talking to people through our survey, but these demonstration events will give people the chance to actually try out the bikes and give their opinions on which they like best. The feedback will help shape how we deliver this important scheme. So come along, have a go, and let us know what you think."

People who want to try out the bikes can pop along to one of the stations, between 9.30am and 4.30pm on Mount Pleasant or in St Paul's Square, register, pick up a route map and get cycling. When they return the bike to the station, they will be asked to fill out a form, giving their feedback.

The suppliers offer a range of different bike styles and systems, from 'Cleverboxes' built into the bikes themselves, which allow people to make hire payment using their mobile phone; to dedicated consoles within the stations, enabling people to pay by credit card.

Everyone who completes forms from at least three different suppliers will be entered into a prize draw on 30 July, led by Olympic cycling Chris Boardman, when one lucky person will win £100 of shopping vouchers.

The Cycle Hire Demonstrations will also play a key role in the City's Environmental Awareness and Green Travel Day on Friday, 12 July 2013. The event, which is delivered by CBRE's Liverpool Environmental Team, will see all five suppliers based, together, in St Pauls Square, to offer bike trials and answer questions.

Liverpool's Cycle Hire Scheme is due to launch later this year, offering people a cheaper, healthier and more environmentally friendly way of getting around the City.

The Cycle Hire Demonstration Day forms part of the wider consultation over the plans. A survey has also been launched by City Central BID and Liverpool Commercial District BID on behalf of the City Council. It aims to gauge the views of businesses and members of the public on the scheme and is available to view online.

The survey; which runs until 31 July 2013, and which has already received hundreds of responses; will help to inform and shape the proposals for the scheme.
People can express their views on where the stations should be, what types of trips they would use the bikes for and how much they think scheme membership should cost.
Ged Gibbons, Chief Operating Officer for City Central BID, which represents more than 630 businesses in Liverpool City centre, said:- ''More than 500 people have so far taken part in the cycle survey, which is a great response and shows the interest there in this scheme. We've also had a huge response from businesses and I'm sure once the bikes hit the road the appetite to get on board will continue to grow.''