Cool It! - MPs call for action to tackle heat in the workplace as temperatures soar
WITH workers sweltering away in unbearably hot workplaces as the Summer heatwave, a group of MPs are supporting calls to introduce a legal maximum working temperature of 30 degrees (or 27 degrees for strenuous work). MPs have tabled a motion (Early Day Motion 414) stating that if the temperature rises beyond these levels, employers should be required by law to take steps to alleviate the conditions.

There is no suggestion that workers should automatically be sent home or given time off when the maximum level is reached; but there would be a clear legal duty on employers to ensure that the health and wellbeing of workers is properly addressed.

The idea also has the backing of the trade unions, which adopted the policy at last year's Trade Union Congress.

Employees in a wide range of workplaces; from industrial bakeries to school classrooms; are often subjected to high temperatures which can impact seriously on their health and well-being, with effects ranging from discomfort, stress, irritability and headaches, to extra strain on the heart and lungs, dizziness and fainting and heat cramps due to loss of water and salt. Forcing people to work when it's too hot also contributes to workplace accidents and fatalities.

David Crausby MP (Lab, Bolton North East and Vice-Chair, Bakers, Food and Allied Workers, said:- "We all know that people work best in reasonable temperatures. But although for generations there has been a legal minimum temperature, there's never been a figure on the maximum. That's not to say people shouldn't work at all in those temperatures, but that employers would have to take steps to alleviate the effects. So employers who want to get the best from their workers will have no problem supporting this."
SYNEXUS SPONSORS LOCAL CHILDREN'S RUGBY TEAM - HINDLEY ARL FC
SYNEXUS, a company committed to the successful recruitment and running of clinical studies with Dedicated Research Centres in Lancashire, Manchester and Merseyside, has sponsored Hindley ARL FC under 10's rugby team enabling them to purchase new team tracksuits.

Hindley ARL FC, which is based in Wigan, was formed in 1991. The club currently has teams playing from ages 7 to Open age. Hindley Amateur Rugby League Football continually produces players of the highest standard and past players from the club have gone on to play professional rugby. The mini and junior teams are set up to develop skills and introduce young children to the game of rugby league. The under 10's team train twice a week and usually play matches on Sunday mornings.

As well as striving to improve the health of future generations through clinical research, Synexus also endeavours to help the local community where possible and is pleased to be able to support the rising stars of Hindley ARL FC under 10's.

Synexus has many years experience in conducting a wide range of clinical studies and each year, thousands of patients take part in clinical studies at Synexus' Dedicated Clinical Research Centres across the UK. There are many different studies running at each of the Centres throughout the year including potential treatments for conditions such as osteoporosis, raised cholesterol, eczema, asthma, diabetes and osteoarthritis of the knee. Participating in a Synexus clinical study means patients receive increased medical attention and may benefit from medications that aren't yet available to other sufferers of their condition, while making a positive contribution to the health of future generations.

For more information about Hindley ARL FC under 10's rugby team visit:- pitchero.com/clubs/hindley/m/team-info-6574.html.

For more information about Synexus and the other studies that it is currently conducting visit:- improvinghealth.com or contact your nearest Synexus Centre and quote the relevant reference code:-

Lancashire:- 01772 344620 (Ref code - 14925)
Manchester:- 0161 662 5044 (Ref code - 14926)
Merseyside:- 0151 550 9951 (Ref code - 14927)

Storms Merseyside's Memory Lane!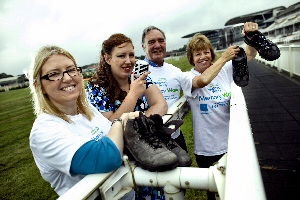 SINGER Lilli Moore turns the clock back at 11am, Tuesday, 23 July 2013, to launch Alzheimer's Society's Aintree Memory Walk. Hundreds of people are being urged to sign up at:- memorywalk.org.uk; for the Merseyside event which last year was the biggest in the country. Lilli has produced a CD and download featuring 6 songs on her new album Memory Lane; with all profits going to Alzheimer's Society.

Lilli, (22) of Windermere Road, Wirral, whose Nan Mary lived with Alzheimer's, said:- "I've mainly recorded songs from the 1920s through to the forties that we both loved; Doris Day is my idol. We watched her films together, particularly Calamity Jane!"

Her Nan, who died 2 years ago aged 74, had always been light hearted with a great memory for dates, but dementia took its toll and she became forgetful.

Lilli, who has been singing professionally for 4 years, said:- "Alzheimer's destroys lives. I put the album together because the Society is such a worthy cause and the work it does is absolutely brilliant."

Lilli will perform at the flagship Aintree Memory Walk, being held in partnership with Bupa Care Homes, at the racecourse on Sunday, 8 September 2013.

Tracks including Going Back, Summertime and Sentimental Journey have featured in a video filmed for Memory Lane at a 1940's style steam railway war time weekend. She said:- "Going back is what Alzheimer's does; it is about going back to childhood memories, which is what was happening to my Nan."

Alzheimer's Society Community Fundraiser, Fran D'Arcy, said:- "Support for our Aintree Memory Walk is fabulous and this year hundreds of people will be able to hear Lilli and take a step down Memory Lane. More than 16,000 people across Merseyside are living with dementia. We hope families will again turn out in force to help us the fight the disease. Aintree Memory Walk is hugely important; it's our biggest fundraiser as well as vital in raising awareness of the damage and heartache caused by Alzheimer's. We really appreciate the fabulous work Lilli is doing to help us and the fact she is so young is brilliant. It shows more than anything that this is all about families. Thanks to the backing of Bupa Care Homes, Alzheimer's Society is able to raise even more money to support people with dementia."

Supporters of the walk include Dot Jackson and her husband Tony, of Mossley Hill, a former steel fixer on high buildings, who was in his late 50s when signs of dementia began to show.

Dot said:- "We were in a local pub at Christmas and Tony went to the bar to buy a drink and never came back. He had gone home, gone to bed and forgotten I was there. I went home and was locked out. The next day our son brought me back and Tony was all upset because he didn't know where I was. He answered the door with tears running down his face. He had woken up thinking I had gone away somewhere. Dementia is a horrific disease, it has an impact not only on the person with the diagnosis but also on the whole family. The disease is life changing. It is hard to put into words how bad you feel about what's happening. It's devastating. Alzheimer's Society has been brilliant and very supportive. With more and more people becoming aware of dementia I hope hundreds of walkers will come along to Aintree Memory Walk and help in any way they can."

Jan O'Harlan, Home Manager at Ennerdale Nursing Centre in Liverpool, said:- "This is the 3rd year that Bupa's care homes have helped deliver the Aintree Memory Walk, to provide valuable support for people who are living with dementia. That's why our staff, who care for people with the condition, will be getting behind the Walk this September and encouraging our residents' families and friends, who have been personally affected by the condition, to get walking to raise valuable funds."