Congratulations to the Duke and Duchess of Cambridge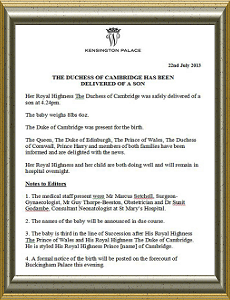 THIS week we asked on our Facebook and on Liverpool Reporter for your views on the birth of the Royal Baby, on Monday, 22 July 2013. Kensington Palace revealed the baby's full name will be George Alexander Louis. William and Kate's baby will be known as George Alexander Louis. George is named after his great, great, grandfather, King George VI, the Queen's father. We would like to know if you are doing anything to celebrate the Royal Birth. Email your views and thoughts, plus any photos of you celebrating the birth to us at:- news24@southportreporter.com.

These are your messages on the British Monarchy's new edition so far:-

Jan Heitinga Gorry:- "Oh there's some miserable people about... A baby's been born to a lovely couple that's always good news, its our future King something us British should be proud of... Just b happy and smile !!! — feeling good."

Amy Marriott:- "Congratulations to kate and will on a healthy baby boy are future one day king xxx"

Dawn French:- "Please join me by clicking 'Like' on this post to congratulate"

Prince William and The Duchess of Cambridge:- "Kate Middleton on the birth of their son...the future King of Britain. He was born today at 4.24pm and weighed 8 pounds and 6 ounces. Our love and thoughts go to the new parents."

Susan Hayward, 16 Post Office Avenue, Southport:- "Congratulations to Will and Kate x"

Rehana Bhyat Hira:- "Congratulations to William and Katherine who had a baby boy!! :-D xoox"

U.S. Embassy London:- "Absolutely delighted to hear the news of the newest addition to the Royal Family, Embassy Chargé d'affaires B Stephenson. Congratulations to the Duke and Duchess of Cambridge, millions of Americans are thrilled."

Gilly Louise Hulse:- "Birth of a prince! Congratulations william and kate xxx"

Rob Morris:- "Just gonna throw this out there, but we should defo have another bank holiday for this royal kids birth thingy."

Lunch Hour Caterers:- "Yahoo!!! A baby boy for the royals!!! 8lb 6 oz Congratulations!!!!"

Melissa Pettitt:- "I honestly couldn't care less if Kate gave birth to a pig with 3 heads! People have babies everyday that's not all over the news!"

Jane Morton:- "Congratulations to William and Kate on the birth a a son the new heir to the throne x."

Jane Redfern Jones:- "My daughter just told me that the new Royal baby has been born and his name is Cameron; I think maybe she was getting a bit confused..."

Diana Celine:- "Awwww blessed with a baby boy :) congratulations wills and Kate xxx"

Kate Maryon:- "So... the royal baby is a boy! What do you think his name will be? ♥"

Daniel Darwin:- "Well bloody 'ell, Saints beat Wigan, and we get a future King."

Carol Robinson:- "CONGRATULATIONS. KATE. WILL'S. XX"

Kathryn Evans:- "Good grief, how did that tiny woman produce a baby that size?"

Ollyphant Carrington:- "8 lb 6 ounces. Hooray. We have a new sponging, too good for us ruffians, blue blooded, future baby eating, fox hunting, shapeshifting lizard. Congrats to Kate Lizardton and Prince Lizardiam. xxxxxxxxxx."

Amy Elsibeth Phillips:- "I've always been a royalist and I love my royal family and I love being British. And today has been a mark on our history which our children's children will learn one day and that is pretty darn awesome! Congratulations to Prince William & Princess Kate on the birth of the beautiful baby boy. I wish them the best of luck for the future. GOD SAVE THE QUEEN! ♥ Princess Diana would be so proud she will be looking down on them 3 tonight! ♥"

Elizabeth Drinkhill:- "Congratulations to Kate and Willam on the birh of your son. Xx"

Sophia Alexandra:- "Wills and Kate have a baby boy argh xx"

Liverpool Empire:- "Congratulations to William and Kate! What are your predictions for the royal baby boy name?"

Helena Jane Gomez:- "Awww Will and Kate had a baby boy ♥"

Multi-million pound Exhibition Centre and Hotel gets the go ahead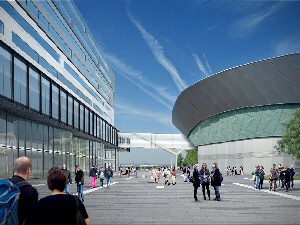 PLANS to create a world class exhibition centre and hotel in Liverpool; propelling the City into the premier league for hosting large scale trade and consumer exhibitions; have been given the green light.

It's all systems go for the new £40m Exhibition Centre Liverpool and £27m integrated hotel at Kings Dock, after the ambitious plans were approved by the City's planning committee on Tuesday, 23 July 2013.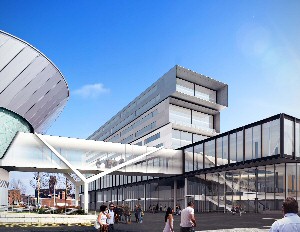 It paves the way for work beginning, in late autumn, on the construction of the 8,100 sqm, 3 hall exhibition centre and the 200 room 'headquarters' hotel, which will form part of ACC Liverpool, home to BT Convention Centre and Echo Arena.

The new facilities will be open in spring 2015.

Mayor of Liverpool Joe Anderson said:- "This is fantastic news for Liverpool. I've pushed this project hard from the beginning, because I know the huge economic benefits it will bring to our City, attracting new visitors, boosting local business and creating jobs. This decision from the planning committee means we can now press ahead with delivering an absolutely world class waterfront development. Exhibition Centre Liverpool and the integrated hotel will allow us to build on the massive success of ACC Liverpool, and will drive our transformation into one of Europe's leading destinations for large-scale conferences, exhibitions and events. It's a huge boost for our City and yet more evidence that despite the recession, we continue to forge ahead with delivering important regeneration schemes. I'm looking forward to construction getting underway."

Exhibition Centre Liverpool will be capable of hosting large scale conferences, trade and consumer exhibitions, concerts and sports events on a national and international scale. Plans for the facility include an atrium, meeting rooms and a business centre. The three halls will each be 2,700sqm and will be separated by movable walls.

Pullman will be the brand for the integrated, upscale, 4 Star hotel, which will include up to 10,500 square metres of floor space and seven storeys of rooms, above a ground floor reception, lobby, restaurant, bar, meeting rooms and gym.

Pullman, which is owned by international hotel company Accor, has hotels all over the world, including all the major European cities, but currently only one in the UK, in St Pancras, London. Branded Hotel Management (BHM) was appointed as hotel operator in April this year.
BEACONS FESTIVAL IS CALLING...!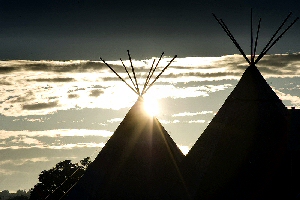 FOR the 1st time, Northern Rail, one of the UK's largest train operators, will be supporting one of the North's newest emerging art and boutique music festivals, Beacons, at its stations across the North. Set in the stunning Yorkshire Dales in the rolling hills of Funkirk Estate on Heslaker Farm in Skipton, Northern is celebrating the partnership by offering one lucky winner the chance to win a pair of tickets plus return train travel to Skipton for the weekend festival which kicks off on Friday, 16 August 2013. Three full days of music from cutting-edge acts such as SBTRKT, Bonobo, Ghostpoet, Django Django, David Rodigan, James Holden and Channel One Sound System will be peppered with one of a kind site art and visuals as well as family activities, arts and cultural installations. Culinary offerings will be on show from some of Yorkshire's best known eateries including:- Reds BBQ, Fish&, Laynes Espresso and Whitelocks Real Ale. Northern operates services from Leeds, Bradford and Carlisle, which will drop festival goers into Skipton station, which is just 3 miles from the festival site. Festival Director Ashley Kollakowski said:- "We are very pleased to be promoting green travel with Northern Rail. We want to encourage as many people as possible to use the service, so please leave your cars at home and enjoy the scenic rail route to Skipton. See you at the festival!" Joselyn Rankin from Northern Rail comments:- "Supporting a home-grown event such as Beacons is a real treat for us. The excellent line-up and vast array of activities on offer will encourage more people to visit this beautiful part of the Yorkshire countryside. Taking the train to a festival is a greener way to travel and is environmentally kind to the local landscape." To be in with a chance to win tickets, visit:- northernrail.org/beacons to enter.