TEAM TO SET 'SEIL' FOR PRIDE
IT is almost time for the most 'Super' event of the summer with 2013's Liverpool Pride on Saturday, 3 August 2013, which is set to take over Liverpool's iconic Pier Head and venues throughout the Stanley Street Quarter. This year the Pride team have set themselves a challenge fit for the very best of caped crusaders, as they prepare to do a sponsored abseil down the Anglican Cathedral.

Never ones to shy away from a challenge, the Pride team have put together a brave team of participants all ready to don their superhero alter egos and accept their mission: fight to keep Pride free for all.

Liverpool's Anglican Cathedral; that is one of the City's most recognisable buildings; will be the site of the two sponsored abseils in aid of Liverpool Pride and takes place on Saturday, 3 August 2013, at 10:00am. More of the team will then abseil the following week on Saturday, 10 August 2013, at 5.30pm.

The team members taking part are:-

Zoran Blackie, Chair of Liverpool Pride
Gareth Williams
Mario Kyriacou
Isabelle Salter
Allan Evans
Alison Woods
David Swinburn
Lisa Hughes
Gemma Speht
Cameron Rew
Dan Carrington
Carl Michael Jones
Wanda Bentley
Emma Loftus

Liverpool can boast the biggest free Pride event outside of London and everyone involved in Pride works extremely hard every year to make sure they can bring this fantastic event to the crowds of Liverpool free of charge. If you would like to show your support and donate please follow the sponsorship link.

James Licence, Liverpool Pride Volunteer and Fundraising Coordinator said:- "Myself and the whole team are excited to be raising funds for this amazing event, it will certainly be an adrenaline rush for everyone taking part and also a great way to get the day's events started."

Liverpool Pride 2013 will take place on Saturday, 3 August 2013, at Liverpool's iconic pier-head and throughout the Stanley Street Quarter. In addition to this, there will be a weekend of cultural events taking place at some of Liverpool's most influential arts and cultural establishments.

Make sure you check out LiverpoolPride.co.uk, @LiverpoolPride on Twitter and Facebook to have your say and for all of the latest pride news.
Public welcome at Trust board meeting
SOUTHPORT and Ormskirk Hospital NHS Trust will hold its next board meeting on Wednesday, 31 July 2013, at 9am. The meeting will be held in the Board Room in the Corporate Management Office at Southport and Formby District General Hospital. Members of the public are welcome to attend and observe the meeting. Anyone with a special requirement should contact the Trust in advance on:- 01704 704714. The agenda will be available on the Trust website in advance of the meeting. Supporting papers will be made available on the day.

The Big Mersey Adventure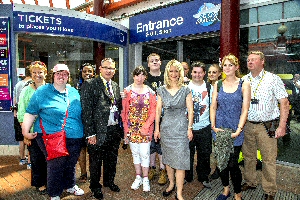 THE Minister for Disabled People, Wirral West MP Esther McVey, on 24 July 2013; met with a group of members, volunteers and staff from Mencap Liverpool. The meeting was hosted by local transport authority Merseytravel at the Woodside Ferry terminal in Birkenhead.

Members and volunteers used digital skills to plan the day out at the Merseytravel ICT suite in Mann Island, then boarded the world famous Mersey Ferry for a trip to the U-Boat Story at Woodside. The attraction houses 1 of only 4 surviving World War 2 U-Boats, where they saw the artefacts and learned about the lives of those who lived and worked on the German U-534, as it patrolled the seas during the 2nd World War.

Mencap Liverpool is Merseytravel's corporate charity for 2013. Merseylearn, the Unionlearn supported learning project within Merseytravel, has been working with the local charity to help develop digital skills and help people who have a learning disability to access transport services.

Merseytravel chair, Cllr Liam Robinson explained:- "As an organisation we support one specific charity each year, so this is a great opportunity to link our visitor attractions, our passion for learning and our support for Mencap Liverpool together to make a really special day. Digital skills are increasingly important for everyone, so with our partners in Unionlearn, UK Online and Go-On, we are actively working to help people in our community get online. Merseytravel aims to have a fully inclusive transport system, it is important that we work with marginalised groups to give the widest possible access to all modes of transport across Merseyside."

Minister for Disabled People Esther McVey was able to meet the group and hear 1st hand some of the issues effecting disabled people with digital exclusion and transport in Merseyside.

Miss McVey said:- "It was really interesting to meet today with staff, volunteers and members from Mencap Liverpool to see 1st hand their work in making local services more accessible. We are committed to supporting disabled people fulfil their potential; whether through the improvements we are making to our rail services or making sure our schemes are accessible to disabled people. We have also just launched a 2 year campaign to harness the drive of the private sector to support more disabled people into work; because they should have the same choice of jobs, in every sector and at every level, as everyone else."

Mencap Liverpool Career Coach Jan Donnelly said:- "It's been a fantastic day for everyone involved – we've brushed up on our digital skills as well as getting the chance to enjoy such a unique experience."