Degree transforms Southport student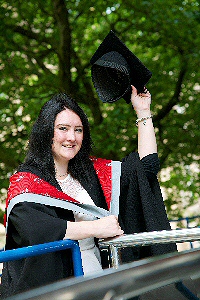 A Counselling and Psychotherapy Studies student from the University of Central Lancashire (UCLan) is celebrating after graduating with a first class honours degree.

Graduation topped an exciting year for Morganna Dalby in which the Southport student presented her work at an undergraduate research conference before starting a new job one week after finishing University.

She said:- "I'm delighted to be graduating it's nice to come back and celebrate the end of University. I have already started a new job as a Psychological Wellbeing Practitioner for Inclusion Matters in Sefton where I will be doing low intensity therapy interventions. It's a fantastic place to work with a very welcoming atmosphere and I wouldn't change it for the world."

The 23 year old gained significant experience at UCLan and presented her research paper, 'A Metacognitive Theory for Bulimia: A Preliminary Investigation of a Potential Therapeutic Model', at the British Conference of Undergraduate Research 2013.

Morganna commented:- "Presenting at the Conference was an honour. It was very rewarding to represent the University but also to have the opportunity to present work that I had put a great deal of effort into and to explain in detail to a lot of interested people."

A chance visit to the University open day convinced Morganna to apply to UCLan and it's a decision that's had both professional and personal benefits. "I came to the UCLan open day with my sister and really liked it so I decide to apply on a whim. It's a decision that really worked out for me. I used to be quite an anxious person but this course has built my confidence. I'd say I'm a completely different person now."

Reflecting on her time at UCLan, she added:- "I really enjoyed the practical elements of the course. The skills modules were a great opportunity to put into practice the theory you had learned. It definitely helped me get my new job and has given me a lot of confidence in the workplace."

'Spine' - tingling summer reading challenge for youngsters
THERE'S something creepy going on in Liverpool's libraries this summer. The 2013 Summer Reading Challenge is underway and is aimed at youngsters, 4 to 11 year olds, encouraging them to read six or more books of their choice.

This year's theme is Creepy House; and children who take up the reading baton can chart their progress online and aim to complete three tasks called the 'Awful Upstairs', the 'Gruesome Ground Floor' and the 'Spine-tingling Cellar'.

Each child who takes part will receive a large poster of the creepy house, and as they progress through the challenge there are incentives to keep those pages turning, including pungent smelling stickers, a fortune teller game and a glow in the dark wristband.

The free project has already started and children are encouraged to visit:- summerreadingchallenge.org.uk to sign up. It runs until Saturday, 7 September 2013, and those who are successful will receive a certificate and medal.

Liverpool City Council's cabinet member responsible for libraries, Councillor Wendy Simon, said:- "Getting youngsters into the reading habit early on is incredibly important, not only does it improve their literacy levels, but also feeds their imagination and gets them excited about picking up a book. Last year's reading challenge was a huge success with hundreds of young people taking part. One of the great results of this initiative is that it gets children used to spending time in their local library and hopefully they will become regular library users in the future."

The national Summer Reading Challenge is supported by footballer Frank Lampard whose book Frankie's Magic Football is one of the books on the suggested reading list. He said:- "I'm proud to be a champion for Creepy House, and that my book is on the reading list. Reading with my children is incredibly important to me and a wonderful way to spend time together as a family. I hope that many boys and girls will be inspired this summer to take up the challenge and enjoy all of the brilliant books available to them at their local library."

The Summer Reading Challenge is run by independent charity The Reading Agency. It's expected nationally, around 750,000, 4 to 11 year olds will take part.

There is a leaflet available at local libraries for parents and carers explaining the benefits of the challenge and giving tips on how that can support their children and get the whole family involved.
RTC ON THE KNOWSLEY EXPRESSWAY
MERSEYSIDE Police are investigating after a car left the carriageway on the Knowsley Expressway near Tarbock on Wednesday, 17 June 2013 and jack knifed into a ditch. Parts of the road have been closed following the incident which happened around 9.05pm. The man driving the car was thrown from the vehicle and suffered serious, multiple injuries. He has been airlifted for treatment to Fazakerley Hospital and an operation is underway to recover the Honda Accord he was travelling in. One lane of the southbound carriageway of the Knowsley Expressway around Tarbock Island is still closed while the recovery operation is underway and delays are likely in the area for some time.