TALENTED YOUNG SWIMMING TRIO GIVE A THUMBS UP TO SHOPPING CENTRE KIDS CLUBS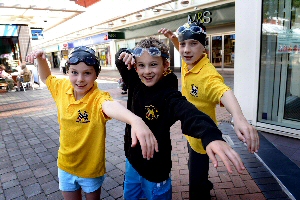 3 of Birkenhead's brightest young swimming stars, put their best strokes into action to help highlight a series of summer holiday children's clubs at a nearby shopping centre.

The talented trio from Birkenhead Swimming Club made a trip to The Grange and Pyramids Shopping Centre to lend their support to a 6 strong series of free SnapperJaxx kids clubs which will start on 26 July 2013, with a playtime event themed Under The Sea.

This will be followed every Friday of the summer holiday, up to and including:- 30 August 2013, with imaginative clubs which have a new theme every week including Jungle Swing Thing, Zappy Zoo, Bug's Life, Roaring with Dinosaurs and Roll Up to the Circus.

There will be a host of singalongs, crafts, and story telling to be enjoyed at the performer-led clubs held inside an inflatable structure which will run from 12 pm to 5 pm.

Derek Millar, Commercial Director for The Grange and Pyramids Shopping Centre, said:- "We are at the start of a long summer holidays. We wanted to find a way to keep entertaining our young shoppers not just as a one off event but to stage a series of fun filled clubs which children can look forward to each week. As a parent myself, I know how expensive school holidays can be so it was important to us that our SnapperJaxx kids club are free. The Grange and Pyramids Shopping Centre is at the heart of Birkenhead and so we are the ideal location to stage such an activity. The aim is simply to give parents a free, fun and imaginative option to entertain their children while they make the most of the great range of shopping we have on offer here."

The first club, on July 26, themed Under The Sea definitely got the thumbs up from Lucy, 8, and William, 9, Horman, who are dedicated members of Birkenhead Swimming Club and train 5 times a week with the club which was established in 1882 and has a track record of nurturing the swimming careers of some of Wirral's brightest young stars.

One of their current members, 18 year old Tom Barton, started with the club aged nine and is now the national youth 200m freestyle champion.

Lucy, who lives in Ellesmere Port and is a pupil at Our Lady Star of the Sea Primary School, said:- "My favourite is breast stroke and I would like to win the Olympics one day. Swimming makes me feel really happy and when I take my medals which I have won into school to show my friends, I feel really proud and like telling everyone how I have won them."

Her older brother added:- "I really like it because I have lots of friends at swimming club and we enjoy being in the water together especially on a boiling hot day!"

They were also joined at The Grange and Pyramids Shopping Centre by fellow club member Billy Jardine, 9, from Saughall Massey, near Moreton.

Billy's dad Doug, 38, a project manager, said:- "First and foremost, swimming is great for Billy because it is physical activity and that is why, as parents, we like him to do it. But he also gains a lot of confidence from racing and being part of the competitions and he has a good circle of friends there outside of those at school so it is great from that perspective too. Billy really enjoys it and we have enjoyed seeing him progress in the sport since he first learnt to swim. "

Peter Blood is a volunteer and Vice Chairman of Birkenhead Swimming Club and has been involved in the club for close to 30 years after his own children took up the sport.

Peter, a BT Planning Manager from Rockferry, said:- "Our club is very family orientated and we have members of all ages. We give the first three sessions free while potential new members decide if it is the right thing for them. Swimming is a fantastic way of giving children and adults an all round fitness and it is also a lot of fun. It is one of the few sports which is not governed by age. It's a skill for life and it can save your life but it can also lead to a whole host of other fun activities such as diving, canoeing, water polo and synchronised swimming."

For more information about Birkenhead Swimming Club go to:- birkenheadsc.org.uk. For more information about SnapperJaxx kids clubs go to:- grangeandpyramids.co.uk.
RHS Tatton Park show reminder and Royal baby offer
THE RHS Flower Show Tatton Park Park, Knutsford Cheshire started on 25 July and runs until 28 July 2013. In celebration of the birth of the Royal baby, anyone sharing the new Prince's birthday can celebrate in style this year, as the RHS invites them to visit the RHS Flower Show Tatton Park for free. Running from Thursday, 25 July to Sunday, 28 July 2013, the RHS Flower Show Tatton Park is the North's greatest garden party, and is brimming with ideas, plants and produce for visitors to take home. On presentation of proof of their date of birth (passport or drivers licence), anyone born on 22 July 2013, can claim a free ticket to the 2013 Show. Tickets still available to buy in advance or on the gate:- 0844 338 7546 or rhs.org.uk/tatton. The website also features full information about the show including public transport options and advice for drivers. The show is open between:- 10am and 6.30pm each day except on Sunday when it closes at 5pm. Ticket prices range from:- £19.50 to £23.50 (advance booking). Children under 16 go free. Also The Highways Agency is reminding drivers using the M56, A556 and M6 in Cheshire that the annual RHS Tatton Show is taking place. They said that that:- "Drivers travelling through the area or to the show itself are being urged to plan ahead and check traffic conditions before setting out. Although the Highways Agency is not anticipating major traffic issues it is likely that many drivers heading to the show will use the M56, A556 and M6 during part of their journeys to the event at Tatton Park, near Knutsford. Some congestion around Junction 19 and Junction 20 of the M6 and Junction 7 of the M56 is possible at times throughout the event. Highways Agency traffic officers at the North West Regional regional control centre will be setting signs before and during the event to give advice to drivers and the motorway routes will be supervised by on road patrols from the outstation at Knutsford. It is also advising drivers heading to the show to stick to any signed routes to minimise the chance of delays."

Strike ballot confirmed at University of Liverpool in row over contracts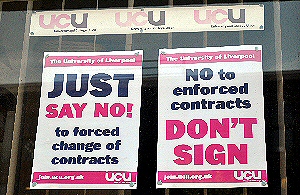 MEMBERS of the University and College Union (UCU) at the University of Liverpool are being balloted, since Monday 22 July 2013, for strike action in the 1st ever trade dispute at the university. The news comes as 2,803 staff (over half the workforce) are threatened with having to sign a new contract or face dismissal. The ballot closes at 12 noon, on Friday, 6 September 2013.

The union said members felt they had no choice but to take the unprecedented step following efforts by the university to impose worse terms and conditions on staff. UCU said that it was incredibly disappointed at the university for riding roughshod over procedures specifically thrashed out to deal with contractual changes.

The university wants to impose a new contractual requirement for bank holiday, weekend and evening working for the majority of professional, managerial, specialist and senior administrative (PMSA) staff without adequate compensation.

In response to a question at an all-staff meeting, the vice-chancellor, Sir Howard Newby confirmed that any member of staff who rejects the new contract will be dismissed. UCU said that made a mockery of the university's claim that the dispute is simply over changes to contracts.

There is an agreement in place between the university and the unions that any changes to contracts must be negotiated by both sides. The university has refused to honour its own agreement and has issued a legal notice to the trade unions which means it will merely consult over the changes.

On 7 June 2013, the university announced it would invoke a section 188 notice, which is expressly designed for redundancy or dismissal situations. If the unions don't agree to the university's plans within the consultation period then the university is proposing to issue dismissal notices to 2,803 staff (54% of its workforce) in its efforts to force through the new contracts.

UCU had asked the university to remove this threat so the two sides could sit down in meaningful negotiations and reach a satisfactory agreement, but the university refused. The union is also disappointed that last week the university unilaterally cancelled an internal disputes panel meeting - designed to consider the position of both sides in a dispute and try and find a resolution; at the last minute.

UCU regional official, Martyn Moss, said:- "It is incredibly frustrating that the university is riding roughshod over procedures we have agreed with them and is threatening staff with dismissal. Staff will simply not sit back and be treated in this way and that is why they have asked their union to ballot them for strike action for the very 1st time in a dispute with the University of Liverpool. Nobody ever wants to take strike action and the dedicated staff at the University of Liverpool are no different. If the vice-chancellor wants to avoid disruption he needs to look again at this heavy-handed approach to negotiations and understand that other institutions do not treat their staff in this way."
Heatwave 'good for oral health'
THE current heatwave may be beneficial for oral health, according to a leading charity. That's because Vitamin D, naturally produced by your body when exposed to sunlight, may help prevent tooth decay, tooth loss and gum disease.

Previous research has suggested the 'sunshine vitamin' could improve gum health, and a review of 24 studies spanning 60 years revealed vitamin D could reduce the incidence of tooth decay. Vitamin D is essential for bone development. Although it can also be found in fish, eggs fortified cereals, dairy products and soy products, it is naturally made by your body when exposed to sunlight hence why it is sometimes called the sunshine vitamin.

It's the first time since 2006 the UK has had 6 consecutive days of temperatures above 30 degrees and Chief Executive of the British Dental Health Foundation, Dr Nigel Carter OBE, thinks the weather could be a catalyst for oral health improvements. He said:- "We have just been through a long, cold winter, which could mean many people are suffering from a vitamin D deficiency. Add to this the increasing number of children with tooth decay, and it suddenly it doesn't seem as frivolous. Teeth aren't exactly bones, but they have the same problems if they're not strong enough. If your jawbone isn't strong enough to support your teeth, or if the tooth itself is weak and brittle, there's a chance you'll develop problems. The same applies to your gums. If they are inflamed or swollen, you're more likely to suffer from severe gum disease, the largest cause of tooth loss. There is a very simple way to prevent and treat gum disease, therefore lowering the risk of these general health problems developing. You need to make sure you remove all the plaque from your teeth every day. This is done by brushing for 2 minutes twice a day, morning and night with fluoride toothpaste, as well as using interdental brushes or floss to clean in between teeth where both gum disease and dental decay start. Particularly during the summer we are more likely to have foods and drinks that, if you have them too often, can cause long term problems. Fruit juices, fizzy and alcoholic drinks, ice-cream and lollies iced-coffees and berries are among some of the worse foods and drinks for your teeth. If you're going to have these, it's best not to snack on them throughout the day. Keeping them to mealtimes is better than exposing your teeth to a constant acid attack."

The dangers of being out in the sun for too long have been well documented, particularly in this heatwave. Dr Carter added:- "If you are out in the sun, take care to cover up or protect your skin with sunscreen before you turn red or get burnt. Drink plenty of water too, as it will keep you hydrated and be good for your teeth."
FURTHER ARRESTS - JASON OSU MURDER INVESTIGATION
MERSEYSIDE Police have confirmed that a number of warrants were executed on Monday, 22 July 2013, as part of the ongoing investigation into the murder of 31 year old Jason Osu. Mr Osu was shot as he was parking his car in his driveway on Beauclair Drive in Wavertree on Monday, 19 November 2012. He died in hospital on Monday, 26 November 2012, as a result of his injuries. A 45 year old man has been arrested on suspicion of conspiracy to murder. 5 other people, 3 men and 2 women, have been arrested for other matters including fraud, possession of controlled drugs and cultivation of cannabis. All 6 people have been spoken to and have subsequently been bailed pending further enquiries.