"Lazy town" Sportacos comes to Southport
KIDS Fun Fest, the first ever children's festival will be staged at Shaw Hall Holiday Park , Scarisbrick near Southport, on the 7 August and 8 August 2013, possibly the 1st ever taste of a summer festival a child could experience, the event is aimed just at the under ten's.

Kids Fun Fest will open each day at 10am and offer continuous live stage entertainment in the colourful big top through to 6pm. 'Lazy Town' Sportacos has now been confirmed to head the Entertainment along with CBeebies 'Rhyme Rocket', top circus performers 'The Rapide Brothers' the GLEE Tribute Show, from BBC Television 'Ward Allan with Roger the Dog', from Britain's Got Talent 'Faces of Disco', and the one and only PEPPA PIG.

Around the festival site and for just the one admission price visitors to the festival can enjoy Face Painters, Climbing Wall, Archery, Crazy Golf, Stilt Walkers, Circus Workshops, Street Dance Academy, Land Train, Inflatable World, Children's Rides, Crazy Golf, Zorb Balls and Puppet Shows with more being added all the time. Food and drink will also be available to purchase.

For those who want the true festival experience you can also camp or bring your caravan and stay for one night or as long as you like to take in the beautiful Lancashire countryside or use as a base to visit other local attractions during the summer holidays.

Visitors can save money by purchasing in advance from the website where all other information can also be found.
THE CO-OPERATIVE GETS AINSDALE BUZZING ABOUT BEES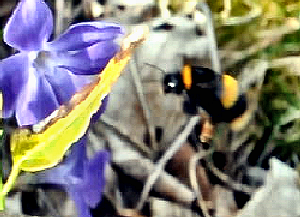 THE Co-operative's Merseyside Membership Committee wants to get Ainsdale locals buzzing about bees on Saturday, 3 August 2013. The committee is hosting a 'Plan Bee' Walk that will set off from Ainsdale Discovery Centre at 9.45am.

The free event will give people the chance to meet experts from the Bumblebee Conservation Trust and find out how they monitor and identify different species of bees. Walkers will also be able to discover which flowers and plants help create bee-friendly gardens, and those brave enough will even be given an introduction on exactly what is required to keep a hive at home.

Bee numbers in the UK have halved over the last 20 years and, as a 3rd of the country's food is dependent on successful pollination, the "Plan Bee" initiative aims to raise awareness of and help to reverse the decline of the UK bee population.

Keela Walsh, The Co-operative's Membership Officer for Merseyside said:- "This event will give both adults and children the chance to learn a little more about the humble honeybee and exactly why they are so important. Without them, over a 3rd of the foods that people are used to seeing on the shelves in our stores wouldn't be there. We hope that our 'Plan Bee' walk will inspire Ainsdale residents to grow flowers in their own gardens that will attract bees, or maybe to even keep a hive themselves."

Tea, coffee and a packed lunch will be provided for all walkers on the day. Children are of course welcome, but they must be accompanied by an adult. The event is free of charge, but places are limited. To book a place, please contact The Co-operative's North West and North Midlands Membership Team on:- 0843 751 9181.
ANNUAL ROB VINE FUND COLLECTION DURING TT RAISES ALMOST £14,000
A Director of the Rob Vine Fund has praised the fantastic generosity of passengers on board Steam Packet Company vessels during this year's TT after they donated almost £14,000 to the charity. Rob, who hailed from Dover in Kent, was a regular TT competitor, who lost his life at Black Dub during the 1985 Senior TT. In conjunction with Dr. David B. Stevens MBE, Chief Medical Officer for the TT and Manx Grand Prix races at the time, Rob's family established a Noble's Hospital, administered Gift Account. In 2005 the Rob Vine Fund was set up as a separate Registered Charity (No 954 [Isle of Man]). The purposes of the Fund have remained unchanged for more than 25 years; to provide medical/rescue equipment and training for all doctors, paramedics and marshals involved in 2, 3 or 4 wheeled motorsport events in the Isle of Man. The collection on board Steam Packet Company vessels during the TT period was 1st organised by the crew in 1995. Following this year's donation, it means more than £190,000 has now been raised.

Dr Stevens, who is Secretary and Director of the Fund, said:- "The generosity of the TT fans is fantastic. This is the biggest single donation that we receive each year and goes towards purchasing new equipment which is vital to those competing in the many motorsport events that we hold in the Island. I would like to thank those fans who gave so generously and the crew of the Steam Packet vessels who help coordinate the collection on our behalf."

Isle of Man Steam Packet Company Chief Executive Mark Woodward said:- "We're proud of our crews who organise the collections and each year the kindness of our passengers during the TT period is incredible. I'd like to thank everyone who has supported the collections for the Fund over the years."

Big Lottery Fund Grant gives young adults a taste of independence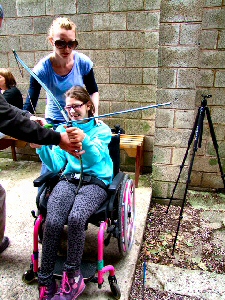 5 teenage girls who regularly attend the centre run by cerebral palsy charity, Stick 'n' Step, enjoyed a weekend of independent living recently when they had an overnight stay at Barnstondale Centre on the Wirral.

Funded by a grant from the Big Lottery, Stick 'n' Step will be organising four of these weekends away for different participants who attend the centre. This was the first of the four weekends and the teenagers were in control. Each of the five were accompanied by an able-bodied worker from the centre, but it was the teenagers, working together as a team, who were responsible for everything from budgeting, choosing and ordering their shopping, through to the food preparation and clearing away afterwards.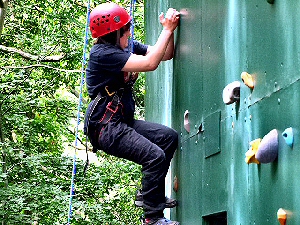 In addition to the benefits gained from a weekend of independence and life skills, the group also enjoyed a range of activities offered by Barnstondale including archery, wall climbing and abseiling.

Sam Tebb one of the conductors from Stick 'n' Step explained:- "This was such a fantastic experience for both us and the girls. At the centre we only have an hour a week so we use this time to focus on helping them develop certain skills for specific functions. However, over this weekend we had the time to let them explore their own capabilities, with us there to support them. They were able to push themselves to try something new, but also to relax and enjoy interacting with their fellow team members. What was really inspiring was the way they played and laughed together and looked out for each other, even though some of them hadn't met properly before this weekend. The weekend offered positive challenges for us too. We all had to be able to adapt to whatever situation we found ourselves in. The highlight for me was perhaps the archery though, as regardless of everyone's ability, we could all have a go."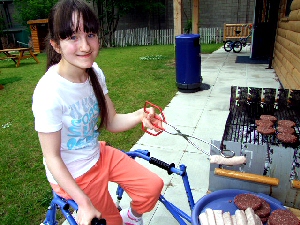 The next away weekend takes place in September and Stick 'n' Step is looking forward to enabling a different group to benefit from the experience.

Seventy children from across North West England and North Wales come to Stick 'n' Step's centre in Wallasey every week to learn new skills and ways of adapting to everyday tasks. These new skills can be as simple as head control, sitting unaided to walking, dressing or as challenging as running and playing football. By providing this essential support, the children are able to feel more positive about their future and their ability to lead independent, fulfilled lives.

For further information about Stick 'n' Step and how you can help, please visit:- sticknstep.org or alternatively contact Sarah Smithson, Operations Manager on:- 0151 638 0888.