Liverpool Pride 2013
Photographs by Patrick Trollope.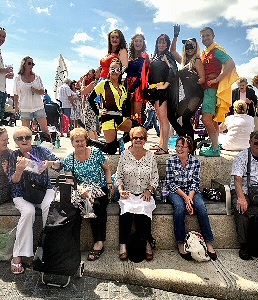 ON Saturday 3 August 2013, the Liverpool Pride returned for yet another year. This year's event was expected to bring in thousands of people and thanks to the sun, it delivered and then some. Not only did the event have a parade, but it was also operated over different 2 locations; on the Liverpool Waterfront under the Liver Birds and also in the Stanley St. Quarter, which was billed as "Liverpool's 'nightclub on the street'", and not forgetting many events that took place within the City's gay venues. This year's event was themed Superheroes and as a result, the City was packed with blaze of colour, from SPANDEX to Latex, and leather and lace, these caped crusaders aim was to have fun and also to raise awareness of issues around homophobia and transphobia. The event was sparkling and comprised a wide range of ages, and persuasions from heterosexual to lesbian, gay, bisexual and transgender, all out partying together. "It is fantastic to see so many families here as well. As you can see, all the participants are having a fantastic time as are the acts, the guests and their friends. this is what it is all about and what Liverpool is about." one of the many people taking part told us as we looked around the Waterfront's Community Market and took in the performances on the stage. In fact, we had so much to see and do we did not get a chance to get over to the other part of the event! On the main stage at the Pier Head, headliners included the world's 1st street dancing pop band, SIX-D, along with Lemon, Amelia Lily, Black Lace, y Forever and Baby D. Not forgetting bands like Tokyo Track, Mick Lowry, Esco Williams, and Thomas Teago. Also appearing at this event were Mila Falls, Jennifer Jewell, Adam Lyons, Killa Sista, Jes Stretton, Sam Callahan, Doremi Fly, Click 22, Dance Dynamix, Bradley Johnson, Paul Halewood, Rosalie Galvin, Craig Cavanagh, Emma Lousha, and Pretty Girl Rock. There were many other enjoyable acts, but the list is too long. The stage was run by both Gaydio and Juice FM, who did a stunning job of keeping the show moving at rocket speed, throughout the day. This was yet again, a good example of a well managed and well run event. If you did not go this year, you missed out on a fantastic event. To find out about 2014's event and what they have planned, keep an eye on Liverpool Pride's charity website and also on their Facebook page. As we have taken so many photographs at this year's event, we are splitting it into 2 editions. To see this week's coverage (Part 1), please click on here now!!! Also please feel free to comment and also see a few video clips that we have uploaded on our Facebook page. Don't forget more in next week's issue... Also you might have been snapped, so keep an eye on it!
B.O.A. 70th Anniversary DVD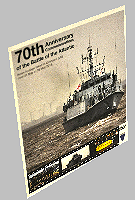 THE video footage we have taken at the 70th BOA events this year in Liverpool has now been fully edited is available to buy, on a DVD, from our Online Shop, on Mersey Reporter very soon. For each DVD sold, £3.00 will go to the Liverpool's Lord Mayor's Charity Appeal. (Registered Charity No. 229539) At this stage we can only do UK postage options, but if you are outside the UK, you can still order copies, but only by emailing us to:- news24@merseyreporter.com with your FULL address and we will get back to you with a postage cost and a payment link, should you wish to continue.
...HAPPY BIRTHDAY...
If you have someone you want to say happy birthday to, for free, then use the email address below to send us the names you want us say happy birthday to, and/or a photograph. Email us today!