Southport is on the level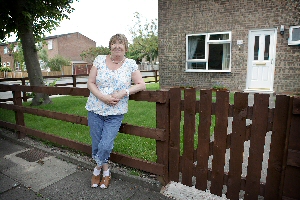 RESIDENTS in Southport are enjoying improvements to their neighbourhood after a major project to address subsidence in the area.

Jephson Homes Housing Association has to date invested around £1.5million on both external and internal work in Town Lane, Loxley Road and Janes Brook Road, as part of its planned maintenance and redevelopment programmes.

External work included re-levelling paths and increasing ground levels to address subsidence issues as well as providing new fencing and gates to front gardens. Together the work has improved the appearance of the scheme as well as improving access for residents.

Internal improvements also carried out by Jephson included fitting new kitchens in 40 homes, installing a new gas main for Janes Brook and Loxley Road, and upgrading more than 100 gas and electric heating systems, increasing energy efficiency by up to 25 per cent.

Contractors J Tomlinson fitted the heating systems, Moores Furniture Group worked on the kitchens and Southdale carried out the groundworks.

Resident Elaine Albutt said:- "I'm very pleased with the work. I feel so much more secure in my home now there is a good strong fence. Now the ground has been levelled it's fantastic. The ground had sunk so much, it was terrible – you had to see it to know it. I went through three lawn mowers because it was so bumpy! But the grass Jephson has put in is beautiful, and there are flowers in the communal areas which I can see from my window."

Jolene Craig, Housing Services Officer from Jephson North, said:- "We're committed to ensuring that residents feel safe and secure in our homes. This has been a major project, and we would like to thank all the residents for their patience and support while we completed the work. We're delighted to hear that it has made such a difference to residents like Mrs Albutt."

Jephson is continuing to invest in homes in Southport over the next two years with rear fencing renewals where required and installing new windows to houses and flats.
Do you agree? Email us your views to news24@southportreporter.com about this report....

Healthy Lifestyle Roadshow in Bootle refers 57% of people to their GP with risk of Type 2 diabetes
57% of people in Bootle were referred to their doctor by a Healthy Lifestyle Roadshow having been identified as being at risk of developing Type 2 diabetes, say Diabetes UK and Bupa.

The charity offered free diabetes risk assessment tests to 292 people to identify their risk of developing Type 2 diabetes now and in the next 10 years. 57% of people were referred to their GP for further advice, as their risk of diabetes was moderate to high.

The roadshow also offered advice and encouragement on lifestyle changes, such as adopting a healthy diet low in fat, salt and sugar and taking regular physical activity. Up to 80% of Type 2 diabetes cases could be prevented from these lifestyle changes.

Diabetes UK is the charity partner for the Bupa Great Run Series, and the money raised from these runs is being used to fund the Healthy Lifestyle Roadshow.

Helen Pattie, Diabetes UK North West Regional Manager, said:- "Diabetes is one of the biggest health challenges facing the UK today. It's frightening that there are more than 4,600 people in Sefton that have Type 2 diabetes but have no idea they do. It is also concerning that there are so many people at risk of the condition. Today we've been available to help people find out more about their own personal risk, as well as providing valuable information and advice which we hope will help them live more healthily. Diabetes is a serious, lifelong condition and the number of people living with it is on the rise. The first step to stopping this increase is making people aware of what they can do to prevent Type 2 diabetes. We want to let them know that we are here to support them make the changes they need."

Helen Vaughan Jones, Director of Corporate Affairs, Bupa UK, said:- "We're pleased that the Diabetes UK roadshow in Fleetwood has helped to educate so many about the risks factors associated with Type 2 diabetes. We strongly believe that prevention is key, so it's essential to empower people to make the simple lifestyle choices that can have significant health benefits. Bupa's purpose is to help people lead longer, healthier, happier lives and this roadshow takes us a step closer to achieving this goal."

There are 18,300 people in Sefton who have been diagnosed with diabetes. When diagnosed early and managed well, people living with the condition can go on to live long and healthy lives. But if Type 2 diabetes is left untreated or blood glucose levels are not well managed, the condition can result in serious health complications such as heart attack, stroke, blindness, kidney failure and amputation.

Local people who were unable to attend the Roadshow can still test whether they are at risk of diabetes by taking the free Diabetes UK Risk Score test online. If after taking the test they are found to be at moderate or high risk of developing the condition they should visit their GP.

For free health and fitness information, tools and apps from Bupa, visit:- bupa.co.uk/findhealthy.