Rock 'n' Roll Marathon Festival heads to Liverpool, UK!!!
LIVERPOOL has awarded a 3 year contract to operate a City wide Marathon to the company behind the world's largest series of running events, Competitor Group.

The US-based company will hold the inaugural Rock 'n' Roll Liverpool Marathon & ˝ Marathon on Bank Holiday Sunday, May 25, 2014.

The concept; in which live bands perform at each mile of the route and runners celebrate their accomplishment with a post race concert at the finish line; has proven to be tremendously popular in major cities around the world including Las Vegas, Los Angeles, San Francisco and Washington, DC. More than 500,000 people participate in an international running series each year.

Liverpool has secured exclusivity on the Rock 'n' Roll Marathon Festival, and will be the only UK City to host the event over the lifetime of the deal; during which time it is hoped to grow to attract 10,000 runners and include a City wide festival atmosphere that encourages local and visitor participation

It is expected to provide a huge boost to the City's economy by attracting at least 750 international runners and their families; many from the United States.

Competitor Group, the City Council and Marketing Liverpool will also work closely with local businesses to make sure they can make the most of the event and the additional footfall it is expected to bring in to the City.

Mayor of Liverpool Joe Anderson said:- "It is a real coup for Liverpool to have secured the services of the Competitor Group. They have a fantastic track record in putting on top quality, exciting events that have a distinctly local flavour and attract large numbers of competitors and spectators from near and far. Liverpool is known the world over for music and sport, and there is nowhere better to bring them both together than our City."

The event will start and finish at the waterfront and, although the route is yet to be finalised, is expected to take in major landmarks including the football stadia and some of the City's most beautiful parks.

The Rock 'n' Roll Marathon & ˝ Marathon will also showcase the City's rich and diverse culture and heritage, with music of different types being performed by local artists

Tom Godfrey from the Competitor Group said:- "The addition of this event is exciting because we will now be able to offer runners around the world an amazing destination in the UK. The May timing for a marathon works perfectly with our international event schedule and we are look forward to welcoming runners, their friends and their families to Liverpool next year."


Entries will open from Thursday, 5 September 2013 at:- runrocknroll.competitor.com and people can like the event on:- Facebook and follow it on:- Twitter.

Have we found Britain's oldest footballer?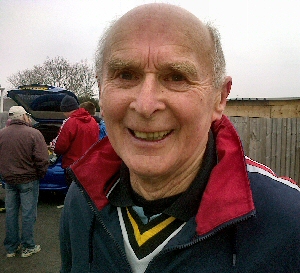 STANLEY Matthews famously played top division football into his 50's, yoga freak Ryan Giggs is playing for Manchester United despite nudging 40, but both these legends are mere youngsters compared to Frankie Delling.

Mr Delling was 77 years old in May 2013, but still plays 6 a side every week, turning out for the Armageddon Tired team. He says he is still:- "intrigued by the game."

The sport has been part of his life for over 70 years:- "My 1st football memory was playing in school at the age of 6. The highest level I ever got to was playing for the RAF against a Cypriot Representative team whilst I was on National Service, but playing football is something I have always done. At my age it's just nice to be asked!"

Unbelievably, Frankie's football was nearly ended at the age of 30, when he was struggling to overcome a series of ankle injuries that had dogged him. It was then he received the advice that he credits with his longevity. "The doctor told me to give up smoking and the injuries just cleared up. In fact I played some of my best football between the ages of 30 and 45." he explained.

Frankie lists Manchester United as his favourite team, although he jokes that this was:- "pre Rooney," has the following advice for youngsters who want to follow in his footsteps:- "Not much alcohol, eat well but stop before you are full."

The league he plays in is run by Leisure Leagues, who operate leagues in Southport at Greenbank High School and their spokesman Damian Bryson said that Frankie's tale was exactly the sort of thing that the league is designed to promote:- "We want our competitions to be very much the focal point of their community and to be as inclusive as possible so that anyone can play, and what Frankie is doing proves that it works."

For the man himself there are no plans to hang up his boots:- "Every day, I am feeling fitter and sharper and want to carry on playing for as long as I possibly can."

Anyone wants to join the leagues in Southport can log onto:- leisureleagues.net for more information.