The 84th Southport Flower Show - 2013
Photographs by Patrick Trollope.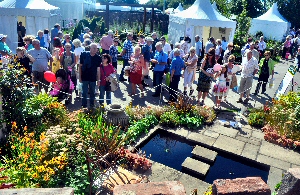 THIS years Southport Flower Show was the 84th event held on Victoria Park and it ran over 15 August and 18 August 2013. The theme this year we where informed was 'Pride' and that is just what the people of Merseyside, poetically Southport should feel when you talk about this show. Looking at how many people the show attracted over its 4 days, it is not surprising that the Flower Show is still the UK's largest independent flower show. With over a million blooms according
to the organisers, and featured more than 350 exhibitors and 18 show gardens, this was a heavy fever sufferer's nightmare, but a botanist's heaven. At this point we have to say well done to the this year's amateur and society displays, as we think they out classed themselves, as they where outstanding. That is not knocking the professionals who also delivered equally high, if not higher standards of exhibits than in previous years. The spotlight should also be focused on HM Prison Kirkham's garden display, as it was phenomenally well planned feature, which showed great imagination along with both extremely high horticultural and artistic skill. It was not all flowers as the event also had other entertainment to offer the shows many visitors. This years event's North West Book Festival and North West Food Festival. The gourmet food festival was very popular, featuring a marquee that had a full working kitchen in it, where celebrity chefs whipped up their signature dishes. But it was not just the food and flowers that brought people out to the show as local and national authors took part in the book festival area, organised by the leading independent book shop, Broadhursts of Southport. If all that was not enough, the event was opened by Carol Vorderman and other top UK TV stars attended, with Coronation Street's Jennie McAlpine – 'Fiz' and others appearing over the other 3 days. It was very hard to cram it all in, as when all that was on you also had in the main arena entertainment medieval knights jousting and birds of prey and dog displays... plus other side shows, including live musical performances on the bandstand that provided a rich and varied programme of easy listening music. Not forgetting the chance to sample wines at stands like Pieroth Wines, who have consistently had a stand at the show for as long as we can remember… This years coverage by us is going top be split over 2 editions. To see Part 1 please click on here now!

for more information about the Flower show and for dates and updates on future shows we suggest you visit these 2 links:- Facebook and the official website for the show.
| | | |
| --- | --- | --- |
| | Click on to read on! | Click on to read on! |
B.O.A. 70th Anniversary DVD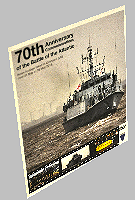 THE video footage we have taken at the 70th BOA events this year in Liverpool has now been fully edited is available to buy, on a DVD, from our Online Shop, on Mersey Reporter very soon. For each DVD sold, £3.00 will go to the Liverpool's Lord Mayor's Charity Appeal. (Registered Charity No. 229539) At this stage we can only do UK postage options, but if you are outside the UK, you can still order copies, but only by emailing us to:- news24@merseyreporter.com with your FULL address and we will get back to you with a postage cost and a payment link, should you wish to continue.