Range High School celebrates best ever GCSE results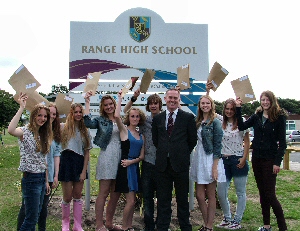 OVER 80% of pupils at Range High School achieved at least 5 good passes including English and Maths, in GCSE results released today. This is a record for the school, which was judged outstanding for the fifth consecutive time by OFSTED in May 2013, and whose GCSE results last year were the best among Sefton's state schools.

Headteacher Graham Aldridge said:- "We are so very proud of our pupils today and I congratulate them all. Supported by the staff at the school and their families, they have worked incredibly hard to achieve these record results. It maintains our tradition of challenging all pupils to achieve the highest academic standards."

Chair of Governors Dr Mervyn Thomas added his congratulations, saying:- "The whole school community is delighted to see our pupils achieve such wonderful results, and the Governing Body congratulates them and the staff on such a fantastic year for the school."
Southport folk asked to sign up for sign2sing world record
CHILDREN and adults from Southport are being invited to sign up for a record breaking attempt for the most people signing and singing on the same day.

The national deaf healthcare charity, SignHealth is hoping more than 150,000 people including several hundred from Southport will join in with the annual event taking place on 5 February 2014.

Steve Powell, Chief Executive at SignHealth, said:- "Earlier this year 116,980 teachers and pupils across the country took part in our 3rd sign2sing event and broke the Guinness World Records™. The previous record, which we also set, was 114,277. On February 5, 2014, we are once again inviting children and adults alike to take part in our world record attempt for the most people signing and singing a song on the same day. This year we are hoping businesses, choirs, community groups and other organisations as well as schools join in too. Our aim for the 2014 event is to inspire our next generation of healthcare professionals about the importance of good communication."

People from all over the country and overseas will learn to sign a song. Everyone who registers for sign2sing will have access to digital resources, which will be available to be downloaded from the end of September.

People who are unable to take part in the record breaking attempt on February 5 are invited to join in with the event during sign2sing week, which takes place from Monday, 3 February 2013, until Sunday, 9 February 2013.

sign2sing is also a fundraiser for SignHealth through a suggested £1 donation from everyone taking part. People will be asked to wear a scarf like Olli the monkey, who is SignHealth's official mascot, on the day of sign2sing and donate their £1.

The money will be used to continue the charity's work helping to improve the mental and physical health and well-being of deaf children and adults.

Steve added:- "News of the event is already spreading rapidly and we are hoping to smash our current record and involve more than 150,000 adults and children, while raising awareness of deafness and the work we are doing at SignHealth. Any businesses, choirs, community groups and schools from Southport that decide to take part will be joining thousands of others all over the country and some in other countries on February 5 when they attempt to break the world record. We are hoping more than 1,500 schools and organisations participate in our 2014 event. People wishing to take part are invited to register now by visiting:- sign2sing.org.uk and clicking on the 'register now' link."

sign2sing takes place on Wednesday, 5 February 2014. People can take part in the event at anytime throughout the day. Alternatively, those who are unable to take part on February 5 are invited to participate during sign2sing, 3 February 2014, until 9 February, 2014.

For more information about sign2sing, please visit the website above or contact SignHealth on:- 01494 687600. Alternatively, people can follow sign2sing on Twitter and Facebook.
HARVESTER RAISES £100,000 TO MAKE MAGICAL WISHES COME TRUE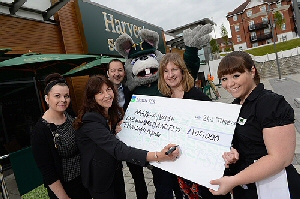 A Harvester Salad and Grill in Liverpool has helped to raise more than £100,000 to support children and young people fighting life-threatening conditions.

The funds raised will be donated to Harvester's official charity, Make-A-Wish Foundation® UK, which the restaurant chain has supported over the past seven years.

The Otters Pool Harvester has helped raised the £105,000 donation principally through the special Make-A-Wish Sundae, which featured on the menu during 2012 and saw a donation from every sundae sold going towards the charity.

Karen Baskett, Retail Director for Harvester said:- "Make-A-Wish Foundation® UK makes a positive difference to children and young people across the country. We are delighted to help to support the once-in-a-lifetime experiences that these children deserve. We owe a big thanks to all our customers who purchased a Harvester sundae and helped to contributed to the fundraising total."

Staff members from Harvester's across the country carried out their own fundraising activities to contribute to the grand total.

The £105,000 raised by Harvester will enable Make A Wish to grant more than 26 wishes. The total means that over the past seven years during which Harvester has been supporting the foundation, more than £300,000 has been raised for the children's charity.

Amanda Williams, Make-A-Wish Foundation® UK's Director of Fundraising, added:- "We are thrilled to continue our strong relationship with Harvester for the seventh year running and want to say a big thank you for their donation. The donations we receive make a real difference to the children's lives and create precious memories for their whole family."

Make-A-Wish Foundation® UK helps to make dreams a reality for children and young people with life-threatening conditions and give families precious moments together. It was founded in the UK in June 1986 and, since then, has granted more than 8,000 wishes.

For more information about Make-A-Wish please see:- make-a-wish.org.uk and for Harvester visit:- harvester.co.uk.

Some drivers need a lesson in road safety as kids go back to school
BRAKE and Direct Line are calling for drivers to help make streets safer for kids to walk and cycle, by committing to slow down to 20mph around homes, shops and schools. Their research out today reveals that although drivers say they want safer streets for kids, many aren't following this through by reducing their speed in local communities.

Brake and Direct Line's survey of 1,000 drivers from across the UK finds:- Nearly 2/3 (64%) think traffic is too fast on some or all local roads for the safety of kids on foot and bikes and 65% want action to make walking and cycling safer around schools, homes and in town and village centres. However 6 in 10 (63%) admit to driving at 35mph or faster in a 30 limit and 29% do this at least once a week... Two thirds (67%) explained they feel pressure from other drivers to go faster in built up areas, while a 3rd (33%) say they give in to this pressure to make them drive faster.

5 children under 16 are killed or seriously injured when walking or cycling every day in the UK. Reducing vehicle speeds can make a massive difference to the safety of kids on foot and riding bikes. At 20mph, drivers have much more time to react, to help them stop in time if they need to, for example if a child runs out into the road.

Brake is urging drivers everywhere to help make roads safer for kids by committing to slow down to 20mph around homes, schools and shops, even where the limit is 30mph. Through the GO 20 campaign, it is also calling for 20mph limits to become the norm across built-up areas. It is calling for more safe pavements, paths and crossings, so children and adults can walk and cycle for their health and enjoyment, and for cheap and sustainable travel, without being or feeling endangered.

Julie Townsend, deputy chief executive, Brake, said:- "While it's important kids and young people receive road safety education, it's crucial that drivers take on the ultimate responsibility for protecting children on foot and bike. Our research shows there's a contradiction in what some drivers say they want and the way they behave at the wheel. As well as campaigning for government and local authorities to do more to reduce speeds in communities to tackle pedestrian and cyclist casualties and create nicer places to live, we're appealing to drivers everywhere to do their bit too. By slowing down to 20mph around homes, shops and schools, you'll be helping to save lives, and enabling kids to walk and cycle more in their neighbourhoods."

Rob Miles, head of Motor at Direct Line, said:- "Whilst parents can teach children how to cross the road safely and warn them of the dangers when they are out playing or walking to school, the lives of their loved ones are very much in the hands of drivers and whether or not they are willing to slow down. Speed limits are a maximum and not a 'must do'. Drivers, and not just pedestrians, have a responsibility to gauge the conditions of the community they are driving through, and we urge motorists to drive as they'd want others to if their child was playing nearby."

Why GO 20?

► Fewer casualties:- at 20, drivers have more time to react and stop in time if they need to. Studies show when 20 limits replace 30, it means fewer casualties among pedestrians and cyclists.

► More walking and cycling:- danger from traffic is a major barrier in enabling more people to walk and cycle. Town and City-wide 20 limits have resulted in more people walking and cycling.

► Healthier, happier people:- More walking and cycling means healthier people, and more enjoyable outdoors activity for kids and adults. It helps communities interact and be communities.

► Less pollution:- GOing 20 means lower emissions from vehicle journeys. Plus if more people can switch their commute or school run to foot or bike, it means less polluting traffic.

► Lower costs:- Poor health from inactivity costs society dearly. Road casualties cost even more, due to the suffering and burden on health and emergency services. Preventing casualties and improving health means GOing 20 pays for itself many times over. It also helps people save money by choosing the cheapest ways to get about: foot and bike. Read more about the case for GO 20.

Deciding to let children walk or cycle to school unsupervised is a difficult decision for many parents, who are faced with having to weigh up the benefits of their child living an active lifestyle with the threat of their child being hurt by drivers. Research shows many are put off letting their child get out and about by traffic danger. Making roads safer helps more parents to let kids walk or cycle.

Parents who are worried that their child's route to school isn't safe enough have a number of options. If it's possible, they could walk with their child to school, helping to keep them safe, or set up a walking bus with the help of other parents. They could also work with the school to set up a local campaign for safer roads, calling for measures such as a 20mph limit, crossings, pavements and paths. They can also check if their child's school runs pedestrian and cyclist training, and encourage them to contact the local authority to provide this if they don't.

Daniel Evans, age 14, from Sunderland, died after being hit on his way home from school. Daniel was hit by an oncoming car as he ran out into the road between 2 parked vehicles. He was taken to an intensive care unit at the hospital due to the extent of his injuries, where he died 6 days later.

Karon Hylton, Daniel's mother, said:- "We don't know how fast the car was travelling when it hit Daniel, but it hit him hard enough to cause serious head injury and kill him. Daniel was fun, clever and full of energy, and his death has left a gaping hole in our family. He was a child with his whole life ahead, and he didn't deserve to die for running out that day. No one can bring Daniel back, but we can hopefully stop other families suffering as we have. I urge all drivers to take Brake's advice and slow down around homes, shops and schools, and watch out for children. Children sometimes make mistakes when using roads: it's up to you as the responsible adult behind the wheel of a vehicle to make sure that if a child does run out, you're going slowly and carefully enough to avoid doing them serious harm."

Within the past 12 months, how often have you driven at 35mph or faster in a 30mph zone?

4 % said daily or more than once a day
12% said several times a week
13% said about once a week
11% said about once a month
23% said less than once a month
37% said never
Within the past 12 months, how often have you felt under pressure from other drivers to drive faster when in built up
areas?

6% said daily or more than once a day
24% said several times a week
16% said about once a week
10% said about once a month
11% said less than once a month
34% said never
How often did this pressure make you drive faster?

1% said daily or more than once a day
6% said several times a week
8% said about once a week
6% said about once a month
12% said less than once a month
66% said never
Do you think traffic in your neighbourhood is too fast for the safety of children or adults on foot or bicycle?

24% said yes, traffic is too fast on most/all local roads for safety
40% said yes, traffic is too fast on some local roads for safety
37% said no
Do you think more needs to be done to make walking and cycling safer around schools, homes and town/village centres in your area?

38% said yes, we need some/more cycle paths
15% said yes, we need some/more pavements
25% said yes, we need some/more crossings
29% said yes, we need some/more 20mph limits
21% said yes, we need safer junctions for cyclists
22% said no, we already have the above measures
13% said no, I don't think more needs to be done