One Vision Tenants brush up on their DIY skills!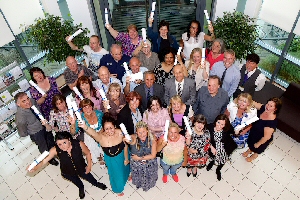 SINCE February this year, One Vision Housing has been working closely with the North West Training Council (NWTC) to offer free DIY courses to their tenants.
The primary aim of the programme was to provide people with a means to live more independently, becoming self-sufficient in the care of their homes; whilst bringing residents together to have a shared sense of pride in their homes.
A total of 36 tenants attended and completed the course, which has taught them a variety of skills, from using measuring and woodworking tools, repairing damaged walls, fixing and filling holes in walls, fitting shelves and skirting boards; and the art of home decoration using their new painting and wallpapering skills.
The completion of the course was celebrated with a graduation ceremony hosted by One Vision, at their head office on Dunnings Bridge Road in Bootle.

During the event, each of the graduates received their certificate from course leader from NWTC, Peter Walsh, who praised their hardwork and dedication.
Peter Walsh said:- "This new course has been a complete success, with each student keen to use their new skills and confidence to improve their own homes. Some of them have even be inspired to choose DIY and home maintenance as a career path."

One of the learners and One Vision tenant, Katie Balmer, said:- "The course was great, I've already started putting it to good use, having removed shelving and repaired walls in my own home. And I've taken advantage of the free tool loan service from NWTC, and will be using them to pave my back garden. I enjoyed the course so much that I've just gone on and applied for an apprenticeship as a maintenance operative. This type of role wouldn't have attracted me before I took the course. It's a career choice for women as well as men."

For more information about NWTC and the courses they offer, visit:- nwtc.co.uk or call them on:- (0151) 523 0808. For more information about One Vision Housing and their work in the community, visit:- ovh.org.uk.
Get your garden ready for spring… this autumn!
SOUTHPORT'S Dobbies Garden World is on a mission this autumn to help local communities guarantee an array of colour in their spring garden, explaining that now is the time to plant spring bulbs!
As part of its community programme:- 'Here We Grow', the Southport store on 28 August 2013 launched its latest campaign:- 'The Big Bulb Plant', in a bid to educate local communities that autumn is the perfect time to plant bulbs for next spring.
The leading garden centre retailer has more than 20,000 bulbs to give away to local community groups across the UK, telling people autumn is not the time to hang up their gardening gloves, but to keep gardening and carry on planting.
Jacqui Schober Thomson, community champion, Dobbies Garden World, Southport, said:- "We're delighted to launch our latest Here We Grow campaign:- 'The Big Bulb Plant.'
Not many people know that autumn is the ideal time to plant spring bulbs, but we are educating the local community that now really is the time to roll up your sleeves and plant bulbs to ensure you have a spectacular display of colour throughout spring.
Last year's campaign was a huge success and we supported a variety of projects looking for help to get their garden Spring-ready.
Whether you're a school, community organisation, local charity, hospital or care centre, looking to brighten up your garden or even make a few planted containers, we'd love to hear from you."
'Here We Grow' helps local communities to develop green space in their area by encouraging local community groups, projects, schools and charities to enjoy planting and growing in their own gardens, by offering products, equipment, support and help.
For more information, please visit:- dobbies.com. Also if you would like to put your group forward for consideration, contact your Dobbies community champion via:- email.

Country and Western Weekend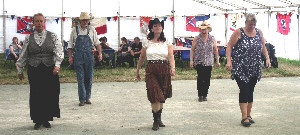 THE Leisure Lakes area where holding a Country and Western Festival over 24 August to 26 August 2013, with the Phoenix Rebels CWC. The event was in full swing when we attended, with lively music and an assortment of cowboys, cowgirls and 'Indians' scurrying around in costume, all having a good time. Various side events such as sponge throwing were also taking place. We were told that some proceeds are sent to children's charities.