EEF welcomes Armitt Review and urges Infrastructure Commission
ON Thursday, 5 September 2013, Commenting on the Armitt Review published by, David Ost, North West Region Director of EEF, the manufacturers' organisation, said:- "This report demonstrates we need a new approach on infrastructure. We need to take the political wrangling out of important infrastructure decisions, take a long term view of strategic priorities and get the key projects delivered faster For too long, political prevarication and policy reversals have left Britain in the slow lane in developing our roads, rail networks and our airports. The poor evidence base and fraying political consensus for HS2, and the fudging of key decisions on increasing our airport capacity show that things need to change. A National Infrastructure Commission can address this but it must have cross-party backing and report to Parliament. Only then will we get away from the delays and indecision that have dogged us for decades."
EEF called for an Independent Infrastructure Commission to be set up in its submission to the Armitt Review and on the back of a major report in April this year entitled 'Transport for Growth'. Amongst the key findings on infrastructure priorities were the following:-
Key survey findings
· ⅘ of manufacturers identify the road network as critical to their business.
· Half of manufacturers say that the state of the UK's roads significantly increases their operating costs.
· Three-quarters of export-intensive manufacturers identify aviation infrastructure as important to identifying new business opportunities.
· Half of foreign-owned manufacturing businesses say aviation is a key factor in deciding where to invest.
· ⅔ of export-intensive manufacturers identify investment in road access to international gateways, such as ports, as critical to their growth.
· A ⅓ of the most export-intensive firms say the state of the UK's port infrastructure has significantly increased their operating costs.
Building new prisons in the place of old ones 'repeats mistakes of the past'
ON 4 September 2013, responding to the announcement by the Ministry of Justice (MoJ) of changes to the prison estate, Frances Crook, Chief Executive of the Howard League for Penal Reform, said:- "The announcement by the Ministry of Justice is a mixed bag and I fear ministers are making long term decisions to meet immediate budget pressures without underpinning those decisions with bold leadership and vision. Closing failing prisons is the right move to make but without a coherent strategy to reduce prison numbers it will make the problem of overcrowding worse. The government finds itself closing prisons with one hand while proposing to build new supersized prisons with the other, prisons that will be too large to manage effectively and which will store up many more problems for future administrations. Building new prisons in the place of old ones merely repeats the mistakes of the past. Given crime continues to fall year on year, Chris Grayling should grasp the nettle and start making the case that we simply do not need to put so many people behind bars in the 1st place." The MoJ has confirmed that a 2,000 place prison is to be built in Wrexham, North Wales. Frances Crook said:- "The idea that big is beautiful with prisons is wrong. Not our words, but those of David Cameron before he became Prime Minister. All evidence shows that larger jails find prisoners more difficult to control, drug abuse and violence are more prevalent and opportunities for education and training are limited in such crowded environments. If the Government wants to spend £250m on boosting employment opportunities in North Wales, there are much better ways of doing that than building a huge jail." The MoJ is also to embark on a feasibility study focusing on the possibility of replacing Feltham prison with a large new adult prison and a new youth facility on adjoining sites in West London. Frances Crook said:- "Feltham has been a disaster of a prison for the young people held within its walls. The jail recently received one of the worst inspection reports in recent memory and it is right that the government now looks to close this abysmal chapter in the history of prisons. We are deeply concerned however that ministers would consider building a new prison on the same site, a super-sized prison that would repeat the mistakes of Feltham and amplify them many more times. The larger a prison the more difficult it is to control, with drug abuse and violence prevalent and opportunities for education and training limited in such crowded environments. Given Feltham's primary function is to house children and young people on remand from the London courts, we would be absolutely opposed to those young people being crammed into a new super-sized prison for adults as an afterthought." Do you have any views on this? Let us know by emailing our newsroom today via:- news24@southportreporter.com with your thoughts on this hot topic.

End of Season Dinner a roaring success
Photograph by Ste Jones, KT8 Photography.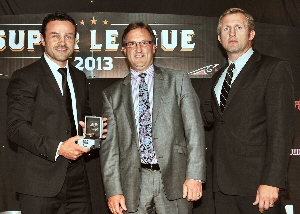 THE Official 2013 End of Season Dinner took place at The Select Security Stadium on Tuesday, 3 Septmber 2013, and as those in attendance will agree, it was a roaring success. The 'Sold Out' event celebrated the efforts and achievements of the players throughout the current season, and commenting on the get-together, Vikings CEO James Rule said:- "Last night was a wonderful event. I was delighted that it was supported by all sectors of our fan base. It was great to see so many of our fans, including the ever present Pat Price, in attendance. We also had representatives from one of the Club's supporters groups 'Vikings Voice', the players and their partners, members of our staff through to our Board of Directors and key Corporate Partners, with us on the night. We have made huge progress this year and each of the aforementioned sectors has had a key influence in achieving that success. I want to pass on my congratulations to the award winners; Tim Holmes, Tom Gilmore, Joe Mellor, Willie Isa and Jon Clarke. All of these individuals richly deserve the accolades they have received for the commitment, professionalism and performance they have shown this year. I would also like to express my gratitude to Terry O'Connor and Roy Basnett, who compared the event so well, Gary McGrath for his video productions and both Anita Naughton and Grand Design Wedding and Events, for their designer makeover skills, in transforming the stadium's Bridge Suite."

► The full list of Award winners is detailed below:-

► Clubman of the Year - Tim Holmes

► U19s Player of the Year - Tom Gilmore

► Viking Stronghold Player of the Year - Joe Mellor

► Valhalla Community Player of the Year - Willie Isa

► Player's Player of the Year - Jon Clarke
Invest to earn will help grow City
LIVERPOOL City Council is proposing a new deal with a private developer which could bring the HMRC building on Queens Dock back into use, and provide the catalyst to bring in vital funds for the City.

The city council is in talks with Glenbrook Property Limited, over the City providing loan finance to the developer to convert the building; which has been empty since last year; into residential properties for private let.

If approved, the deal would breathe new life into the building and contribute to the on-going regeneration of Kings Waterfront, including the delivery of the new Exhibition Centre and Hotel on the adjoining site.

It forms part of the Council's new approach to investment in difficult economic times, helping generate vital funds which can be ploughed back into delivering vital services.

The proposals are subject to legal clearance and will have to be fully risk-assessed and scrutinised by the district auditor before they can be given the go-ahead.

Mayor of Liverpool, Joe Anderson, said:- "This is a strategic investment opportunity which has the potential to bring a major waterfront building back into use and deliver much-need new homes. It would also provide continued momentum for the regeneration of the Kings Waterfront, which is being transformed through the delivery of a world class Exhibition Centre and which is set to be further revitalised through the Kings Dock Master Plan. At a time of inertia in the economy, it's vital that we work creatively with the private sector. These proposals are the latest example of how we are seeking to use our borrowing power and target our resources effectively to help kick-start development and invest in assets that bring in new income streams for the Council. We will be making sure we receive all the appropriate legal and financial advice to commence the deal so we are satisfied that we are getting value for money and the proposals will also be scrutinised by a council select committee."