Heritage Open Day at Edge Hill Station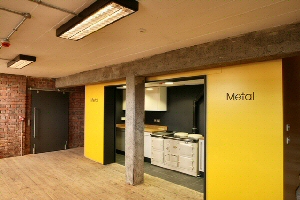 COME and explore the buildings at the oldest working passenger railway station in the world! As part of Heritage open days, arts organisation Metal will be opening its doors to the public on Saturday, 14 September 2013, 11am to 4pm.

Built in 1836, Edge Hill Station is the oldest working passenger railway station in the world and it currently houses the arts organisation Metal. For Heritage Open Day they will be opening their doors to the public and hosting tours of the station buildings. Interestingly, the spaces were originally used for machinery that would power steam trains up the incline from Lime Street. Since the decline of steam however the spaces became unused and remained that way for over 40 years until 2008 when Metal began renovating them. Now they have become a creative and cultural hub at the heart of some of Liverpool's most dynamic communities and in a space representing some of its most interesting heritage.

Do not miss the opportunity to further explore the Edge Hill Archive (edgehillstation.co.uk) to learn more about the railway and its pioneers, the landmarks and landscapes surrounding the station and its impact on the social life and the communities.
Furthermore as a special feature of the day they will unveil a new community garden gate, which was especially designed by local schoolchildren as a memorial project to the Blitz attack of November 1940 on Durning Road, the largest loss of life in Liverpool during the Blitz. The Metal community garden at Edge Hill station is a lovely place amongst the train platforms where you can spend a few peaceful hours gardening by yourself, or with a group of other dedicated volunteers, who will be there to meet people during the Heritage Open Day.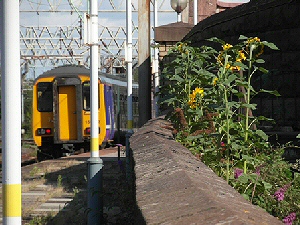 Families are most welcome to attend, there will be creative activities outdoors and indoors for children to take part in. Visual artist in residence Anna Mulhearn (winner of the Liverpool Art Prize studio award), who primarily works with video to explore historical events and archival material, will do a workshop that will invite people to animate part of a train ride from Edge Hill to Manchester.

Do not miss the chance to also visit Metal's new library space, where there are lots of arts and heritage related materials that Metal have collected over the years, as well as chance to swap one of your own books as part of a 'book swap' initiative.
Attendance to all activities is FREE and to make it all a bit sweeter there will be some tea and cakes!

FANCY DRESS FAVOURITE COMES TO BIRKENHEAD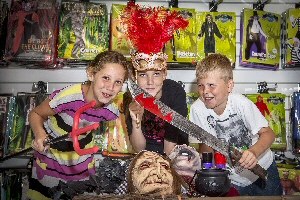 A FANCY dress and party store which supplies prime time TV soap Hollyoaks and top stage shows at Liverpool Empire theatre is coming to Birkenhead. Merseyside's biggest party store, Smiffys, is opening a new store at Pyramid Shopping Centre, with a grand opening planned on 7 September 2013.

Whether you want to look like you stepped out of the Abba movie, an extra in a FrightFest or just a cuddly Santa Claus, Smiffys has thousands of costumes and party gear.

Derek Millar, Commercial Director for Pyramids Shopping Centre, said:- "The new Smiffys store will be a chocolate box for party goers and their new store in the indoor part of Pyramids Shopping Centre will be a fantastic addition. It is one of several new businesses opening with us over the coming months, including a brand new H&M store later this year, and it is all part of our determination to drive forward some really positive developments at the centre. We have recently announced a £1m investment programme which includes a huge face lift and rebrand, an updated website, major modernisation at our two car parks, and a brand new heating system. By investing in this way, we are making the shopping centre at the heart of Birkenhead really stand out to potential new tenants and in turn improving the shopping experience for our many loyal shoppers."

Business management graduate Adam Boyars is heading the new Smiffys venture. Adam's father, Neville, opened the Smiffys store in Bold Street, Liverpool, almost nine years ago, and believes there is a gap, in what is a growing market place, across the Mersey in Birkenhead. "The first shop was opened as a franchise but we are now independent," said Adam, 23.

In fact the original Smiffys fancy dress business was founded nearly 120 years ago. "We hope the store will be open the first week in September and plan to have a grand launch day on Saturday, 7 September 2013. The demand for costumes just gets bigger and bigger with Halloween the biggest time of the year for us. At Halloween we get queues outside the shop for costumes, which is why we want to be open in Birkenhead before October 2013. Halloween is now the 3rd biggest holiday after Christmas and Easter."

Chances are many of the costumes you see on your TV shows are supplied by Smiffys.

"Hollyoaks come in regularly for stuff," said Adam. "I know the Smiffys brand is also the fancy dress of choice for shows such as Celebrity Juice, EastEnders, The Apprentice and Big Brother. We also deal directly with the Liverpool Empire Theatre who come to us - particularly for make up. I don't know that we have a favourite outfit but we have thousands of products and it depends what time of year it is, what the event is. We get requests for fake blood come Halloween and the Santa suits at Christmas of course," said Adam who decided to join the family business after he completed his business management degree at Birmingham University.

Apart from the bewildering array of costumes, Smiffys even does life-sized cardboard cut-outs of your favourite film stars and pop idols. This means youngsters could get One Direction's Harry Styles to "attend" their birthday party!

Since opening in 2004, Smiffys is belived to have become the largest and most popular party store in Merseyside.

"All of our costumes are to buy, meaning you can use outfits time after time, providing great value and savings on your purchase. We say 'Why hire when you can buy for less'..." says Adam.

Party products include both online and in-store fancy dress for both adults and children, accessories, wigs, masks, footwear, make-up, hen and stag, celebrity cardboard facemasks, hats and jokes and novelties. In store there is also a huge range of balloons, decorations, party ware and life-size stand up cut-outs.

All the costumes are also fully licensed.

To contact the store go to:- smiffys-liverpool.co.uk or call:- 0151 647 3129. Go to:- grangeandpyramids.co.uk for more information.