Britain's much needed skilled workers and entrepreneurs are leaving to seek better life abroad
BRITAIN is rapidly losing its hard working middle income earners whose skills are needed in the UK according to a recent survey conducted by Global Visas, the leading immigration and relocation consultancy.

In what is the UK's largest ever poll of British nationals who have taken the decision to emigrate the extent of Britain's loss is revealed with almost 40% identified as skilled technicians and over 23% as the self-employed 'job creators', possessing entrepreneurial flair.

"The astonishing response clearly sees people taking this opportunity to tell Government why they left and to register their feelings. They believe they have no choice but to seek a better life elsewhere." says Liam Clifford, CEO of Global Visas.

Over 40% gave job prospects as the main reason for leaving with 21% citing the cost of living in Britain as the second factor. Britain's poor economic outlook was also blamed by 13% and just over 11% gave the overall tax burden in the UK as a reason. Australia is the top destination for those leaving Britain.

The survey received 5,600 responses in just 5 days from those who have already taken the decision to leave the UK. Over half of those responding earned between £20,000- £100,000 with over 40% earning between £20,000-£50,000 and just under 10% earning between £50,000 and £100,000.

The survey was carried out by Global Visas at the request of Dominic Raab, Conservative MP for Esher and Walton, who was keen to seek current statistics on the reasons for people leaving the UK to inform government thinking.

"These trends are economically and socially debilitating. The' squeezed middle' are increasingly amongst those searching for a better life abroad. That is economically draining because they are net contributors of tax, and provide skills the economy needs." says Mr Raab.
Dingle Tunnel repairs contract signed
WORK is set to start on repairs to an underground tunnel which collapsed below homes in Liverpool. The City Council has brokered a resolution to the outstanding legal issues, paving the way for work in the old Dingle Station on the Liverpool Overhead Railway to begin. The work has been awarded to specialist engineering firm SES Contracting Ltd. who have significant experience in repairs of this nature. Residents affected by the partial collapse of the tunnel in Dingle have had to live in temporary accommodation since the incident in July 2012 after it was deemed unsafe for them to return to their own homes.

Deputy Mayor, Councillor Paul Brant, said:- "I am delighted that we are finally in a position where work can shortly get underway to repair Dingle Tunnel. This has taken longer to finalise than we would have wished, but it was vital we made sure that residents were not left in a permanent legal limbo. It has been a dreadfully frustrating time for those affected, and I fully appreciate, understand and sympathise with them. This marks a significant milestone in our efforts to sort this difficult situation out, and I would like to thank residents for their support and patience while negotiations have continued. We will of course be keeping them updated on progress and let them know when we have a start date for the work."

A total of 11 properties were evacuated; e8 in Sundridge Street, 1 in Toxteth Grove and 2 in Dingle Grove.

An initial safety inspection will take place in the next few weeks, and on successful completion, the contractors will start the repair work. It is estimated that the project will take at least 3 months to complete after it starts.

Doves fly in mission for Michael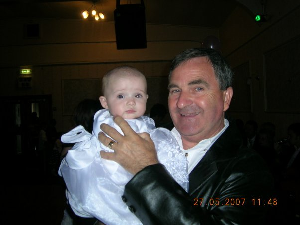 8 doves will be released in 1 family's tribute to a brother as more than 900 people gather on Sunday, 8 September 2013, for the Aintree Memory Walk.

A record number of people have registered to take part in the annual Alzheimer's Society event; and more are expected to sign up on the day.

25 members of a single Merseyside family will be there to remember Michael Millar, who died with Alzhiemer's. His sister Diane Millar, of Liverpool Road, Birkdale Village, Southport, said:- "Mum brought 8 of us up on her own while being a pub landlady for 22 years. We are a big family; Michael was the eldest and was like a dad. He was amazing, giving and made us all laugh. He was so strong. Then in his early 50s he was diagnosed with Alzheimer's. By then he was living in Australia and when I met him later I couldn't believe he was my brother; I thought, where has he gone? He couldn't remember anything. He came to be unable to recognise his wife Carole and had to go into care when he became a danger to himself."

His mum Noreen Millar ran a series of pubs, including The Clarence, Bootle, and was well known for supporting children's charities. Diane said:- "Michael went on to emigrate. He was the best brother, father, husband, granddad and a great friend. He died with Alzheimer's aged 60. He used to race pigeons and doves represent hope, happiness and love, so we decided to remember him by releasing them at the walk."

A specialist in white doves has given his services for the day and on their release walkers will be invited to remember loved ones during a one minute silence.

Walkers have a choice of a 2km stroll or a 10km stretch at Aintree, on 11am Sunday, 8 September 2013. More details are available at:- memorywalk.org.uk/aintree.

Alisha Wittham, Diane's niece, who has ME, started the Millar family's mass support for the walk. She is determined to complete it in her wheelchair.

Singer Lilli Moore (22) of Windermere Road, Wirral, whose Nan Mary lived with Alzheimer's, will also perform a song from her album Memory Lane at the walk.

Alzheimer's Society Community Fundraiser, Fran D'Arcy, said:- "The release of the doves and Lilli singing will be special moments on a great day in support of 16,000 people across Merseyside living with dementia. The response has been brilliant with more than 900 people registered already; with more signing up on the day we hope over 1,000 walkers will take part."

Please not that Walkers will be able to boost their sponsorship by doing the Bupa Memory Mile, for which Bupa Care Homes will donate £2.50 for each 1 to Alzheimer's Society.