Run the UK's Number One Marathon for charity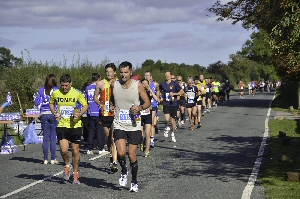 THE North West Air Ambulance Charity, The Roy Castle Lung Cancer Foundation and CLIC Sargent have been confirmed as the associated charities for this year's MBNA Chester Marathon. They will be joining this year's lead charity, Cancer Research UK.

The marathon, which was this year voted the UK's Number One Marathon of 2012, will take place on Sunday, 6 October, and runners are encouraged to raise funds for this year's four official charities.

A record 5,000 runners are expected to take to the winding country lanes of Cheshire and North Wales this October for the 4th annual MBNA Chester Marathon, and organisers anticipate that they will raise in excess of £400,000 for worthy causes.

Andy White, Joint Organiser of the MBNA Chester Marathon, from Active Leisure Events, commented:- "It's fantastic to have such a diverse range of charities on board for the 2013 race, and we hope that runners and supporters will join us in backing them to make this year the best to date for charity funds raised."

The North West Air Ambulance Charity's helicopters fly 365 days a year, with the doctors and paramedics on board providing rapid treatment, hospital transfers and ultimately giving the gift of time to patients across the entire North West region each year. Since it launched in 1999, the charity has flown over 11,000 missions across the region.


Lynda Brislin, Chief Executive at the North West Air Ambulance Charity said:- "We are thrilled to be an associated charity for the MBNA Chester Marathon 2013. Our charity relies on public support and sponsorship from fantastic events like these, in order to raise the £4.3 million needed each year to keep our 2 air ambulances flying and saving lives across the North West."

The Roy Castle Lung Cancer Foundation gives help and hope to people affected by this terrible disease. Lung Cancer is the UK's biggest cancer killer. It is the most common cause of death from cancer for both men and women, claiming over 33,000 lives a year.

Hayley Weaver, running events fundraiser for Roy Castle Lung Cancer Foundation, said:- "Lung cancer is the UK's biggest cancer killer. It is the most common cause of death from cancer for both men and women, claiming over 33,000 lives a year. That's 1 person every 15 minutes. Our charity gives help and hope to people affected by this terrible disease and by supporting the charity you will be helping to save lives and help people, by funding research, supporting nurses & providing patient relief grants. We're asking you to challenge your lungs in the MBNA Chester Marathon and help us defeat lung cancer."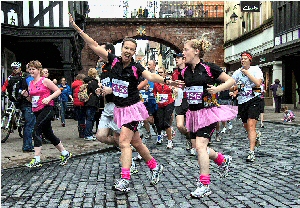 CLIC Sargent is the UK's leading cancer charity for children and young people, and their families. The charity provides clinical, practical and emotional support to help them cope with cancer and get the most out of life. They are there from diagnosis onwards and aim to help the whole family deal with the impact of cancer and its treatment, life after treatment and, in some cases, bereavement.

Emma Matthews from the CLIC Sargent Running team said:- "We are delighted to be an associated charity for the MBNA Chester Marathon 2013. Every day, ten children and young people in the UK hear the shocking news they have cancer. Treatment normally starts immediately, is often given many miles from home and can last for up to three years. CLIC Sargent depends almost entirely on voluntary donations to fund our services for children and young people with cancer. Every person who chooses to run for CLIC Sargent in the MBNA Chester Marathon 2013 will be helping us to continue to provide this vital support."

Since 2010, the MBNA Chester Marathon has enabled runners to raise over £1 million for charity, with runners in the 2012 MBNA Chester Marathon raising £280,000 for good causes. Andy added:- "There is still time to enter the MBNA Chester Marathon if you haven't done so already, with the opportunity to run for one of our official charities. If you have already secured your place, you can still run for charity, and you will be able to find more information on the race website."

If you would like more information on entering the MBNA Chester Marathon, and would like to know how you can run for a charity, please log on to:- chestermarathon.co.uk.

Data payment crackdown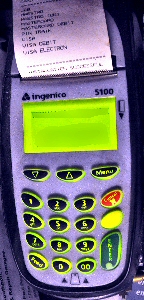 A new crackdown on tax evasion will make information on all credit and debit card payments to UK businesses available to HM Revenue and Customs (HMRC) for the 1 September 2013.

The legislation that has now come into effect was introduced in the Finance Act 2013. The Act allowing HMRC access information from the UK's merchant acquirers; the companies that process card payment transactions; to find out the number and value of transactions completed by a specific trader.

No personal data identifying the card owners or card numbers will be obtained, but this data will be used to ensure that traders have correctly accounted for all taxes due; levelling the playing field for all businesses.

Announced in the same week as it launches a tax evasion advertising campaign, HMRC estimates that this information could reduce fraud by over £50 million per annum.

Exchequer Secretary to the Treasury David Gauke said:- "Tax evasion and the hidden economy cost the taxpayer £9 billion a year. While the majority of traders are honest, they may find themselves undercut by the minority who seek to lower prices by cheating the tax system. The Government has given HMRC nearly £1 billion to tackle fraud and evasion, and these new powers give HMRC an extra tool to ensure a level playing field between businesses, and also reducing opportunities for those who try and cheat the system."

The legislation allows HMRC to obtain data on card payments to all UK businesses for the previous 4 years. The 1st requests for the data will be sent to merchant acquirers* this from 1 September 2013 and and this will be an annual request.

HMRC will analyse the data using its sophisticated risking system, Connect. This cross-references and compares the data with what the tax authority already holds. The process will allow HMRC to identify fraud and evasion. HMRC has worked closely with international tax authorities; many of which have already had great success in reducing evasion, from access to such data.

This week HMRC is launching the 2nd stage of an evasion publiCity campaign, through a series of targeted advertisements including radio advertising and over 3,000 billboards in public areas. The campaign works alongside existing compliance activity such as data collection, Taskforces and enforcement to raise awareness among those breaking the rules that HMRC is closing in on undeclared income.

Further information is available at:- gov.uk/sortmytax

* An acquiring bank (or acquirer) is the bank or financial institution that processes credit and or debit card payments for products or services for a merchant.
easyJet announces its' summer 2014 schedule from Liverpool Airport

THE UK's largest airline easyJet, has announced its summer 2014 schedule from Liverpool Airport to 26 destinations across Europe.

Over 3,600 flights are now on sale at on easyJet's website, enabling passengers to secure the best fares early with more than 580,000 seats available for travel between 30 March 2014 and 15 June 2014.
Key routes for summer 2014 include popular sun destinations to Alicante, Nice and newly introduced Larnaca as well as City breaks to Barcelona and Krakow. The airline has also released fares for key business routes including Paris and Madrid.

Ali Gayward, easyJet's UK commercial manager, comments:- "Today easyJet has launched its summer schedule from Liverpool Airport offering flights to 26 destinations between March and June 2014. When developing our flying schedule we consider many factors including customer comments and holiday trends to ensure we're offering the right combination of flights at a great price. easyJet also secures access to primary airports which take people straight to the heart of a destination to save time and money on transfers. Key summer sun destinations from Liverpool include Larnaca and Naples, but we've also retained traditional favorites such as Alicante and Palma. Around 20% of easyjet customers are business travellers so they'll be pleased to secure low cost fares on frequent flights to cities such as Belfast and Paris."

In total easyJet now flies from 11 airports across the UK and 9 million seats have been put on sale, across to 340 destinations across Europe, the Middle East and Russia.

Travellers looking to book their summer flights, accommodation and transfers in one go can find a wide range of flexible and affordable breaks from all easyJet airports on the easyJet Holidays website:- easyJet.com/holidays or by calling:- 0843 104 1000.