17 NEW JOBS IN BIRKENHEAD AFTER SPELL OF BUSINESS OPENINGS AT PYRAMIDS SHOPPING CENTRE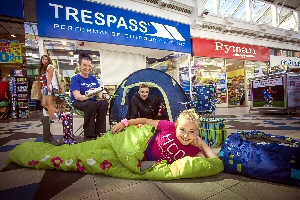 17 new jobs have been created as 3 new shops have opened for business in Birkenhead's Pyramids Shopping Centre. Trespass, the privately owned sportswear and outdoor clothing manufacturer - and 1 of the fastest growing brands in the UK; opened this week. The well known name is the latest to join the fold following the openings recently of an independent watch repairers and a new card shop.

Derek Millar, Commercial Director for Pyramids Shopping Centre, said it was fantastic news for the busy retail hub in the heart of the town and reflected more positive developments still to come this year. "It is terrific to be able to welcome an injection of new businesses to the centre and we are delighted to add such a popular and well established brand such as Trespass to our retail offering for shoppers. Last week we reported on the opening of Smiffys, the fancy dress and party shop, with us and this week it is Trespass which is following hot on the heels of a new watch repairer and Card Express. We are working very hard behind the scenes to encourage and attract new business and we continue to look ahead to the opening of our new H&M store later this year which we know our shoppers are eagerly awaiting. These positive developments are not only great for the Pyramids, but also terrific for the Birkenhead community."

Last year Trespass opened an incredible 40 new stores and created around 250 jobs. This year it looks set to repeat the expansion programme with yet another 40 stores. Its new shop at Pyramids, with 8 new staff, is its only operation on Merseyside, explains area manager Steve Oldfield.

"I joined the company nearly 10 years ago. When I started we had about 12 stores and this year the total is around 165 stores, we have really pushed things on. We aim to go wherever we feel there will be a decent return. We have had a pretty expansive new shop programme." said Steve, who had experience is fashion retailing.

Apart from Birkenhead, Steve has been overseeing the opening of a new store at Betws-y-Coed in North Wales, where the company already has branches in Pwllheli, Bangor, Llandudno and Wrexham.

"I also have stores to open in Lincoln and Doncaster. We have done really, really well. Ours is a cash rich business which is unusual and we provide the right quality and the right price. We cover all the bases from the more technical side to the casual, we have really expanded our range." said Steve.

The company was established in 1938 as a manufacturer of work wear and outerwear. The Trespass brand itself was created in 1984. It provides everything from top spec snow sports gear to clothing for hiking, cycling, running and camping, along with plenty of stylish casual wear.
Trespass has been chosen as the official casual uniform provider to the Glasgow 2014 Commonwealth Games workforce. This will include the design, manufacture and supply of outfits to be worn by Glasgow 2014's army of up to 15,000 volunteers as well as members of the Games workforce.

Trespass will also design, manufacture and supply clothing to be worn by those accompanying the Queen's Baton Relay as it moves through the Commonwealth on its iconic curtain-raising journey to build excitement to the Games.

Also open for new business at Pyramids Shopping Centre is watch repairer Paul Jones. Paul, from Dovecot and cousin Thomas Jones, from St Helens, already have a watch repair business in Clayton Square, Liverpool, but saw an opportunity to expand in Birkenhead where they have installed two new staff, Michael Johnson and Steve Lumley.

Paul was doing computer studies at university when the opportunity came to train as a watch repairer. "I found the work interesting and decided computers were not for me," he said. Within a short time he found himself manager of a major watch repair company and his cousin Thomas joined him. When the national company wound up its Liverpool operation, Paul and Thomas decided to make use of their loyal customer base and go into business for themselves.

"Despite the cheap 'throw away' watches there are still plenty of people who like decent watches as fashion items and then there are always the old watches which people have as heirlooms which they want to keep in good condition." said Paul.

The 3rd business to join the fold over the last few weeks is the opening of Card Express which has created 7 new jobs and sells greeting cards, gift wrap and party items. Manager Amanda Daley said:- "I have 6 part-time staff working with me. I'm from Chester and have managed stores in the Chester area but I'm looking forward to the challenge of running this store at Pyramids Shopping Centre."

Card Express, which has its administrative headquarters in Bury Lancashire, has another 7 stores spread over the North West. For more information about Pyramids Shopping Centre go to:- grangeandpyramids.co.uk.

Nike to renew Chester Half Marathon sponsorship deal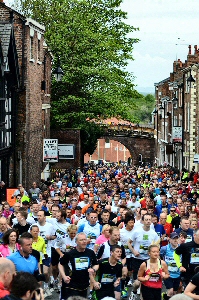 THE Nike Running Challenge Chester Half Marathon will be back, bigger and better than ever before in 2014, following confirmation from Nike Factory Stores that they will support the race as its title sponsor for another 2 years.

The organisers have also announced that there will be no increase on 2013 prices for those who enter early.

Chris Hulse, Joint Organiser of the Nike Running Challenge Chester Half Marathon commented:- "We are delighted that Nike Factory Stores will return in 2014 and 2015 as title sponsor of the Chester Half Marathon. This has enabled us to freeze prices for the 2014 event for those who enter early, bucking the current trend amongst mass participation races in the UK".

The alliance means that all entrants into the 2014 race will receive a specially designed, Nike technical t-shirt and medal, as well as race day access to all the latest products from the local Cheshire Oaks Nike Factory Store and the new store in Broughton.

Entries will go live on Monday, 14 October 2013, 1 week after the MBNA Chester Marathon, which takes place on Sunday 6 October 2013. Early bird entry will remain unchanged from 2013, priced at £26 for UKA affiliated runners and £28 for non-affiliated runners.

Chris added:- "Entries will open on Monday 14 October and following this announcement, combined with selling out last year, we are expecting an influx of entries in the months leading up to Christmas. The continued backing of such a successful global brand is a real coup for the race, and the news will help us to take it to the next level as a key race in the UK calendar".

Nike Factory Stores came on board as title sponsor of the 2013 race in April this year, just one month before the event, and they made a real impact, even in such a short space of time.

Chris said:- "Nike has such an established heritage with running and the wider sporting community, and they played a key part in making the 2013 race a success. We plan to work with them very closely in the build up to the 2014 race to ensure that each and every entrant has an unforgettable experience for all the right reasons. In addition to the top quality products that runners will receive as they cross the finish line, we intend to create a fantastic race village at the start line at Chester Racecourse with opportunities to get advice from running experts".

The Nike Running Challenge Chester Half Marathon, which sells out ever year, will start at Chester Racecourse, heading out through the streets of Chester and finishing in the city centre, outside the Town Hall and historic Cathedral.

To find out more, go to:- chesterhalfmarathon.co.uk.
FIREARM RECOVERY - FORD CEMETERY, LITHERLAND
MERSEYSIDE Police Detectives from the forces specialist Matrix team are examining a shotgun found in a Merseyside cemetery on:- Tuesday, 10 September 2013.

A member of the public, found the shotgun after going to the cemetery to tend to a grave. Whilst he was in the cemetery he spotted the gun which had been hidden behind a holly bush.

The member of the public then handed the shotgun in to officers at Marsh Lane Police Station at 3pm.

Forensic experts are now examining the weapon and ammunition.

Detective Inspector Lee Schofield from Matrix, said:- "The recovery of this gun means another weapon has been taken off the streets of Merseyside and I would like to thank member of the public who found the gun for their vigilance and prompt action. Information from the public is vital for us in the fight against gun crime and I would appeal to anyone who has information about where guns are being stored, or who is using them to call Crimestoppers anonymously. We act on all information provided to us in relation to firearms. More and more offenders are looking for alternative places to store their weapons. So I would like to take this opportunity to appeal to members of the public, including dog walkers and people who work unusual shifts, who spot someone acting suspiciously on waste ground or in gardens to contact us."

Anyone with information regarding those involved in gun crime, or where guns are being stored, is asked to contact the specialist Matrix team on:- 0151 777 5687, or Crimestoppers on:- 0800 555 111.