Council to discuss Combined Authority plan
A PROPOSAL to create a Combined Authority to improve the economic performance of Liverpool City Region is to be considered by councillors in Liverpool.

It follows a Governance Review by Halton, Knowsley, Liverpool, Sefton, St Helens and Wirral Councils, Merseytravel and the Liverpool City Region Local Enterprise Partnership.

The Combined Authority proposal aims to make sure that Liverpool City Region is able to bid for additional Government cash and the devolution of powers to increase economic growth and jobs.

It would bring all key powers into a single decision making body, leading work on economic development, transport and employment and skills.

The report will be considered by the Cabinet on Friday, 13 September 2013, and full Liverpool City Council meeting on Wednesday, 18 September 2013.

Mayor of Liverpool and Chair of Liverpool City Region Cabinet, Joe Anderson said:- "The Government are clear that this is a model of governance that will put regions ahead of the game in the race for funding. For me it is an absolute no-brainer, and merely lays down the existing positive but informal arrangements that already exist. We desperately need to secure more funding if we are to continue to increase the number of jobs and lever in more investment. This will put us in a much stronger position to be able to draw-down powers and resources from Central Government for local use."

The Combined Authority would provide clear leadership and greater transparency, while creating a legal entity which would be in a position to attract funding and devolved powers from Government.

If the proposal is agreed by full council and by all other Liverpool City Region Councils, a formal submission will be made to Government on 30 September 2013. This will then be subject to government review and further statutory consultation.

For further information, visit:- liverpool.gov.uk.
Liverpool doubles as Birmingham in primetime drama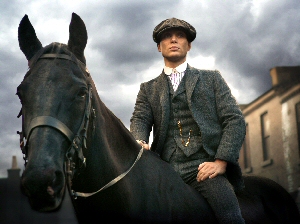 A flagship BBC drama, part filmed in Liverpool, will hit the UK's small screens on Thursday, 12 September 2013.

Peaky Blinders, BBC Two's epic gangster saga, is set in Birmingham in 1919, but cast and crew spent 3 months in Liverpool, as the UK's Midlands City couldn't replicate the era.

Stars of the epic saga including Cillian Murphy (Dark Knight), Sam Neill (Jurassic Park) and Helen McCrory (Skyfall) filmed in 2 locations across the City; Stanley Dock was transformed into Garrison Lane in post-war Birmingham, and a street of derelict houses in Powis Street, 1 of Toxteth's Welsh Streets, took on the early 20th century look.

The production team worked closely with Liverpool Film Office, who helped source all the locations and made sure filming ran smoothly.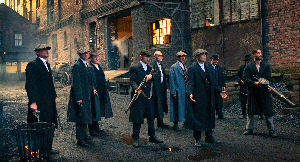 Frith Tiplady, Executive Producer of Tiger Aspect Productions, said:- "When searching for locations we had to be mindful that most of the architecture from 1919 no longer exists in post war Birmingham. However, with invaluable support from the Liverpool Film Office we were able to help find similar locations which were a good match for the old industrial heartland of Birmingham. Powis Street is where the art department were able to create our main street location for the series, so Liverpool is a huge part of Peaky Blinders."

Film Office manager, Lynn Saunders, said:- "It was a real coup for the City to be able to provide 2 filming locations for this major BBC drama. They wanted to recreate the Victorian industrial heartland, and as soon as the producers saw Stanley Dock they realised this was the location to film. With around 120 cast and crew in Liverpool it was a great boost to the local economy, and the feedback we had from the Peaky Blinders team was that they really enjoyed their experience in Liverpool. We're hoping the drama will be a huge success and they may return to film series 2!"

Peaky Blinders starts on Thursday at 9pm on BBC2. The 6 part series follows rival gangs in Birmingham's underworld as they battle for supremacy. Cillian Murphy plays Tommy Shelby who is a ruthless member of the Peaky Blinders; named after the practise of sewing razor blades into the peaks of their caps.

From Fifty Shades of Grey to forty parts of Tallis
A 16th century choral masterpiece; which soared up the classical music charts after featuring in E.L. James's best-selling erotic novel Fifty Shades of Grey; is to be the centrepiece of a Come and Sing event at Liverpool Metropolitan Cathedral next month.

Keen amateur singers can join the Spem in Alium workshop on Saturday, 26 October 2013. It will be led by one of the world's leading choral directors, Stephen Layton, who is also Principal Conductor of the City of London Sinfonia.

Spem in Alium is the lavishly beautiful motet by Thomas Tallis, featuring forty individual voices singing in Latin. Written during the reign of Queen Elizabeth I, the title translates as:- 'Hope in any other.' The piece enjoyed a renaissance in popularity recently when E.L. James made it a favourite of the infamous Christian Grey in her novels.

It requires 8 choirs of 5 voices to sing a cappella and is rarely performed due to its immense complexity and technical demands. The voices have to interweave in every conceivable combination to create an ocean of sound in this vocal work of genius.

As such, the role of the conductor is absolutely crucial and the chance to learn and sing this iconic work under the baton of such an accomplished conductor as Stephen Layton is a fantastic opportunity; especially in the generous acoustic of Liverpool Metropolitan Cathedral. Due to the demands of Spem in Alium participants should be experienced singers, capable of learning their own part ahead of the workshop. The music will be sent to them in advance.

The Come and Sing event is part of City of London Sinfonia's Fauré Requiem concert tour. The Orchestra is visiting ten of England's finest Cathedrals during 2013 for a concert series that takes audiences on a journey of liturgical music through the centuries. City of London Sinfonia and Guilford's Cathedral Choir will perform some of the most exquisite spiritual music from Tallis, Vaughan Williams, Poulenc and of course Fauré.

A new piece, specially commissioned for the Orchestra by the composer Gabrielle Jackson will then bring liturgical music up to the 21st Century. Adding an unusual twist is the opportunity for people to support City of London Sinfonia's crowd funding campaign, Gabriel's Angels, by donating towards the new commission. Every donation receives a great reward, including exclusive limited edition badges and signed CDs and artwork. For more details please visit:- justgiving.com/gabrielsangels.

"This tour further enhances the Orchestra's strong reputation for working with choirs and singing of all kinds. Our Artistic Director and Principal Conductor, Stephen Layton, was a Cathedral chorister himself and is now recognised as one of the world's leading choral directors. It will be a real treat for us to work with some of the UK's best choirs in the magnificent Cathedral surroundings, and to play for audiences in areas of the country that are new for us. We're also delighted to be giving keen amateur singers the opportunity to work with Stephen as part of the Come and Sing workshop." says Matthew Swann, Chief Executive of City of London Sinfonia.

This tour is made possible through the generous support of Friends of Cathedral Music, Arts Council England, Foyle Foundation and The RVW Trust.

Dates and time:-
26 October 2013 - Come and Sing workshop is 10.00 - 12.00pm and the Fauré Requiem Tour concert is at 7.30pm

Ticket information:-
Tickets for the Come and Sing event cost £10. Participants get 10% off tickets to the evening concert.
Tickets for the City of London Sinfonia Fauré Requiem Tour evening concert are £20.

Box Office:-
National Centre for Early Music
Phone:- 01904 658338
Email:- ncem.co.uk
Or in person at the Cathedral Shop

Dates and time:-
26 October 2013 – the Come and Sing workshop is at 10.00 - 12.00pm and the Faure Requiem Tour concert is at 7.30pm.

Concessions are available:-
Children (16 yrs and under) 50% discount
Disabled one free companion seat
Groups (4 people or more) 10% discount
City of London Sinfonia Friends/Friends of Cathedral Music 15% discount - limited to 4 tickets
CLS FIVER (16 to 25 years and students) £5 - register at cls.co.uk/CLS-FIVER for tickets

For tour information (not box office) please phone:- 020 7621 2800 or visit us:- cls.co.uk/Faure-Requiem-Tour.
CCTV APPEAL - SEXUAL ASSAULT - OLD ROAN, SEFTON
MERSEYSIDE Police Detectives have confirmed that a 27 year old man from Skelmersdale was arrested on suspicion of sexual assault, on Wednesday, 12 September 2013, following an appeal by the force. Merseyside Police would like to thank all the media organisations who published or broadcasted it and the public for their help in this matter.