New festival date for The Charlatans
A new date has been set for one the UK's seminal rock bands to perform as part of the Liverpool International Music Festival (LIMF).

The Charlatans will play a very special gig in the stunning surroundings of St George's Hall on Friday 8 November. It follows the postponement of the original gig which was due to take place on August Bank Holiday.

LIMF Music Curator, Yaw Owusu, said:- "It's great news that we've been able to reschedule this gig within a matter of months. When we announced The Charlatans were part of the festival line-up we had a fantastic response, so we know fans will be really pleased that the concert is back in the diary. Without a doubt it will be a memorable experience to see one of the best live bands around perform in the incredible Great Hall."

The band are taking time out from their current recording sessions to play the show at the Hall and are delighted to be invited to perform.

Bassist Martin Blunt said:- "It's great to be part of the city's first International Music Festival, performing in the legendary St George's Hall venue will be a first for us - the whole band are looking forward to it."

As per the original bank holiday line-up, The Charlatans will be joined in the Great Hall by:-

► DJ and producer Greg Wilson who has a global following and was the first DJ ever to mix live on UK television back in 1983.
► The Tea Street Band – a Liverpool 5-piece who combine wistful vocals and stunning melodies.
► 6 piece Wirral band By the Sea who are rapidly generating a reputation for being one of the best live acts in the city.
► The Fallows – formed in 2010 pride themselves on their indie rock and roll tunes and enjoyed a successful tour of the UK last year.

Ticket price remains the same at £32.50 plus booking fee. All purchased tickets are still valid, and refunds can be given by contacting the original ticket issuer.
Tickets can be bought from:- limfestival.com / ticketquarter.co.uk / skiddle.com / eventim.co.uk.

As part of the 8 November 2013 event, the Concert Room will also host a series of bands courtesy of Cooking Soup - whose mission it is to showcase unsigned bands from across the country. The Cooking Soup stage will see performances from Police Squad, Deadbeat Echoes, The Bibelots, Psyence, Welcome Pariah, Wilson Minds and Barney Soanes.

The whole event is being organised by the team at St George's Hall in partnership with Liverpool promoters Freeze.

Doors open at 6pm.

Dementia workshops in Netherley hailed as invaluable to the local community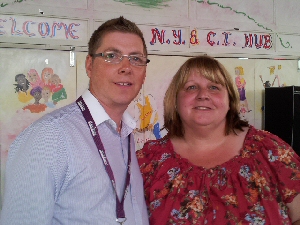 HOME Instead Senior Care in Wavertree, who provide at-home care for older people, have just completed a free Alzheimer's and other dementias workshop for family members in Netherley. Also attended by local members of the community who may interact with someone with dementia, it was extremely well received. The ground breaking family workshop, which was held at Netherley Youth and Community Initiative at St Gregory's Church in Netherley, was adapted from the company's City & Guilds accredited dementia training programme, specifically developed for Home Instead's caregivers. The aim of the workshops is to help both family carers and community members to identify the typical signs of dementia and gain a better understanding of the condition, as well as arming them with effective techniques for managing the many different and sometimes challenging behaviours associated with the condition. People from across South Liverpool were in attendance, as well as representatives from local organisations; Age UK, Liverpool Community Health and Forget Me Not Dementia Forum, a new support group for carers who look after people with dementia, which takes place at Netherley Youth and Community Initiative on the last Thursday of every month.

Creator of Forget Me Not Dementia Forum, Lynne Frame, said:- "It can be very distressing living with or caring for someone with dementia who is struggling to cope with everyday tasks but these types of free workshops are an extremely important support tool. The workshop I attended offered comprehensive advice on how to identify Alzheimer's and other dementias and I found that those who attended really related to some of the symptoms that were identified. However, the biggest challenge is not simply recognising the condition but knowing how to manage the behaviour associated with it. Home Instead's next workshop will provide tried and tested techniques to help family members, carers and members of our community interact with individuals with dementia, which is extremely important."

Community Service Representative of Home Instead South Liverpool, Gary Wells added:- "I was delighted with the feedback we received, it highlighted that there is a real need for more help and support for people in our community who are sometimes dealing with very challenging situations. As a result we have further workshops planned this month and it is my hope is that those who undertake the training will share their knowledge with others, causing a domino effect across the community to make Liverpool, especially in Liverpool's Year of Dementia, a dementia friendly city."

For further information on Home Instead's Alzheimer's workshops or to register your free place, please contact Gary on:- 0151 559 2555 or visit:- homeinstead.co.uk/liverpoolsouth.