Pyramids course will offer young people a fast track to finding work
A ground-breaking new scheme to help young people into work will be launched at the Pyramids Shopping Centre in Birkenhead later this month.

The free intensive 4 day pre-employment course, called Fast Track, runs from 23 September to 26 September 2013, and is for 16 to 24 year olds who are currently unemployed.

It will offer them the opportunity to learn a range of skills aimed at increasing their chances of finding a job or a route into further education.

Those taking part, from 10am to 4.30pm each day, can obtain three valuable qualifications; in health and safety, first aid and IT; and there will be regular follow up sessions to ensure they are putting their new-found expertise to the best possible use.

Fast Track, which is the first initiative of its kind to be held on the Wirral, is being run by HYPE; Helping Young People Everywhere; which was set up by Matthew Houghton, from Upton, and now has 6 centres across the Wirral designed to help young people gain valuable work experience and qualifications with the aim of getting them into full-time work or education.

HYPE has had its own base in a unit at Pyramids Shopping Centre for the past year from where it has been running a pioneering scheme known as Right Track, a 24 week scheme specially designed to help young people beat long term unemployment.

The 24 week Right Track course, broken up into 3 8 week blocks, covers topics such as mock interviews, CV building and job interviews. And Matthew Houghton explained that Fast Track, also to be held at the HYPE centre at 115a Claughton Road in the shopping centre, has been devised as a shorter, more compact version of the highly successful Right Track. He said:- "We wanted to get the same sort of information over in a more concise way in a shorter period of time, which is why we came up with the idea of Fast Track. This will be the first time anything like this has been done on the Wirral and is aimed at young people aged 16 to 24 who are currently without jobs for a variety of reasons. They might have left school early and found difficulty in getting a job, or may have had a job and been made redundant. Many young people have never actually had a job and therefore don't know how to go about applying for one, and that is where Fast Track can help them. It is a unique course and valuable to anyone in any line of work."

It has been welcomed by Derek Millar, Commercial Director for Pyramids Shopping Centre, who said:- "Being out of work is such a blight on the lives of young people and this course will give them important skills which will help them build careers. Hopefully some of them will end up working here because retail is such an important sector of the jobs market, employing one in four of the workforce."

Fast Track is being financed by one of HYPE's key partners, Magenta Living, which has more than 12,000 homes on the Wirral and already sponsors the Right Track sessions.

There will be 2 tutors running help and advice sessions throughout the 4 days of the course and young people taking part will be invited back 2 weeks after it finishes for an update on their progress. They will also be contacted every month for 6 months after finishing the course to see what further help they might require.

Sally Kew, Magenta Living's Community Development Co-ordinator, said:- "We've been working with Hype to help young people from our communities find the Right Track for them, whether that is work or training. Fast Track recognises that for some young people, getting into work is a sprint not a marathon and compliments the Right Track course for those who need a quicker option."

Qualifications on offer will be Emergency First Aid, Health and Safety at Work and Computer Online Level 1 & 2, and certificates showing they have been achieved will be handed out at a presentation ceremony shortly after Fast Track ends.

Matthew added:- "We are very excited about the prospect of offering the Fast Track course to help get young people out of being what is known as NEET and means Not in Education, Employment or Training. We have 24 places available on the course and although it's filling up fast there are quite a number still left, so we would like to hear from young people from across the Wirral who think it could help them beat long-term unemployment. We are very grateful to the Pyramids and Magenta Living for all the help they continue to give us in getting young people into work or education."

For more details on the Fast Track course, contact the:- HYPE Centre at 115a Claughton Road, Birkenhead CH41 6QN.

You can also follow HYPE on Facebook at /HYPEMERSEYSIDE and Twitter @HYPE_MERSEYSIDE. Or go to:- hype-merseyside.co.uk.
Time to abolish mobile phone roaming in the EU – Davies
A local MEP is throwing his weight behind a campaign to end the practice of charging people for calls they receive while abroad.

Information Commissioner Neelie Kroes is launching a new initiative to accelerate the process where the EU has been bringing down mbile phone charges for Brits abroad.

The Liberal Democrats in the EU want to see roaming charges abolished by 2015 and it is starting to look as if they will get their way.

Southport MEP Chris Davies said:- "This is good news for British business and British consumers. A few big companies have kept prices outrageously high by creating artificial barriers between countries. Now these will be swept aside, creating opportunities for business and benefits for consumers. This is the European Commission working at its best: opening up markets, tearing down barriers, and ensuring that we can take full advantage of a European market of 500 million people."

The reductions in roaming and data charges will also help UK tourism, one of the biggest and fastest growing sectors in the North West.

From 2012 to 2014, EU laws will have forced the cost of mobile data down from around 65p per MB to less than 20p. The cost for receiving a phone call has dropped by more than half and the new laws would see that cost disappear altogether.

Davies added:- "Charging someone to receive a call is crazy, how are people supposed to know if you are away or not? The existing telecommunications companies will be forced to stop ripping us off with charges for doing nothing and told instead to make money by growing the business."
20mph for Formby's Roads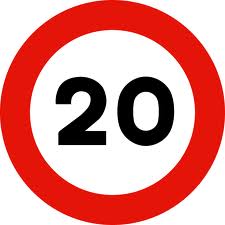 FORMBY village is to be the first place in Sefton to have ALL roads, expect for a few semi major roads to be set to 20mph. This comes after large protests from residents in Formby and after 4 out of the 6 Formby Councillors voted against the 20mph speed restrictions. Formby Labour Councillors, Nina Killen and Catie Page are the two Formby Councillors who did vote in favour. Cllr. Killen said:- "A total of 1,581 households in the affected area of Formby were consulted, 71% of whom were in favour of a 20mph restriction. It will reduce accidents as it has in Portsmouth and it will save lives in Formby!" Oddly, as one resident pointed out, a post on a Labour website quoted Councillor Killen as saying:- "'Formby Labour colleagues, Cllr Catie Page, Peter Maguire and I are backing the proposals.'' She asked:- "So what happened as 4 of the 6 said no to the 20mph who are from Formby? Did one of them change their minds or was that not correct?"

Others have questioned the validity of the questionnaires, as Conservative Councillor Denise Dutton said:- "I don't believe it was a fair consultation and majority vote." Many have complained since the announcement 20mph has got the go-ahead. Once local said:- "All that money being spent on 20mph signs could easily be used to better effect on improving bad road junctions and bad road surfaces."

Another resident has questioned the accuracy of the stats used by the Council about accidents and how it was delivered to the public. Someone else, in a shop in Formby village, threw in the comment:- "The only accidents round here are the council b*****g things up. The Idiots are now running the asylum." Only a few people we have spoken to said they liked the idea. Most said that the biggest issue is the dangers caused by parents parking around schools and that that should have been addressed." Also backing this feeling was Councillor Denise Dutton, who said:- "Even though the majority of Formby Councillors voted against the plans, it received a majority vote from the rest of Sefton's councillors. I suggest we should look at undergoing another consultation as this one was flawed. Some residents, I have found out, never got questionnaires and others received ones related to Crosby!" Also local residents have reported to us that the questionnaire was misleading as at first questions required a tick box 'yes / no' answer, then swapped to:- 'no/ yes'! However, Councillor Nina Killen has been reported as saying:- "Now plans are going ahead, I will be planning on liaising with the Neighbourhood Police inspector to monitor the speed around Formby to establish whether the 20mph speed restriction is reducing speed and accidents in the area." Either way, as another resident said:- "We have to live with it now." So what are your views? Email us and if you ask us not to publish your name, we will not publish it, as long as we have it! Email our newsroom to:- news24@southportreporter.com. Related:- link.

It's a dog's life for Liverpool FC legend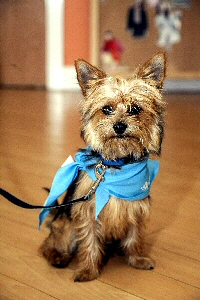 A record-breaking Liverpool football legend was the top dog at a care home. Ian Callaghan MBE, 71, was one of the judges at a dog show at the Bodlondeb care home at Pendine Park in Wrexham.

The former England international, who made a record 857 appearances for Liverpool FC, regularly visits Bodlondeb to see a close friend. Right-winger Ian played under the iconic Liverpool manager Bill Shankly who transformed the club from being Second Division no hopers into champions in the 60s and 70s.

A Liverpool supporter as a child, Ian joined the club as an apprentice in 1960 and made his debut on 16 April 2013, in a 4to0 win against Bristol Rovers at Anfield.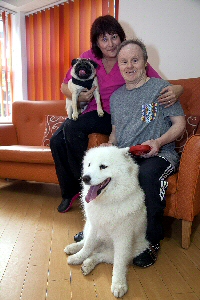 Ian was 1 of 4 England players to play for England in the 1966 World Cup tournament without playing in the final itself. Only the 11 players on the pitch at the end of the 4 to 2 win over West Germany received medals.

Following a campaign led by the Football Association to persuade FIFA award medals to all the winners' squad members, Ian was presented with his medal by Gordon Brown at a ceremony at 10 Downing Street in 2009.

In 1976, at the age of 34, he played in Bob Paisley's side which won a League and UEFA Cup double. He played in all the European matches and missed just 2 league games.

In the autumn of 1978, Ian finally left Liverpool and joined his former Anfield team mate John Toshack at Swansea City, helping them to two consecutive promotions.

Still revered by the Anfield faithful, he was voted in at No.15 in the '100 Players Who shook The Kop' poll in the summer of 2006.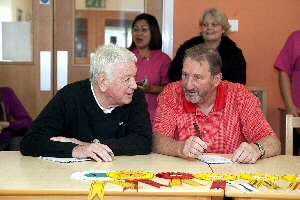 Speaking just after the centenary of Shankly's birth, Ian said:- "When you speak to anyone in the world and you mention Liverpool, the conversation always comes down to two things: The Beatles and Liverpool Football Club.

That's because of Shanks.

People see this huge club. LFC. But what must be remembered is that he built it all up from nothing.

When Shanks became manager in 1959 we were a Second Division club going absolutely nowhere.

2 years later we were promoted, 2 years after that we were champions of England and, in 1965, Liverpool won the FA Cup for the first time.

We were champions again the following year. Shanks loved that. He lived to win trophies."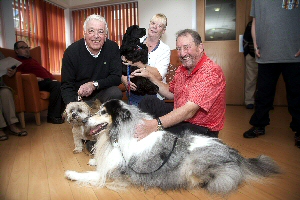 Ian insists Shankly would have been just as great in the modern era. He revealed he had once bought a Yorkshire Terrier for his daughters and called it Smudge - the nickname of his team mate Tommy Smith, the hard as nails centre half. "I thought that's a good name for a dog, and Tommy was certainly a terrier the way he played."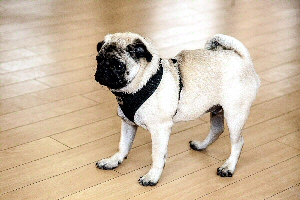 The dogs on show belonged to relatives of the residents and staff members at Pendine Park. After careful deliberation Ian, alongside fellow judges, day care manager at Bodlondeb Kath Roberts, and chairman of children's charity Variety, Jim Donaldson, he picked Oscar as the winner; a 3 year old Llahsa Apsa.

Jim said:- "It was difficult to pick the winner because there were so many beautiful dogs, they really are. Oscar's a lovely looking dog, well behaved and very disciplined."

Ian added:- "I think Bodlondeb is a terrific place. This place is absolutely fantastic I think. It's modern, there's plenty of staff, and people seem to be fantastically well looked after."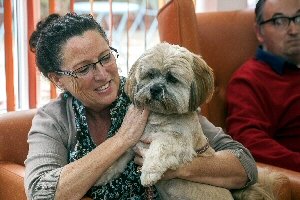 Jim, who's charity Variety supports disenfranchised children, enjoyed every minute of the dog show. "That was great. I love animals, and I love dogs in particular. All the dogs were great - really well behaved. Kath asked us a couple of weeks ago if we could come and help today, and we were delighted to come.

I think Pendine is fabulous. It's a great place, it really is. It's well run. The staff look after the residents really well, and they do a good job. It's clean, and it's a good home for the people who belong here. They put on a lot of things like the dog show."

Kath said:- "There were some beautiful dogs here. Everyone's a winner. I love it. It's very important for the residents that we put on things like this.

You look around and you see their faces. You've only got to look at their eyes and you can tell it's made a difference. It's really rewarding.

Pendine Park is an animal friendly place. As part of our enrichment programme, pet therapy is a very important part of what we do."