Less than 33% of people aware of potential consequences of Type 2 diabetes
LESS than 33% of people realise that Type 2 diabetes can lead to serious health complications such as amputation, heart attack, blindness and stroke, according to a new survey commissioned by Diabetes UK ahead of the launch of a £2 million national awareness campaign to encourage people to have their risk of Type 2 diabetes assessed.

Just 30% of the 1,000 people who took part in the ICM Research survey were aware that people with Type 2 diabetes are more likely to go blind, while awareness that heart attacks (15%); amputation (28%); and stroke (7%) are complications of diabetes was even lower. And just 13% of people knew that the condition increases risk of death, despite the fact that people with Type 2 diabetes are 36% more likely to die in any given year than someone their age who does not have the condition.

Diabetes UK is concerned that although up to 80% of Type 2 cases could be prevented through lifestyle changes, unless people understand the seriousness of the condition then they are unlikely to see the need to find out their own risk or make the lifestyle changes that can help prevent it. This is why the charity has launched the UK's biggest ever diabetes advertising campaign to highlight its possible consequences, including the devastating impact it can have on families.

The £2 million advertising campaign, which will include on-street, radio, transport and digital advertising, is funded as part of Diabetes UK's National Charity Partnership with Tesco, which aims to raise £10 million to help those affected by or are at risk of diabetes. The advertising campaign aims to raise awareness of the risk factors; being overweight; having a waist of over 37 inches if you are a man or 31.5 for women (or 35 inches for South Asian men); having a close relative with diabetes; or being over 40 (or over 25 for black and South Asian people). At the moment, just 50% of people can identify being overweight as a risk factor, while only 13% realise that having a family member with diabetes puts people at increased risk. And less than 1% of people mentioned being South Asian or black as a risk factor.

The campaign will urge people to have their risk assessed if any of these risk factors apply to them, so they can find out whether they are one of the estimated 7 million people in the UK who is at high risk. They can check their risk online, or go to a Tesco pharmacy, as well as other pharmacies, or visit their GP.

There are already 3.8 million people with diabetes in the UK and unless more is done to prevent Type 2 diabetes, which accounts for the vast majority of cases, this figure is projected to rise to 5 million by 2025. Diabetes UK has warned that this would be a public health disaster that would place a huge strain on the NHS.

Barbara Young, Chief Executive of Diabetes UK, said:- "You only have to spend 5 minutes talking to someone who has lost their sight or has lost a leg as a result of Type 2 diabetes to realise the devastating impact the condition can have. But this survey makes it clear that most people do not understand the potential consequences of developing it and I worry that until we finally lay to rest the myth that Type 2 diabetes is a mild condition, it will continue to be seen as something that is not worth being concerned about. This is a misconception that is wrecking lives and is the reason that as a country we are sleepwalking towards a public health disaster of an almost unimaginable scale. But the good news is that developing Type 2 diabetes is not just a question of fate. By doing relatively simple things like losing some weight, eating more fruits and vegetables and becoming more active, we can all significantly reduce our risk, even if our ethniCity or family history has put our risk at a higher starting point. This is why I hope our advertising campaign will help people realise why it is so important that they understand their own risk of Type 2 and making lifestyle changes if they are one of the 7 million of us who are at high risk. We need to send out the strong message that burying your head in the sand can be disastrous. If any of the risk factors apply to you then you should check your risk today."

The advertising campaign will run from Monday 23 September to October 6. For more information on the advertising campaign, go to:- diabetes.org.uk/risk. It is part of a number of initiatives being funded by Diabetes UK's National Charity Partnership with Tesco. The partnership aims to support the millions of people who have to live with diabetes every day; help hundreds of thousands of people take action to reduce their risk of Type 2 diabetes; and fund investment into research into a vaccine for Type 1 diabetes.
FREE Workouts for National Fitness Day this Friday
THIS Friday the UK celebrates National Fitness Day! Dunes celebrates this by inviting anyone who hasn't used the center's facility before to come in for a free Gym Experience and induction with one of our fabulous instructors on the day. (Appointments not necessary) "If you/they prefer the Dance Studio to a Treadmill, we are offering FREE class passes for the brand new 'Strictly' Dance Phenomenon which is Fitsteps, Fitsteps features the Cha Cha, Jive, Quick-Step, Waltz, the Rumba, Tango and much more and is brought to you by BBC's Strictly Come Dancing Ian Waite and Natalie Lowe. Classes are on at Dunes Saturdays at 10am and Wednesdays at 7pm." said the Dunes Eze Fitness Team. Passes can be collected on Friday as part of National Fitness Day at the Fitness Suite Desk for first time users, we have been told. "As a final incentive to anyone wanting to make Fitness part of their regular lifestyle, on Friday we are offering all memberships with NO Joining Fee for one day only! If you think you may have a friend or colleague who could benefit from any of the above one day only offers please let them know!" added the Dunes Eze Fitness Team. For any further information on this or to book yourself a gym experience for Friday please contact:- 0151 288 6962...

ISLE OF MAN STEAM PACKET PROVIDES PELICAN CROSSINGS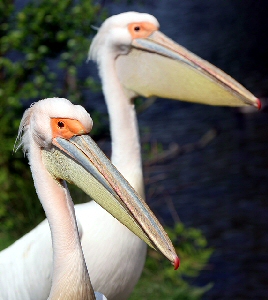 THE Isle of Man Steam Packet Company has provided its own Pelican crossing, assisting a zoo breeding programme. On Tuesday, Ben-my-Chree welcomed on board an unusual passenger, a Great White Pelican from the Curraghs Wildlife Park, which was heading for its new home in Blackpool Zoo. In a few days, one of Blackpool's Pelicans will make the return trip to become a resident in Ballaugh.

Wildlife Park General Manager Kathleen Graham said:- "We currently have four Pelicans, three female and one male, and we are swapping one of our females for a male with Blackpool Zoo, as they currently have three males and only one female. The intention is to increase the chances of breeding Pelicans as part of a co-operation between European Zoos. BIAZA and EAZA member zoos co-operate in organised breeding programmes as it is very important zoo animals are moved around to keep populations genetically healthy. I'd like to thank the Steam Packet Company for helping us organise the transport of these special passengers, which helps assist with this vital breeding programme."

It's not just the Park's animals which make use of the Steam Packet Company for important zoo business. While travelling between the UK and the Island for the Pelican swap, Kathleen will also take the opportunity to attend a vital conference. She said:- "I will be attending the annual European Association of Zoos and Aquaria conference in Edinburgh, the biggest and most important zoo meeting of the year. It is vital that our Wildlife Park is present at the biggest European meeting, which is all about contributing to the bigger global conservation efforts."

Chief Executive Mark Woodward said:- "Although it's not every day we carry a Pelican, we provide transport for all kinds of passengers and freight and are happy to discuss the special requirements our customers may have. The Steam Packet Company is always pleased to assist the Wildlife Park with its animal movements, most recently earlier this year when we brought an African crested porcupine to the Island. We understand how important the breeding programme is to the health of the animals, and very aware of the specialist requirements of transporting such animals. We're also pleased we have been able to assist Kathleen in attending such an important conference after direct flights to Scotland were discontinued."
Tax opportunity for landlords to put house in order
LANDLORDS who rent out residential property, and fail to tell HM Revenue and Customs (HMRC) about all the rental income, are being offered the chance to come forward and put their tax affairs straight; before HMRC comes to them. HMRC estimates that up to 1.5 million landlords in this sector may be underpaying up to £500 million in UK tax every year. Under HMRC's new Let Property Campaign, landlords who may owe tax; whether through misunderstanding the rules or deliberate evasion; can come forward and tell HMRC about any unpaid tax on rents, and pay what they owe, including any penalties and interest due. The campaign is open to all residential property landlords; from those that have multiple properties, to single rentals, and from specialist landlords such as student or workforce rentals, to holiday lettings. HMRC will be working with a variety of bodies over the next few months to develop tools and guidance to support landlords of all types and help them get their affairs up to date.

Marian Wilson, Head of HMRC Campaigns, said:- "All rent from letting out a residential property or holiday home has to be declared for income tax purposes. Telling us is simple and straightforward. We appreciate some people will have made honest mistakes, and some may not be fully aware that the rent from a property is taxable, and that is why it always makes sense to talk to us so we can help. It is always cheaper to come forward voluntarily and pay the tax you owe, rather than wait for HMRC to come calling. Telling HMRC about your tax liabilities is simple and straightforward, and help, advice and support are available. The message for all landlords owing tax is simple; it is better to come to us before we come to you."

HMRC will use information it holds about property rental in the UK and abroad, along with information already held on HMRC's digital intelligence system Connect, to identify people who have not paid what they owe.
For those that fail to come forward, higher penalties; or even criminal prosecution; could follow. For more details, visit HMRC's website. Also more help is available for landlords by calling HMRC's Let Property Campaign Hotline on:- 03000 514 479, between 9am and 5pm, Monday to Friday.