MOTORCYCLE FANS COULD WIN A TRIP TO THE ISLE OF MAN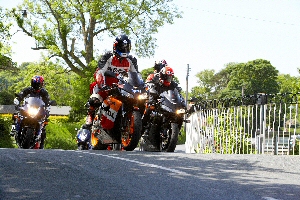 THE Isle of Man Steam Packet Company, in conjunction with Visit Isle of Man, is offering motorcycle fans the chance to win a trip to the home of road racing. The prize package includes free return ferry travel to the Island, 2 nights' bed and breakfast courtesy of Sleepwell Hotels and a unique tour of the TT course with Isle of Man Trike Tours. To enter, and for full terms and conditions, bikers should log onto the Man Steam Packet Company website, before the closing date of midnight, 30 September 2013.

The Isle of Man is famous among motorcycle fans for road races like the TT and Manx Grand Prix, which this year formed part of the Isle of Man Festival of Motorcycling alongside the Classic TT and other events. The Isle of Man Steam Packet Company is a committed supporter of the sport, bringing over tens of thousands of fans every year and sponsoring races and supporting events at the MGP, Classic TT and Southern 100 on the Billown course in Castletown.

This competition is to highlight the Island as a destination outside the races, when visitors can explore more of what the spectacular Isle of Man has to offer at their own pace.

Chief Executive Mark Woodward said:- "Many motorcycle fans have visited the Island to enjoy the action and atmosphere of the road racing events we host. During these times the Isle of Man is buzzing with excitement, the place is busy with visitors, there are special events Island-wide and visitors have a tough time fitting everything into their hectic schedules, never mind trying to explore more of the Manx countryside, sights and attractions. The Steam Packet Company, along with our colleagues at Visit Isle of Man, want to highlight to all these people the benefits of coming here outside the race festival periods."

With ferry prices to bring your bike over starting from just £42 each way, plenty of accommodation choice and so much to discover, now is the perfect time to visit.

This autumn there is the chance to explore the Island without the hustle and bustle of busy times like the TT. It is a chance to experience the Island's unique motorsport heritage away from the crowds, get a 'taste of the action' with off-road riding, quad bikes and go-karting, take in the stunning scenery, ride the course at your own pace and see much more of the Isle of Man.

Mr Woodward said:- "For those who haven't yet made it to the Island, this is a great chance to finally see for themselves the legendary Mountain course, take in the famous landmarks, like the Creg-ny-Baa, Bray Hill and the Grandstand, and soak up the atmosphere of the place where so much motorcycle history has been made by names like Duke, Hailwood, Agostini, Dunlop, Hislop, Fogarty, Jefferies and McGuinness. We hope our competition receives lots of entries, and look forward to greeting true motorcycle fans when they visit the Isle of Man this autumn."

Isle of Man Government's Head of Tourism Angela Byrne added:- "More than 100 years of motorcycling heritage already brings tens of thousands of visitors to the Isle of Man every year for our road racing events. We are keen to build on that relationship with our friends in the biking community to promote the attractions the Island has to offer and continue developing the Isle of Man as a year-round holiday destination. I'm delighted to be working closely with the Isle of Man Steam Packet Company on this campaign, which I'm sure will raise the profile of the Island as an autumn destination for motorcycle enthusiasts."

Details of travel to the Isle of Man, as well as the prize draw, can be found at:- online.

Fees go coin only after vandals attack parking machines
PATIENTS and visitors should ensure they have sufficient coins to pay for parking at Southport and Ormskirk hospitals after ticket machines were vandalised. Trust facilities manager Geoff Wilding said:- "Unfortunately, vandals have damaged the mechanism which takes bank notes and the payment machines can now only take coins. I apologise for any inconvenience this may cause visitors, although we have machines inside the hospital buildings which change notes into coins at both sites. We are working with the machine manufacturers to improve their resilience and durability to prevent this happening again once they're repaired."
Dame Carol praises support for staff health and well-being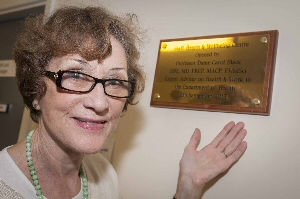 A leading Government advisor has praised a NHS trust for its "excellent" efforts to support the health and well-being off staff. Professor Dame Carol Black was officially opening Southport and Ormskirk Hospital NHS Trust's Health and Well-being Centre at Ormskirk hospital. She said:- "One of the great things about this centre, which is a really excellent thing to do, is the combining of conventional occupational health and safety with real prevention and promotion of health and well-being. You're recognising that people's mental and physical well-being must be part of the same thing. You can't have occupational health over here and wellbeing over there. They need to be together."

Trust chairman Sir Ron Watson CBE and staff from across the Trust joined Dame Carol for the opening ceremony.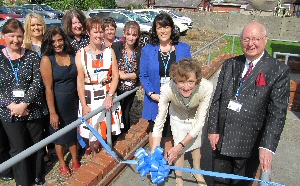 The centre provides a range of services for staff including health screening; an occupational vaccination programme; support for sick staff; management of inoculation injuries; advice on rehabilitation and ill health retirement; and, access to physiotherapy and counselling services.

Linda Lewis, Health and Well-being Manager, said:- "I am very lucky to have such a brilliant, knowledgeable and supportive team around me. I have also been overwhelmed by the support that has been provided to assist us in the preparation for the opening."

Sharon Partington, Director of HR and Communications, added:- "Developing the Health and Well-being Centre represents is significant investment by the Trust and value and demonstrates the importance we place in the welfare of our staff."
SERIOUS RTC ON THE ORMSKIRK ROAD
MERSEYSIDE Police Officers from the force's Roads Policing Unit are asking if anyone who witnessed a serious road traffic collision, on the Ormskirk Road, Aintree, near to the Race Course Retail Park on Thursday, 19 September 2013. It is reported that 2 vehicles were in the collision, that happened around 2.30pm. A 2 year old child was taken to hospital by Ambulance and is reported to have had suffered minor injuries as a result of the collision. If you did witnessed this incident to please contact Merseyside Police on:- 0151 777 5444.