BHF volunteer who battled heart problem backs the charity's big Bag-athon event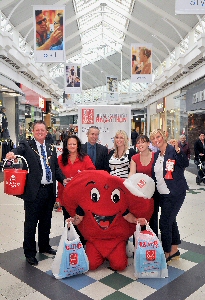 A Wirral mum was at the heart of a launch for a national charity donation drive at a Birkenhead shopping centre. Diane Wright, a mum-of-two with one on the way, had more reason than most to support the Great British Bag-athon event for the British Heart Foundation (BHF) at Pyramids Shopping Centre.

Not only has 30-year-old Diane been a volunteer sales assistant at the Pyramids' BHF Furniture and Electrical store for the past two years but she has also had a problem with her own heart, which has made her even more aware of the 'brilliant' work the charity does to help fight for every heartbeat.

Diane was only too happy to lend her support to the Bag-athon campaign which is urging people to fill up bags with unwanted items, such as clothes, books, homewares, toys, CDs and DVDs, which can then be re-sold to help the foundation carry on its life-saving work.

In the UK, someone dies from a heart attack every 7 minutes, so the more bags that are donated, the more researchers the BHF can fund, meaning more lives will be saved.

The donation drive was officially launched at the Pyramids Shopping Centre, which has two BHF stores, by the Deputy Mayor of Wirral, Councillor Steve Foulkes, when he donated the first bag of items. On hand to watch him was Diane, who lives in Birkenhead with her partner Gareth and two children, 13 year old Jamie and Bethany, 6, and is expecting her 3rd child next January. 2 years ago, at the age of just 28, she underwent an operation to correct a condition which had left her crippled by uncontrollable heart palpitations. She recalled:- "I'd always had a history of a fast and irregular heartbeat but about 3 years ago it just got out of control. My heart was beating at 180 to 200 times a minute when the normal is rate is 90 to 100. I was in and out of hospital to try and slow it down but nothing seemed to work, including the beta blockers I was on for about 8 months. Apart from affecting me physically the condition also left me in a bad state mentally. I had no confidence and I was scared to leave the house on my own or with the children in case my heart speeded up to the point where something happened to me."

But, according to Diane, things changed for the better when she was admitted to Liverpool Heart and Chester Hospital at Broadgreen 2 years ago last March. The procedure she underwent is called ablation, which aims to correct or control abnormally fast heart rhythms; a condition known as arrhythmia.

Carried out under local anaesthetic and sedation but taking just a few hours, it involves thin, flexible tubes called catheters being placed into a vein in the patient's groin or wrist. The catheters are then gently moved into the correct position in your heart before a laser is used to destroy the affected area inside the heart that is causing the abnormal beat.

Diane said:- "The doctors told me that in my case the abnormal rhythm was being caused by an extra pathway in the heart. The laser partially destroyed it and since then I have been fine. I was alright when I was having my first 2 children because my heart condition wasn't so bad then but since I've been pregnant with my latest baby my heart has been speeding up a little. I've been in hospital 3 times because it has got up top 140 or 150 beats to the minute but they've got things under control. The doctors at Arrowe Park Hospital say they don't think it's my old condition which has come back but is due to the extra hormone activity in my body because I am pregnant."

Diane says she's keeping her fingers crossed that everything goes well when she gives birth to her new baby; which she already knows is a boy; early next year. Meanwhile, she is continuing to work 2 shifts a week as a volunteer at the BHF Furniture and Electrical store; a job she believes helped her to overcome the problems she developed as a result of her heart condition.

"I started working there a few months after I had my operation. A friend of mine, Lianne Davies, works there on the permanent staff and she persuaded me to give it a try, " she explained. "I definitely think it helped me get back to normal because going out and meeting people at the shop has given me back my confidence, particularly as, being the BHF, they have been very understanding about everything. The staff are all lovely, friendly people and with the customers, many of whom are regulars, it's like one big, happy family. After I have the baby I am certainly planning to go back perhaps one day a week because I love it so much. The BHF is a marvellous charity which does so much to help people with heart problems like myself and I think the Bag-athon is a brilliant way to bring in more things we can sell in the shop. I hope everyone supports it as much as they can."

The Great British Bag-athon is BHF shops' biggest stock donation campaign and aims to raise one million bags of unwanted items throughout September. Every bag filled is a bag full of life-saving research.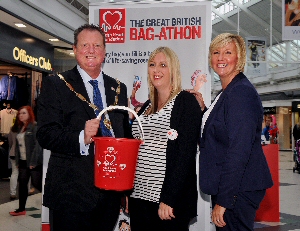 Derek Millar, Commercial Director for Pyramids Shopping Centre, said:- "We are delighted to be holding a Great British Bag-athon event this year. It's the perfect opportunity to have a clear-out and donate any unwanted items, raising vital funds to support those in our community, like Diane, who are living with heart disease."

BHF Area Manager, Jacqui Webb said:- "We'd like to urge everyone in Birkenhead's local community to get involved with this Great British Bag-athon event and help us raise bags full of unwanted things. Coronary heart disease is the UK's single biggest killer and every bag you fill is a bag full of life-saving research. Every donation really makes a difference."

Bags of items can be donated to either BHF store at Pyramids Shopping Centre and more information can be found online.

Brighter future for historic church
AN historic Liverpool building which was once the tallest in the City and which has been derelict for the last 30 years; is about to begin a new era. Significant steps forward have been taken in securing the future of the Grade II listed Welsh Presbyterian Church on Princes Road in Toxteth, so that it can be restored and brought back into meaningful use.

The project is being led by the Merseyside Building Preservation Trust; a charity dedicated to the restoration of historic buildings; with the support of the City Council. The Trust has acquired the building, which sits within the Princes Park Conservation Area, and has already secured its boundary with new durable fencing.

Now, the Trust has secured funding from the Architectural Heritage Fund to carry out a feasibility study and options appraisal for the site; a major milestone in breathing new life into the building. A team of professionals with expertise in bringing historic buildings back into use will look at the current structural stability of the church, and consult with the local community and businesses over potential future uses.

It is anticipated that the report will take three months to complete, and will help the Trust secure further funding for the full refurbishment of the building, in partnership with a developer partner/end-user.

Chair of the Trust, Bill Maynard, said:- "This is an exciting opportunity to begin the regeneration of such an iconic building in the Liverpool 8 area, and we will be seeking the views of the community as part of the appraisal process. This is a true partnership approach between ourselves, Liverpool City Council, and Architectural Heritage Fund, and I am confident that our strong partnership will deliver the refurbishment project successfully. Following the options appraisal, the Trust will be seeking an end user who can secure the long term and sustainable use of this important building. If all goes well, we hope to submit an application for grant aid from the Heritage Lottery Fund early in 2015."

Liverpool City Council's Cabinet Member for Regeneration, Councillor Malcolm Kennedy, said:- "The Welsh Presbyterian Church is an important part of Liverpool's heritage, so it's fantastic to see these major steps being taken to bring it back into use. The building has lain empty for too long, but it can finally look forward to a brighter future, thanks to this vital work getting underway. Working together, we can give the church a new lease of life, protect its future and make it a hub of activity once more. This is the start of a new, positive chapter in the building's history. It's great news for the local community, and great news for Liverpool."

The Welsh Presbyterian Church was built between 1865-67 by W and G Audsley. The pair are considered masters of Victorian design and the church is one of a number of outstanding landmarks they created in Liverpool.

When the church was opened in 1868, it was the tallest building in Liverpool, at 61 metres (200 feet). It was used as a Non-Conformist Chapel until it fell vacant in the 1980s.
Unilever UK&I hosts Skills Minister at Port Sunlight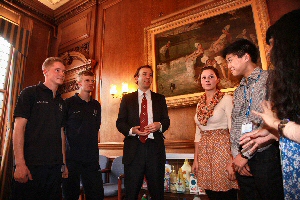 SKILLS Minister Matthew Hancock visited the Unilever Port Sunlight site to lend his support to local young people taking part in a national skills campaign.

Following a weekend of festivities as part of Port Sunlight's 125th Anniversary Village Festival, Matthew Hancock took a tour of the factory and met Unilever apprentices from both the factory and R&D site.

The Minister also visited a Feeding Britain's Future workshop, where young people were gaining a unique exposure to industry skills with Unilever and its staff.

Mr Hancock's visit to Port Sunlight comes as Unilever celebrates 125 years since William Lever first began building the works in the Village. Today, the manufacturer employs around 2,000 people in the community and in the future, following the announcement last year of £40million investment in a new high-tech manufacturing facility by 2015, 1/3rd of Unilever's UK and Ireland workforce will be based in Port Sunlight.

Following the visit and skills workshops, Amanda Sourry, Chairman Unilever UK & Ireland, hosted a commemorative lecture in the Gladstone Theatre in Port Sunlight under the theme of Innovation in Manufacturing – Past, Present and Future.

Skills Minister Matthew Hancock, said:- "I want to congratulate the staff and wider community of Port Sunlight as they celebrate their 125th anniversary. Port Sunlight demonstrates the strong heritage and history of the UK's manufacturing sector. Today it is flourishing and looking to the future through the expansion of its Research and Development facilities, backed by the Government's Regional Growth Fund. I am particularly pleased that Unilever has embraced apprenticeships, with 40 apprentices starting across the business this month alone. I wish these new recruits, and all the staff, the very best for the next 125 years!"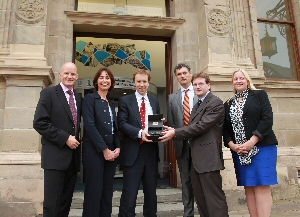 Andy Stickland, works director for the North West, Unilever UK & Ireland, commented:- "Port Sunlight is the historic home of Unilever and following the major investment and new jobs we announced last year, it's fantastic to welcome Matthew Hancock to see the site in action. I was proud to give him the opportunity to meet some of the young people who are the future of our company. Apprentices are talented, ambitious and loyal employees and the scheme is a great way for a company to build their talent for the future. As a large employer, we have an opportunity; and a responsibility; to help develop their skills for the future."

Joanne Denney-Finch OBE, Chief Executive of IGD, said:- "Feeding Britain's Future is about helping young people to understand the rules of the game. By offering valuable training in areas like CV writing and interview skills, we want to build confidence so they can compete in the jobs market."