Lancastria Plaque to be unveiled in Liverpool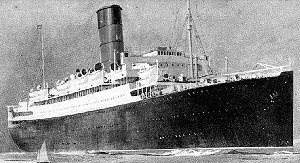 A Plaque remembering those who lost their lives on HMT Lancastria will be unveiled at the Pier Head by the Lord Mayor on Friday, 27 September 2013.

Over 60 years ago local man Jack Stamper was working as an apprentice for one of the ships surviving carpenters, when he was told the tragic story of how it was sunk by enemy fire claiming the lives of at least 6,000 people including women and children who were being evacuated from France.

After hearing this story Jack made it his mission to raise enough funds for a plaque to remember those who lost their lives when the Lancastria was sunk on 17 June 1940.

Lord Mayor of Liverpool, Councillor Gary Millar said:- "It is vital that we never forget the hardships and heartaches faced by those during times of conflict. Liverpool has long had strong links with the sea and the Lancastria was no exception, sailing regular scheduled routes from Liverpool to New York. Thanks to the dedication of Jack and all those who contributed to the fund we can now permanently remember those who lost their lives so tragically in 1940. I hope this plaque serves as a reminder to all of the sacrifices that were made for the freedoms we enjoy today."

Jack said:- "I am delighted to finally have a fitting reminder to all those who lost their lives on board the Lancastria."

The Lancastria sailed from Liverpool on 14 June 1940 and made its way to the French port of St Nazaire to take part in Operation Ariel, the evacuation of British nationals and troops from France, two weeks after the Dunkirk evacuation.

Known as the worst maritime disaster in British History, 3 direct hits caused the ship to list first to starboard then to port; she rolled over and sank within twenty minutes, claiming more lives than the combined losses of the Titanic and Lusitania. It had the highest death toll for UK forces in a single engagement in the whole of World War II, only 2477 civilians and crew survived.

Owing to the scale of the tragedy, Winston Churchill forbade publication of the news, in the interests of public morale, and hence the story of the Lancastria has never been generally known.

Help keep Liverpool in business
BUSINESSES in Liverpool are being asked to take part in a quick survey to test how resilient the City is to events which cause disruption. The anonymous survey, to be sent to all businesses in the private, public and voluntary sectors, will ask if they have a plan to deal with unwanted business disruptions, caused, for example by the loss of premises, staff or key supplier. It is being conducted by Resilient Liverpool a business think-tank chaired by the Lord Mayor of Liverpool, Councillor Gary Millar. He said:- "Any business could be hit by an unexpected event at any time. For example 93% of large corporations and 76% of small businesses reported a cyber-breach in last 12 months. But there are many other events which can hit business or organisations or their supply chains; from adverse weather to industrial disputes outside their control. We are looking to assess what the current picture is and what can be done to make sure Liverpool is the most resilient business friendly City in Europe so I would hope businesses will take some time to complete what is a short questionnaire." The survey will be used to develop the Resilient Liverpool event, training and exercising programme. Its closing date is 2 December 2013.
The Capstone invites you to Dance to the Music of Time
ON Wednesday, 2 October 2013, be transported back to the Middle Ages as The Capstone Theatre brings audiences a night of fun loving and imaginative dance and music.
The evening takes you on a European grand tour of rich culture and society with:- 'Mediva - A Dance to the Music of Time'.

The concert looks at songs and instrumentals that would have provided music for dancing in the 12th to 15th Century, featuring pilgrim songs, May Day celebrations and even reconstructing some of the first choreographers ever recorded in writing.

The group, which includes Ann Allen (director) on recorders and shawm, Emily Askew on fiddle, recorders and shawm, Tim Garside on percussion and Sophie Brumfit singer, is an original and creative medieval group that have been performing for over a decade.
"Their concerts are always full of energy and promise to deliver passion and love of life." say the event organisers.

The group has performed at many of the major Early Music festivals in the UK and Europe and was a finalist in the Early Music Network Young Artists Competition at the York Early Music Festival and the Antwerp International Young Artists Presentation.

Innovation and diversity are Mediva's key characteristics, driven by the creative vision and energy of Ann Allen, one of the most cutting edge performers on the Early Music Scene.
Do not miss your opportunity to witness this spectacular musical celebration when it comes to Liverpool for one night only. Tickets are available by calling TicketQuarter Box Office on:- 0844 8000 410 or in person at TicketQuarter Box Office, Queen Square, Liverpool, L1 1RJ or go online:- thecapstonetheatre.com. No booking fees.