Formby Village businesses face another blow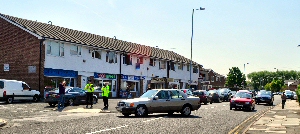 FORMBY is close to losing its remaining businesses in the village centre. With rents far too high for small businesses and land lords who some businesses claim are "are not willing to negotiate", are part of the problem affecting what was once a very special shopping destination. Some businesses are blaming the internet as well as the over whelming power of supermarkets in the village. Increasingly the village centre is as one local shop keeper told is "Charity Shop Central." One of the other problems for Formby Village is parking and as Tony from Formby Books said:- "if Sefton Council imposes car parking charges for the village centre, it will be the icing on the cake for traders." A local shopper commented:- "If businesses in the village where on the endangered species list, they would be classed as on the verge of extinction." Sefton does need to get cash in, but like the reset 20mph vote, it is feared that local views are being ignored and it will be pushed through regardless. Please email us your views on this issue. Please email us your views on this issue:- news24@southportrepoter.com.
This question was raided by as far back in 2011 and since then the village has changed visibly since then.
GMB FEEDBACK REVEALS DETAILS ON NEW ROUND OF CUTS AT 20 COUNCILS FROM APRIL 2014
WITH more attacks on the jobs and conditions in the offing a national meeting of senior stewards will take place for Friday, 4 October 2013, to determine our response says GMB. GMB, the union for public service workers, is collating details on the next round of cuts in jobs and services in local councils across the UK to take effect in April 2014.

GMB representatives have given feedback to the union of new cuts at 20 councils as follows:-

Bolton

£40m between 2013 and 2015 on top of £60m cuts since 2010

Cambridgeshire
£159m over next 5 years
Cornwall

£196 million by 2019, on top of £170 million saved since 2010

Derbyshire
£47.2m

Labour leader, Anne Western, warned of 1,600 job losses. £157m by 2017-18

Durham
£222m by 2017
Edinburgh
£36m over the next year
Forest Heath
£1.29m
Gwynedd
£32m savings needed until 2017
Hull City
£48m
Huntingdonshire
£2.6m
Lancaster
£3.5m over next 2 years
Mid Sussex

£2.8m savings needed

Moray
£24m over next 3 years
Norfolk
£140m
Stirling
£24m
Suffolk
£50m
Swansea
£45m over next 3 years
Wandsworth
£43m
Warwickshire
£92m
600 job losses
Wirral
£109m

Expected to have cuts of £109m over 3 years but extra cuts needed
Earlier this week GMB published an analysis of official data from Office for National Statistics (ONS) showing that the number of employees across all the public sector in the UK (seasonally adjusted) has fallen from 6,328,000 in Q1 2010 to 5,697,000 in Q1 2013. This is a fall of 631,000 or -10.0% since the general election in 2010.

ONS data shows that the fall in the number of public sector employees in the same period in North West has been 83,,000 or -11.4%, followed by the South West with a fall of 77,000 or -13.9% followed by London with a fall of 73,000 or -9.0%, followed by West Midlands with a fall of 61,000 or -11.5%, followed by Yorkshire and The Humber with a fall of 60,000 or -10.6%, followed by South East with a fall of 58,000 or -8.0%, followed by East of England with a fall of 49,000 or -10.3%, followed by Scotland with a fall of -49,000 or -7.8%, followed by North East with a fall of 43,000 or -14.5%, East Midlands with a fall of 44,000 or -10.8%, Wales with a fall of 20,000 or -5.7% and Northern Ireland with a fall of 11,000 or -4.8%.

Brian Strutton, GMB National Secretary for Public Services, said:- "on top of the jobs and services already lost the tragedy is that the worse is yet to come in terms of cuts. The evidence on the ground supports this. GMB feedback from the current round of Council budget reviews for next year in 20 councils suggest accelerating cutbacks. As a result, many communities in some of the most deprived regions will find their local economy in tatters. The Office for Budget Responsibilities' forecast for net total public sector job losses during the lifetime of this Parliament means that the prospect for the next 2 years could be up to a further 400,000 job losses. GMB representatives from around the country are reporting that public sector workers are fed up with being told they have to accept pay restraint and reductions to their terms and conditions to protect their jobs and their local services only to find that the jobs and services go anyway. With more attacks on the jobs and conditions in the offing GMB has called a national meeting of senior stewards for Friday, 4 October 2013, to determine our response."

Preparing our young people for today and the future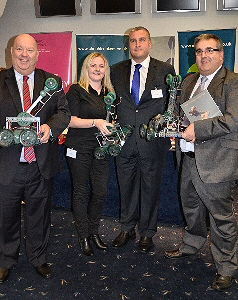 MORE than 250 head teachers, principals, careers education and business leaders from across the Liverpool City Region attended on 2 October 2013 a Skills for Growth for Schools Conference, at Aintree Racecourse.

Throughout the day, attendees were updated on the job opportunities available to young people across the Liverpool City Region as well as highlighting their role in helping young people to fulfil their career potential.

Representatives from a range of employers delivered presentations on their requirements, both now and in the future, including Getrag Ford, Jaguar Land Rover, Peel Ports, Crowne Plaza and Merseytravel.

Mayor Joe Anderson opened the conference on behalf of the City Region Cabinet.

He also announced that there will be a major careers and Skills Show at the International Festival of Business, which is taking place across the Region from June next year. More than 6,000 secondary school pupils will be invited to take part in the Skills Show, where they can get a hands on experience of the future jobs and careers available in the region.

Mayor Joe Anderson said:- "I'm delighted that so many people have attended our Skills for Growth for Schools conference, which demonstrates the commitment of everyone involved in educating and developing our young people and preparing them for their future careers. I am pleased to announce today the Skills Show at next year's International Festival for Business. As the world's business community visits our region to explore trade and growth opportunities, this provides a fantastic platform for our young people to explore future career options. We don't want to just ask them what they want to be; we want to give them a taste of everything they can be!"

This event also launched the Advanced Manufacturing Skills for Growth Agreement. This agreement is part of a series of ten documents which aim to identify the current and future skills needs of key business sectors within the City Region.

The Advanced Manufacturing Skills for Growth Agreement is endorsed by major manufacturers across City Region and includes a range of actions to raise the profile and understanding of manufacturing as an aspirational career choice for young people.

Other agreements in the series include Visitor Economy, Superport, Life Sciences, Financial and Professional Services.

The event was organised by the Liverpool City Region Employment and Skills Board and due to its success, further events are now being planned.
4See Group choose EssentialSkillz as E-Learning partner
MARKET leading Health, Safety and Environmental consultancy, 4See Group have chosen EssentialSkillz as their partner to roll out E-Learning.

Towcester-based 4See Group will sell the EssentialSkillz library of online Health and Safety training courses through their team and via their web site. Using the unique functionality available through the EssentialSkillz system, 4See will also offer a service of bespoke training to fit each customer's requirements.

4See Group, highly regarded for their high levels of service by well qualified staff, searched the market for a leading company that shared their philosophy of dedication to customer service.

As a specialist E-Learning company, EssentialSkillz have in depth experience in producing interactive online training courses and have developed a class leading Learning Management System (LMS). The EssentialSkillz management team have combined experience of over 40 years in the E-Learning industry that is reflected in their impressive client list.

Mike Walker, Group Managing Director of 4See Group, said:- "Partnering with another business needs careful consideration. When choosing a partner for E-Learning, we looked at some key criteria including the quality of the courses and the functionality of the LMS. What was most important to us was the people we would be working with and the reputation of the organisation. EssentialSkillz stood out as a company that had the same core value as ours - the customer always comes first."

Mike Walker added:- "We see E-Learning as a vital development in training and this partnership will enable 4See to provide a fully blended training solution of online and face to face training."

Julian Roberts, Managing Director of EssentialSkillz, said:- "We are proud to have been chosen by 4See as their partner. Working with a company held in such high regard in the industry reflects well on our brand and we look forward to a very successful partnership."