ID FRAUD - A GENERATION GAME
WE'RE far more likely to protect ourselves and our partners from the risk of ID fraud than our parents, grandparents or even our children, according to new independent research. As part of an annual awareness campaign, called:- 'Don't let it be you', head of households are being urged to be aware of the impact of personal identity fraud, on the wider family, as National Identity Fraud Prevention Month started on 1 October 2013.

The initiative, set up by a taskforce of organisations from the public and private sector, is embarking on a month-long drive to help combat identity fraud in the UK. Supporting partners include:- Action Fraud, CIFAS, Equifax, Norton by Symantec, Get Safe Online and Fellowes.
The new research sought to find out how aware a total family unit is of the ID fraud risks that might affect it. While there's no doubt that the risks for children and teenagers of cybercrime are well known, what seems less of a focus for families is the risk of ID fraud to the whole family; the older generations; parents and grandparents.

Perhaps not surprisingly, the research reveals that 68% of adults will actively take steps to protect their spouse or partner from ID fraud, making sure personal information about them both online or in paper form is kept safe. However, nearly two thirds would not do the same for their parents and only 25% will look after their grandparents in this way. 49% will take steps to protect their children by making sure documents containing important family information are kept safe or destroyed securely.

ID Fraud is when a criminal takes someone's personal details and uses them to obtain credit or make a purchase fraudulently.
The impact can be immediate financial loss and a negative credit rating with it sometimes taking many months to resolve the situation. And that's only after the fraud has been detected which, for some groups of society, such as the older generations, may not occur for some time.

The impact of identity fraud can also extend to other members of a family if they have joint finances and are living at the same address. It can therefore have a devastating impact on both the victim and their wider family.

TV presenter Jenny Powell is supporting the campaign. She has been a victim of identity fraud twice in recent years and is now much more aware of the risks, both to her and her wider family.

Jenny said:- "Both my business and personal accounts were accessed in 2 separate attacks by fraudsters who took £4,000 then £6,000 and I have no idea how they did this. I'm not very computer-friendly so I don't bank online and like many busy working mums, I'm not great at checking or filing my bank statements. Before this happened, I would leave my bank statements lying around and I wouldn't have paid too much attention to my identity information or confidential details that could put myself or other members of my family at risk. I only found out that my bank accounts had been hacked because on each occasion the bank spotted suspicious behaviour on the account and called me. If they hadn't, I would have had no idea until I went to draw out the money and it was gone. Everyone needs to protect their personal information as the consequences can be devastating. As parents we've all got to be smarter about protecting important family information and better at mitigating the risk of ID fraud. People should be extra careful who they share their details will, online, offline and in person. There are some simple steps that everyone can take, like installing online security software, protecting mobile devices with passwords which are changed regularly and shredding documents which contain sensitive information before throwing them away."

Neil Munroe, External Affairs Director of Equifax and a spokesperson for the campaign, explains the risks further:- "Every adult member of a family is at risk from ID Fraud. It's important that head of households take action to protect their wider family, not just themselves, but their partner or spouse, adult children and parents and grandparents too. And taking precautions against personal identity fraud shouldn't just focus on those living in your house right now. Head of households need to think carefully about who in their family still uses the 'home' address. For example, young adults who may have just moved out to go to work or university, siblings sharing a property and parents and even grandparents who used to live there or have stayed there for any period of time and still use the address as their main residence."

Credit information for family members with shared financial agreements will be linked by lenders when looking at new credit applications. If one member of a family has been victim to identity fraud and their credit history has been affected as a result, this could affect other members of the family too if they already have joint financial agreements.

Young adults are particularly at risk from ID fraudsters. The 18 to 24 years age group is more likely to live in shared accommodation, like halls of residence, shared houses and flats with communal postal areas which are more vulnerable to opportunistic fraudsters.

Of the 18 to 24 year olds questioned by researchers, only 34% feel their personal information could be vulnerable to ID fraud when items of post get lost and only 41% worry about stolen identity documents. Yet, a whopping 62% of this group admit that they do not take any steps to protect themselves from identity fraud and fewer (43%) see online social sites as a vulnerability.

The research also shows that older generations are neglected by their wider family when it comes to protecting their personal identities despite the fact that those aged 45 and over are more conscious of the ways in which ID fraudsters can target victims. 36% of all those surveyed also admitted that they don't bother to implement basic security measures like shredding confidential documents containing family details.

Women are much more conscious than men when it comes to understanding the ways in which ID fraudsters can target victims and tend to look after members of the family, more so than men, when it comes to taking active steps to protect them.

People who want to know more about this issue can visiting an online resource 'Don't let it be you' which aims to raise awareness of the threat of the issue of personal identity fraud and to arm all consumers with advice, guidance and support to reduce the levels of attack.
When it comes to identity fraud, prevention is always key The online resource is packed with top tips for individuals to protect themselves such as:-

► Always check all financial statements against receipts.
► Continuously monitor credit status.
► Subscribe to an alerts service to indicate when a financial product is applied for in your name.
►Protect all your mobile devices with passwords and regularly change passwords often.
► Install online security software.
► Shred all document that contain sensitive information using a cross-cut shredder before throwing them away.
► Look into any mail that does not arrive when you are expecting it.
For more tips and advice on how to prevent identity fraud, plus keep up with campaign highlights and news, why not visit the campaigns website:- dontletitbeyou.com?

Southport man able to ski again after pioneering radiotherapy treatment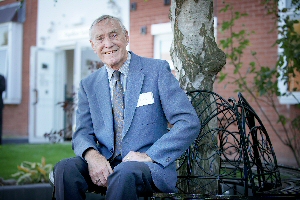 DON Taylor (82) used to be a professional skier and refused surgery after being diagnosed with rectal cancer because he didn't want to have a stoma, which would result in him being unable to ski. Don had a consultation with Professor Myint at The Clatterbridge Cancer Centre and was told he was suitable for the Papillon technique, a contact radiotherapy procedure developed for the treatment of rectal cancer. He underwent the procedure and is now fit and well and able to ski again. He goes to Austria every year to ski and after getting the all clear, he has now started taking his grandchildren alon. At 82 he's still very active and also loves to ice skate and swim regularly.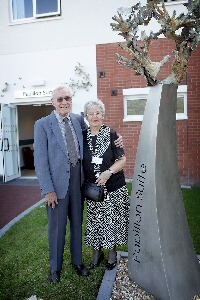 The Papillon technique was introduced to the UK in 1993 by Professor Arthur Sun Myint and 20 years on, The Clatterbridge Cancer Centre is the only place in the UK to offer the procedure. The treatment means patients have a better quality of life as they don't require major surgery and the procedure itself takes a matter of minutes. The number of patients undergoing the procedure has also risen by 300 per cent as Professor Myint and his team continue to raise awareness of the benefits.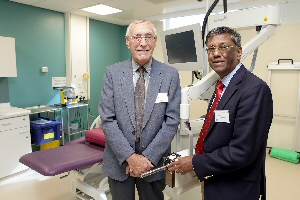 Papillon is recommended for early stage rectal cancer patients who are not fit enough for general anaesthesia. One of the primary benefits of the treatment is that it avoids patients needing to have surgery which can result in the need for either a temporary or permanent stoma.
Hall's Wing Restored After 60 Years
WORK on restoring a fire hit wing of Liverpool's Croxteth Hall has been completed; meaning the Hall can be fully used for the first time in more than 60 years.

The Queen Anne or South West wing of the Hall was hit by a blaze in December 1952. The fire gutted much of the wing's interior and it has remained out of bounds since then.

two of the rooms, next to the Old Dining Room, have been restored and brought back into public use in a £400,000 programme, funded through the Croxteth Estate Endowment Trust Fund.

The new function suite has been carefully designed to complement the existing Hall room. It involved major structural work, plastering, the installation of wood panelling, new windows and lighting along with a major decoration scheme and the provision of additional function facilities. The work also included a new entrance Hall, toilets and cloakroom area.

The Hall's Library and Old Dining Room along with the restored rooms will be used for weddings, conferences and other functions. There have been several bookings already for events using the restored wing.

It is estimated that at least £140,000 a year will be raised through the additional facilities at the Hall.

Joe Anderson, the Mayor of Liverpool, said:- "Not only are we bringing a historic building back into full use we will be generating much-needed income for the city. This restoration programme will pay off many times over especially as it was paid for out of an endowment fund, meaning it did not add anything extra to our budget. It is a great example of how we are investing to earn. Croxteth Hall is a major asset for Liverpool and this work opens it up to an even wider audience."

Councillor Peter Mitchell, Mayoral lead on parks and open spaces, said:- "Croxteth Hall is a real jewel in Liverpool's heritage. The Queen Anne wing is generally regarded as the most interesting part of the building but it has never been fully open to the public so it is great that they will finally be able to access it 60 years after it was badly damaged. The only sad part about this situation is that the former chef at the Hall, Raymond Lempereur who raised the alarm about the fire, died before he could see the work completed although he was able to see it start."

Croxteth Hall is a Grade II listed building and the former home of the Earls of Sefton. The Queen Anne wing dates from the early eighteenth century.
Work on its restoration was carried out by Nobles Construction Ltd.
NEXT OF KIN APPEAL - CLIVE WAUGH
THE Sefton Coroner's Office are now appealing for the public's help in tracing the next of kin of a Southport man who died recently. Clive Waugh died in his flat on Scarisbrick Street, Southport on Saturday, 28 September 2013. His death is not being treated as suspicious. Mr Waugh was 68 years old and had, until recently, been employed as a cleaner in Southport. Mr Waugh's family, or anyone who knows them, are asked to call the Sefton Coroner's Office on:- 0151 777 3480.