'100 Acts of Minor Dissent' - Southport Comedy Festival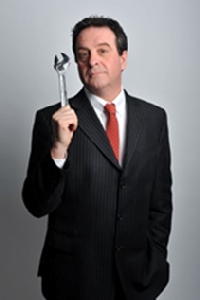 MARK Thomas will be bringing his Fringe total sell out show called:- '100 Acts of Minor Dissent' to the Southport Comedy Festival, at the local landmark hotel Ramada, on Wednesday, 23 October 2013 after performing the show at the Playhouse Theatre in Liverpool, on Tuesday, 23 October 2013. Over the decades, Mark Thomas has poked his nose into enough things to cause a politician to resign, arms deals to collapse, reform inheritance tax law, force the odd multinational to clean up its act a little and accidentally become Guinness World Record holder for 'Political Protest'.

Following his critically acclaimed, award-winning and deeply personal theatre show Bravo Figaro, Mark is back to doing what he does best; mischief. On the 13 May 2013, Mark set himself the task of committing 100 Acts of Minor Dissent in the space of a year and, on the stroke of midnight 13 May 2014, the task will end. The show is his catalogue of those acts from the smallest action to the grandest confrontations, and just sold out its entire month's run at this year's Edinburgh Fringe. The results are hilarious, subversive, mainly legal, occasionally inspiring and, most importantly, soon to be seen in a theatre near you.

In 2010, Mark walked the entire length of the Israeli wall in the West Bank and his subsequent 2011 show, Extreme Rambling - Walking the Wall, went on to tour nationwide from the National Theatre to the North Western Reform Synagogue and was named the Telegraph's Show of the Year 2011. His last Edinburgh show, Bravo Figaro, was his first ever theatre show; a moving account about his father which was originally commissioned by the Royal Opera House and won Mark a Scotsman Fringe First, a Herald Angel and was broadcast on Radio 4 earlier this year.

With 6 series on Channel 4, numerous awards, TV documentaries, three books, a published manifesto, a 5th series of Manifesto commissioned for Radio 4, a Sony Award for his show My Life in Serious Organised Crime, a magazine column that caused a diplomatic incident, the occasional arrest (mainly other peoples, though not exclusively), court cases, giving evidence to Parliamentary Select Committees, stopping multinational infrastructure deals and no small amount of messing about, it's no wonder that Mark is the UK's favourite political comedian.


To book tickets for his act in Liverpool you can call:- 0151 7094776 or visit their website.

Also for tickets to see him live at the Southport Comedy Festival by calling them on:- 0870 7871866 or visiting their visiting their website.
Work to cut fuel bills
YOUNG people in Liverpool are being given the opportunity of paid work experience and training; while helping vulnerable and disadvantaged residents cut their energy bills. The City Council is providing twelve 16 to 18 year olds who are not in education, employment or training (NEETs) the chance to work for 6 months with the Healthy Homes team. Trainees will receive initial training in customer care skills, the safe installation of energy efficient light bulbs and energy monitors and the use of thermal imaging cameras. They will also be trained in giving advice to residents on how they can save money by reducing their energy use or where home improvements may help. It is intended that training will continue throughout the work experience with opportunities for basic English and maths to be improved, City and Guilds Energy Awareness Training undertaken and essential office based skills developed, leading to a NVQ Level 1 in Customer Care and an Employability Award Councillor Tim Moore, cabinet member for transport and climate change, said:- "This is a great opportunity for young people. They will be gaining work experience in a growth area for private sector employment and learning many of the skills that employers are looking for. At the same time they will be helping to cut fuel poverty, which is a very big issue in the city. The work they will be involved in will help residents cut their fuel bills by making small changes in their homes. It is a programme that will benefit young people, disadvantaged residents and the environment." For more information or to register to attend an Open Day on 9 October 2013, you should email them, with your name, date of birth, address and telephone number by Friday, 4 October 2013.

INTRODUCING THE EVERYDAY HEROES WORKING IN MERSEYSIDE'S AMBULANCE SERVICE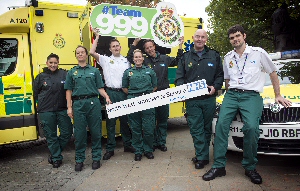 THE North West Ambulance Service NHS Trust (NWAS) has launched:- #Team999; a new initiative designed to educate people in Merseyside about what can happen following an emergency call to the ambulance service. Through this campaign, the public will 'meet' different representatives of the service and find out how the individuals make sure each and every patient receives the right care.
The initiative aims to educate the public about the changing role of the ambulance service and in particular, how it no longer simply sends ambulances to all incidents or takes every patient to the emergency department. Last year alone, 15% of patients seen by NWAS paramedics were treated at home without the need to go to hospital. The #Team999 campaign will help the public better understand what to expect when they call 999, by introducing them to all of the team members they could come into contact with.

Bob Williams, the acting chief executive of NWAS, said:- "We want to break down any myths that exist about the outcome of calling 999 – predominantly that it doesn't always mean a visit from an ambulance crew or a trip to hospital. Our aim is to provide every patient with the right care, in the right place. Sometimes this will be an ambulance and a visit to the emergency department, but not always. Around two thirds of our 999 calls are for non-life-threatening incidents. Because of this, we have changed the way we work to make sure patients get the most appropriate care for their specific needs and, most importantly, keep emergency ambulances free for those who need them most."

The 7 representative team members making up #Team999 are an emergency medical technician (EMT) and paramedic, rapid response vehicle paramedic, emergency medical dispatcher, resource dispatcher, hazardous area response team (HART) paramedic and urgent care desk specialist paramedic. Over the next 6 months, the representatives of #Team999 will be introduced one by one to enable the public to get a greater understanding of their roles and the part they play within NWAS and patients' lives. The representatives will each take part in activities and events including live Twitter Q&A sessions, roadshows and short films – giving the public a glimpse into the day to day responsibilities of the full team.

Bob continued:- "#Team999 really brings to life all of the elements that make up NWAS. It's the first time the public will get the chance to 'meet' the individual team representatives and get a clear understanding of what happens in the emergency ambulance service. We hope the public in Merseyside enjoy getting to know #Team999 and we look forward to receiving their feedback about the campaign over the coming months."
"Affordable rural housing is essential." says Countryside Alliance
THE Countryside Alliance welcomes news that the Government, since 1 October 2013, has taken steps will be taken to curb abuse of the village green system by those opposed to building projects. Village green status was created to protect land that is regularly used for recreation from development, but loopholes in the system have increasingly been exploited by campaigners trying to stop local development. While legitimate applications will remain well-protected, changes to the system will stop spurious village green claims, Defra has said. Countryside Alliance executive chairman Barney White-Spunner said:- "Earlier this year we heard, from the National Housing Federation, that the number of people aged between 30 to 44 who live in the countryside has dropped by nearly 9% in the past decade, proof that we need more affordable homes in rural areas. A lack of affordable homes creates a vicious cycle which if not broken leads to the break-up of communities, a loss of services and results in villages that have no long term future. We need sensible development of housing and businesses to meet the need in the countryside."
The rural population has grown by 800,000 people in the last decade, but figures compiled by the Countryside Alliance in 2011 demonstrated that there is an 80% shortfall in the delivery of affordable housing when compared against identified need.