LJMU to seek candidates for study on 'what makes a successful entrepreneur' at FSB's Small Business Summit
LIVERPOOL John Moores University (LJMU) is to target delegates at the 1st ever Small Business Summit held by the Federation of Small Businesses to probe what makes a successful entrepreneur; and find out why some businesses succeed and other fail to thrive.

Academic Catherine Groves, a Senior Lecturer at the university's Business School, will use psychometric tools to look at the personality and motivation of 400 entrepreneurs in 2 groups; those who are just setting up businesses and have been trading for less than 12 months and those who have been trading successfully for 3 years or more and whose companies are VAT registered.

She will seek out delegates to take part in the online tests during the summit, which is to take place in LJMU's John Lennon Art and Design Building, Duckinfield Street, Liverpool, on Wednesday, 23 October 2013, from 8.30am to 5.30pm.

Catherine said:- "Small businesses are the lifeblood of the economy so anything we can do to help them be more successful is a good thing. This study is looking at the personal factors that affect individual entrepreneurs in order to identify the sort of support that would be most useful to them. It could be used by education providers such as LJMU for students and graduates, over and above the academic curriculum, and by business support organisations to provide more personalised support."

All participants in the study will be assured of their anonymity and, on completion, will receive their own unique psychometric profile to their email account. This will provide insight into their personality and motivational preferences in a work context and may give useful insight into the way that they work, helping to better manage workload and employees.

Participating entrepreneurs will be offered two psychometric tests which are commercially available to business psychologists and are widely used by large and small businesses in recruitment and coaching for executive positions. Each test will be securely administered using a unique username and password that will be emailed to participants. Each test will take between 20 and 25 minutes to complete online. For more information and to take part in the LJMU study, interested entrepreneurs should email:- C.J.Groves@ljmu.ac.uk. Places are limited, but both FSB members and non-members are welcome. Registration is available online.

The FSB 's FREE event, which includes lunch, will feature speakers such as North West Business Insider Editor Chris Maguire and the FSB's National Chairman John Allan, and a 'question time' session where leading experts will help guide entrepreneurs towards solutions to real business problems.

Hosted by Mike Southon, author of the best selling:- 'The Beermat Entrepreneur,' there will also be a choice of workshops and seminars under the headings of 'Sales and Marketing', 'Finance and Funding' and 'Business Development.'

The summit has been designed to bring the issues facing small businesses into the spotlight and help entrepreneurs benefit from the advice and guidance provided by numerous experts, including:-

► Dan Atkinson, former Economics Editor of the Mail on Sunday and co-author of 'The Gods that failed', on the 'question time' panel - alongside Liverpool Lord Mayor Gary Millar and the FSB's Trade and Industry Policy Chairman Clive Davenport;

► BBC News Newsreader Maxine Mawhinney and the FSB's Head of Media Liesl Smith, who will hold a PR workshop on understanding and taking advantage of the news agenda;

► Liverpool Vision Chief Executive Max Steinberg, who will speak about the International Festival for Business 2014.

► Dave Parrish, author of 'T-Shirts and Suits', who will chair an export panel;

► Olivia Stefanino (author of 'Be Your Own Guru') and entrepreneur Noel Guilford unlocking the secrets of business growth;

► Funding Store's Nick Montague on how to be successful with banks and investors;

► Andy Fewtrell of the Up and Under Group with an inspiring seminar on how to innovate;

► Representatives of the Government's department of Business, Innovation and Skills discussing business support and more;

► LJMU's Terry Dray on graduate skills and the university's World of Work programme;

The summit is being held as part of the legacy of Accelerate 2013 in Liverpool and will take place again during the International Festival for Business 2014 alongside the FSB's National Council and Executive Board meetings.

Elaine Moore, Chairman of FSB Merseyside, West Cheshire and Wigan, said:- "This research will provide valuable information to help schools, colleges and universities tailor their courses to produce the next generation of entrepreneurs, but it will also inform what the FSB does as a business support organisation – not just in terms of member services but also in helping to direct our activities as a lobbyist, campaigning for the removal of barriers to small business growth. I am delighted that this is going to be an important element of our inaugural Small Business Summit."

Escape to Neverland with Liverpool Empire Youth Ballet's debut production of Peter Pan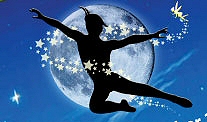 THE latest project from the Liverpool Empire's Creative Learning Department flies onto the stage next week in a full scale dance production of Peter Pan.

The project is choreographed by Liverpool Empire's newest member of the Creative Learning department, Lauren Taylor. A Laban trained dancer and choreographer, and fully qualified ballet teacher, Lauren said:- "As the Stage Experience productions have been so successful in the past, I wanted to create something of the same calibre solely for dance. It's a unique opportunity for enthusiastic dancers to gain professional performance experience and they get to experience what real professional auditions and rehearsals feel like, as well as performing on stage."

The Empire Performing Arts Group provide opportunities for young people to work with professionals in a professional environment, preparing them for the world of work within the theatre industry and many of those involved go on to pursue professional careers in performing arts. Some of those who are involved in the Youth Theatre Group have secured places at some of the best drama schools in the country.

Rehearsals are well underway for next week's performances. The dancers have learnt about abstract movement and mime as well as ballet technique. The young performers have enjoyed creative workshops that encourage them to develop their own material; a lot of which has been worked into the production.

Liverpool Empire's Youth Ballet production of Peter Pan is suitable for all the family and promises to be easy to follow. Lauren said:- "It's the perfect introduction to ballet for all ages. For a lot of people watching, it will be their first experience of ballet so we wanted to make sure it was enjoyable for everyone."

Natalie Flynn, Creative Learning Manager at the Empire, said:- "We're absolutely delighted to be presenting this unique interpretation of Peter Pan through the Empire's Creative Learning department. It's another exciting development for the department which continues to go from strength to strength and will once again provide a fantastic platform for the talented young performers from the region."

Peter Pan is a magical tale of swashbuckling adventure where Wendy and her brothers help Peter Pan, Tinkerbelle and the lost boys fight against Captain Hook in a land where children are heroes!

Performance Details:-

► Wednesday, 9 October 2013, 7pm.

► Thursday, 10 October 2013, 7pm.

The theatre and promoters are stressing that this is an armature production!

Ticket costs for the shows are as follows:- £17 and with an ATG Theatre Card you receive £2 off!!!

To book visit the Liverpool Empire Box Office, call:- 0844 871 3017 or buy online.
Limehouse Lizzy 2013 tour
READERS take note!!! Limehouse Lizzy are officially one of the hardest working bands in the UK. They were accredited for their live shows by the Performing Rights Society last year, and received their certificate from PRS Chairman (and respected songwriter) Guy Fletcher OBE.

Renowned for an action-packed pyrothechnic-fuelled explosion of a show, Limehouse Lizzy continue to keep the spirit of Celtic rock icon Philip Lynott and his band Thin Lizzy alive, well and dominating stages worldwide. The band have also added a tribute into their show to ex-Thin Lizzy guitarist (and world renowned solo artist) Gary Moore who sadly passed away last year.
Attention to detail, playful audience interaction and that all important X-factor that leaves you with the feeling of witnessing the real thing have led to their performance being described as "beyond tribute", by both audience and critics alike.

Following the enormous success of their ˜Live & Dangerous" and ˜Dedication" tours, the band embarked upon their "Into the Limelight" tour to tie in with their appearance on an episode of BBC2's 'Arena' documentary series of the same name. The tour travelled as far as a headline slot at a Rock festival in Greece, and the Virgin Atlantic Music festival in Barbados. The band appeared alongside diverse world music acts, and played a Thin Lizzy set representing the celtic rock genre.

In 2013 the band's European tour continues to explore and celebrate the artistic and musical legacy of the hard-living, hard-rocking, yet at times surprisingly tender and romantic artist that was Philip Lynott. The band have just completed a mammoth jaunt across mainland Europe this summer, and have travelled through seven countries whilst breaking new territories with their first shows in Denmark and the Czech Republic.

Expect more of the Celtic influenced tracks like:- "Whisky in the Jar" and "Black Rose", amongst the usual razzamatazz and classic tracks:- "The Boys are Back in Town", "Sarah" and many others we've come to expect from one of the most highly rated acts on the circuit.

Limehouse Lizzy play the Limehouse Lizzy at Eric's, Mathew Street, Liverpool on the 31 October 2013. Call the venue box office on:- 0151 236 9994 for further details, or tickets are also available online.