SCHOOL SWEETHEARTS LAUNCH THIRD STORE IN BIRKENHEAD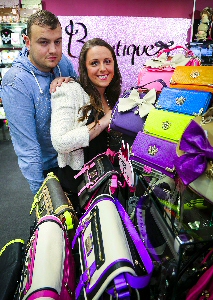 SCHOOL sweethearts Alice Hartley and David Halliday are opening their 3rd ladies accessories store in just over a year at a Birkenhead shopping centre.

Alice, 25, and David, 27, are bucking the economic trend after expanding their business to Pyramids Shopping Centre after only launching their company in July last year.

And the young Blackpool entrepreneurs are delighted to have chosen Birkenhead for their latest new venture which opened on Saturday, 21 September 2013.

Derek Millar, Commercial Director for Pyramids Shopping Centre, said:- "We have had a surge of new businesses open with us over the last few weeks; 6 in just a matter of weeks; and Bowtique is a fantastic addition to the indoor part of Pyramids Shopping Centre. Alice and David's shop reflects their young and dynamic set up. It is really colourful, eye catching and full of good quality and attractive stock at reasonable prices which people will be able to treat themselves to. Especially as we start to look forward to the run up to the festive season."

David says they decided Pyramids Shopping Centre was the perfect venue for their 3rd store.

He said:- "Alice is my fiancée and we have been together for more than 10 years having met at school. We launched Bowtique, a ladies fashion accessory business, in July last year with our 1st shop in Preston. We followed that up with the second shop in St Helens earlier this year and now Birkenhead. It means we have been exceptionally busy and not getting a lot of sleep but we are both delighted with the way the business is going. The decision to open in Birkenhead was a lot easier after we visited the Pyramids Shopping Centre. We looked at several shopping centres to be perfectly honest but Pyramids was by far the busiest and the centre management were more professional and really made us feel welcome. And the shoppers were so friendly and have also made us feel so welcome. We wanted to open a third store close to St Helens as we are so pleased with the way the business has been received in the region."

Alice says the business concentrates on ladies fashion accessories such as handbags, purses and costume jewellery.

She said:- "For most people money is tight so we try to make our products affordable. We don't sell quality products cheaply; but we do feel affordability is vital. We are delighted with the way the business is developing although it really is hard work. And now we have three outlets it means we have more bargaining power with suppliers and that means, as we can buy in bulk, we can reduce our prices too."

And the new Bowtique shop is proving good news for the local Birkenhead economy too.

David said:- "The Pyramids shop will be managed by one of our current managers who is moving to Birkenhead. We have opened the new store using current staff but we will now be taking on an additional 4 or 5 new full time members of staff. And we fitted out our new Pyramids Shopping Centre outlet using local trades people, something we feel was important. All the glass fittings were sourced from St Helens while the joiners, carpet fitters and painter and decorators were local Birkenhead people. We believe Bowtique will be an asset to Birkenhead and Pyramids Shopping Centre and we look forward to a long and busy relationship with the town."

For more information about Pyramids Shopping Centre, go to:- grangeandpyramids.co.uk.

Mayor deal to help energise economy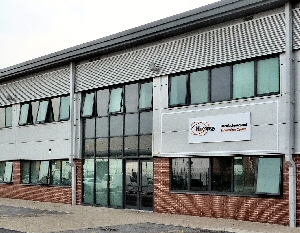 A cutting edge firm which is leading the way in the conversion of waste to energy is establishing its Manufacturing and Innovation Centre in Liverpool, creating 160 new jobs; thanks to a deal with the Mayor.

H2 Energy Ltd is one of only a few firms in the country specialising in 'anaerobic digestion' or AD – a bio-refining system which turns food waste and farm waste into energy.
Their bio-refineries are located where the waste is generated, on site; they provide companies with a green and cost-effective means of disposing of their waste, using it to power their business, and thus converting waste into an asset.

Initially a fledgling company, H2 Energy was looking for its 1st Operations and Commercial home, and now, thanks to support from the Mayor, they will be located in Liverpool. Their base is at stunning facilities in Wellington Business Park in North Liverpool. All design, research and development, manufacture, field support and commercial activities will be located there.

Around 160 jobs will be created in Liverpool over the next three years (with an initial 60 by 2014) - the majority of them local - and will tie in to the Liverpool In Work programme, which helps get long-term unemployed people into work.

Employment opportunities will include specialist engineering jobs, apprenticeships and a range of other business support roles.

Mayor of Liverpool, Joe Anderson, said:- "This is great news for Liverpool. We are always looking to work with ambitious, innovative companies who can bring new opportunities for local people, so I'm delighted H2 Energy have decided to set up base here. It will create jobs and apprenticeships and help kick-start a new, cutting-edge industry here. And attracting one of the country's leading firms in anaerobic digestion will help establish Liverpool as a City which champions the sustainable production of energy."

The Company provides a unique approach to food manufacturers, distributors or retailers (food companies; distribution companies; supermarket chains; shopping malls; airports etc).
Their food waste can be fully and sustainably converted into energy, on site, where the waste is generated.

Whilst bio-refineries can be sold directly to clients, the most popular approach is where H2 Energy partners with the client. H2 Energy funds, designs, builds and operates the bio-refineries, on the client's site. The client provides the waste and land on which to place the unit; in return H2 Energy provides power and heat back to the client (or the grid). The client can thus 'hedge' their waste disposal expenses and future energy supply costs, at no up-front cost.

There are only a handful of companies in the UK offering AD technology into the food industry, and the advanced systems, technology and commercial approaches offered by H2 Energy makes it a market leader.

The company has got off to a great start, and is already on-track to exceed its 1st year target for orders of its hi-tech units.

Kevin Bush, Chairman at H2 Energy, said:- "We are at an extremely exciting stage in our development, with significant market demand for our technology. Liverpool is a key partner for us in this, providing us with our new home, along with all the support and highly-skilled staff required for success."

Max Steinberg, CEO of Liverpool Vision said:- "This is a significant investment in Liverpool by an innovative company and underlines the attraction of Liverpool as a business destination. We have an ambitious and long term vision and aspiration for North Liverpool because it offers an economic opportunity of national significance, especially in Low Carbon, and is key to the growth and prosperity of our city. This investment by H2 Energy represents both a huge vote of confidence in Liverpool and an acknowledgement that we have the right people with the right skills for the business to prosper."

For more information on H2 Energy, visit:- h2energy.co, or contact them at:- 0151 230 1167.