GUIDING THE WAY IN THE FIGHT AGAINST CRIME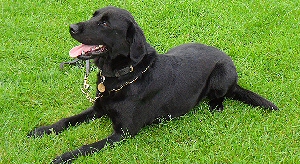 MERSEYSIDE Police have welcomed 2 new recruits to the force's dog section this year (2013). Police dogs Gemma and Champ, both Labrador Retriever crosses, were donated to the force by Guide Dogs Liverpool, who noticed their potential to be Police dogs when undertaking training at their centre.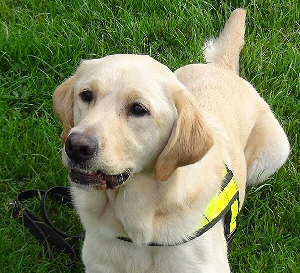 Both dogs underwent extensive training at the force's specialist dog section and are now working as proactive rummage dogs, trained to find drugs, firearms and cash under the guidance of their handlers Constable Si Coley and Constable Steve Martin.
Dog Section Inspector, Mark Fallows said:- "Both dogs have been a real asset to the department and in a few short weeks, both have already made key drugs finds. It's great to know that our partners in other agencies, such as Guide Dogs Liverpool, are able to spot qualities in a dog, that while aren't suited in a guide dog, will help to make a great Police dog. We work closely with Guide Dogs Liverpool and are delighted that the dogs they have provided to us have passed their training and are now helping to us to keep the streets of Merseyside safe."

Penny Williams Engagement Officer from Guide Dogs Liverpool said:- "Here at Guide Dogs Liverpool, we are delighted to see Gemma and Champ flourishing in their Police dog careers. A great amount of time and energy had been invested in the early training of these two wonderful dogs and we are so pleased that they are now contributing to the community in such a positive way."
Neighbourhood team on track to tackle hate crime
TOGETHER we can stop hate crime. That's the message from BTP officers in Liverpool, hosted a special event at Lime Street station on Monday, 14 October 2013. Officers from the Neighbourhood Policing Teams joined forces with Daisy UK (a local charity aiming to help those with a disability become more active in their communities) and Stop Hate (a national charity providing support for victims of hate crime) to raise awareness of the effects of, and penalties for, hate crime. PC Wendy Simpson, who has organised the event, said:- "Thankfully, hate crime is relatively rare on the rail network in Merseyside, but, when it does occur, it can have a significant effect on the victim who will often have been targeted because of something which makes them different from the offender. Hate crime takes many forms and victims are often singled out because of their race, skin colour, religion, sexuality or disability. Whatever the reason the underlying cause is the same, ignorance. As a Police Force we take hate crime extremely seriously and will do everything in our power to bring offenders to justice. But this means there are still offences taking place and still victims suffering at the hands of others. This event on Monday is aimed at removing some of the ignorance around hate crime and teaching people about the consequences of their actions. Through Policing we can continue to detect and deter hate crimes, but through education we can start to eradicate them."

Obituary:- "Vale Alec Macdonald - Southport's last Shedmaster"
Written by Kenn Pearce
ALEXANDER (Alec) Macdonald was an 'old time' railwaymen for whom loyalty and a true passion for steam and railways resulted in 46 years' service, including becoming Southport motive power depot's final shedmaster.

Alec joined the LMS at Liverpool's Bank Hall shed on 5 November 1946, as a 16 year old apprentice fitter. Little did he realise it was the start of a journey that would lead to senior roles at sheds in North Wales, Lancashire and Merseyside, before witnessing steam's farewell at Southport and Speke Junction sheds.

"There was no sense in the 1950s that steam was on its way out; I viewed it as a job for life and that steam would continue (forever). In the '60s, however, it was a different thing." he recalled in a 2011 interview.

As an apprentice fitter Alec learned to change gauge glasses, renew piston gland packing and renew brake blocks.

Finishing his apprenticeship in 1951, Bank Hall kept him on when many staff were 'let go'. After an engine driver's strike in 1955, Alec was asked if he'd do a spell at Walton-on-the-Hill shed. Some shed staff rejected such openings but Alec saw a golden opportunity to expand his knowledge and skills. He thoroughly enjoyed the experience and found a mentor in the running shed foreman, who told Alec he could do better if he got himself a transfer.

Alec also spent time on loan at Wigan 'C' shed in the early 1950s, filling in during staff shortages. "It was an interesting shed, situated on a slope and you had to be careful with locos to ensure their brakes were on or they might run away." he remembered.

Wigan 'C' had a batch of ex-Lancashire & Yorkshire Railway 0-8-0s and Alec was responsible for condemning the last one there:- "I heard a funny noise when it was coming on shed one day and upon inspection it was found the crank webs had shifted. All the expense of going through the works…it was eventually despatched to Horwich for scrapping."

Later, when Walton's chargehand fitter was about to retire, Alec saw a chance for further advancement and successfully applied for the position. Following this, he returned to Bank Hall shed for three months as assistant mechanical foreman.

In 1959, Alec applied for and won the Rhyl shedmaster's job taking up the North Wales appointment from Easter; he then deputised at Bangor until January 1960, before filling a temporary vacancy at Lees (Oldham) for 8 months, being in charge of the breakdown train.

Eventually Southport's shedmaster position became vacant and in June 1960 Alec secured the job. Beforehand British Railways sent him to Bolton shed to gain further experience.

"I didn't feel out of my depth due to the past experiences I'd had." he recalled when interviewed in 2011.

By early 1962, some of Bank Hall shed's engines were being transferred to busier district sheds and Alec asked for the unique Stephenson-link motion Black 5 No.44767 (a 'very strong engine' he recalled from his time at Bank Hall where it was often used on Leeds trains). Although Alec was bluntly told he'd get what he was given, to his delight he found his favourite loco transferred to Southport.

By the mid-1960s steam was in decline across the North West and inevitably Southport, with an allocation of 12 locos, was closed on 6 June 1966. Alec was saddened by the closure, especially with many men 'worrying about the future as they became redundant. (Alec avoided this fate due to an agreement that the railways provide him 'a job for life' instead of compensation, following a workshop accident in his teens in which he largely lost three fingers).

Following Southport's closure, Alec's experience took him to Speke Junction where steam survived for another 23 months, then a lengthy term at Birkenhead Mollington Street as train crew supervisor and, later, at Liverpool Lime Street, where he retired in 1992. Asked in 2011 whether he'd any regrets, Alec had only one; that he hadn't saved a steam loco when they were being scrapped in the 1960s.

Alec was always on hand to display his trains and play a part in model railway exhibitions and for over 30 years was a supporter of the Woodvale Rally, organising and running the rally's famous 'railway tent'.

Alec Macdonald passed away on Wednesday, 10 July 2013, and is survived by his wife Margaret, children Fiona, Linden and Ewan and grandchildren Tabitha, Tallula, Miranda, Finn and Len. He will be greatly missed by family and friends who will remember a 'man of steam' whose passion for railways was unrivalled.