New store in Southport is offering the Australian look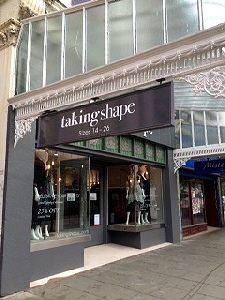 TAKING Shape is the brand new fashion retailer which comes to the UK high street with the motto 'Celebrate your Curves' to serve the women's plus-size clothing market and it has set up a shop in Southport!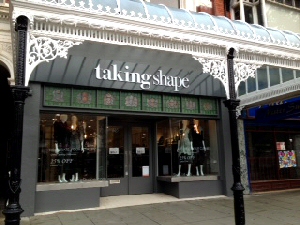 General plus size fashion quote from Alla:- "We're excited to have arrived on the UK high street and into such a strong plus-size fashion market. We believe that there is a great demand here for both our garments and commitment to providing a unique and caring shopping experience. Everything we do is about you, the customer, what makes you look good and what makes you feel great! We're more than just a retailer; our goal is for women to enter as customers and leave as friends!"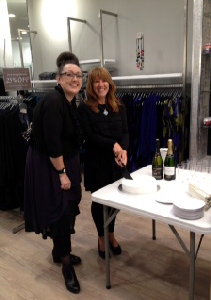 Taking Shape, an Australian based fashion retailer offer 'fuller figured fashion' launched 28 years ago and has now expanded to over 130 stores across Australian and New Zealand. But now they are arriving in the UK with a bang, opening over 30 stores in the next 6 months and with plans to open many more across British high streets over the next few years. The company is on target to create over 500 new high street retail jobs, bucking the trend of Britain's suffering shops.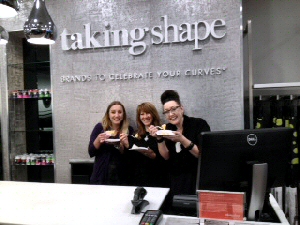 And the reason for this investment and growth? Simple; the massive opportunity presented by the British market place. According the UK Trade and Investment Board Britain's plus-sized clothing market has reached a value of £5.99billion up from £4.84billion in 2008. That represents growth of 21.4% whilst most of the retail sector has contracted or flat lined. And the Board go on to predict continued growth of over 21% over the next 5 years for plus sized fashion clothing shops.

Alla Buinowicz, Managing Director Taking Shape re the Southport arrival:- "We know the lovely ladies of Southport want to look good; great style never goes out of fashion so we expect our new Southport Taking Shape store will go from strength to strength despite other retailers closing down."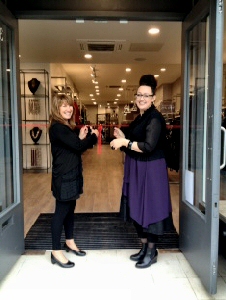 It's already proving incredibly busy in our new Southport store:- "We are offering 10 customers per day, a free makeover in store, Southport this weekend (hair, makeup, styling and pampering) with a professional photographer etc." Pop on into the shop and say Southport Reporter sent you in and that you want to find out more about the FREE makeover!

Life-saving Mersey Ferries Crewmen share their experience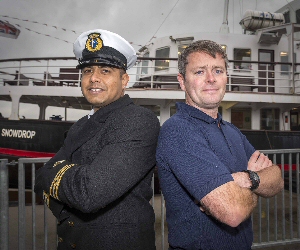 THE 2 Mersey Ferries crew men who saved the 3 year old girl who plunged into the river on Monday, 14 October 2013, have been speaking about their experiences. Captain's Mate, 38 year old Ricardo Ermocilla from Panama and living in Crosby and Chief Engineer Ste Murphy, 41, from Aigburth, rescued the toddler who fell from the deck of the Snowdrop after it had berthed at Seacombe just before 2.30pm.

Ricardo was on board the Snowdrop and Ste had just stepped off after finishing his shift. He was on the quayside when the incident happened. Ste said- "I was the 1st to see her from the quayside. I'd heard a couple of bangs and a splash and saw a woman looking down from the boat into the water screaming. My first thought was that she'd lost her bag, but then I heard somebody shout ''it's a baby''. I looked into the water and saw her with her arms and head back, just like you'd be taught in a swimming lesson. There's no doubt her padded coat was keeping her afloat."

Ricardo re-lives the moment he went into the water:- "People had begun to disembark when I heard the Captain say that somebody had gone into the water. I heard shouting and screaming. I went to the top deck but couldn't get near the side of the boat as there were too many people crowded around the side looking out. I rushed to the main deck, looked over and saw a little pink coat floating in the water. I shouted ''I'm going in'', took my shoes off and jumped into the water. It was instinct."

The 3 year old was partly hidden under the fender; the buffer between the ship and quayside. Added Ricardo:- "The 1st thing I saw when I grabbed her were big blue eyes looking up at me in shock. I remember saying "I've got you now". She started to cry which made me feel so much better as it meant she was breathing. By this point I'd begun to feel the water. It was so cold it was practically burning. All my muscles had frozen, I couldn't move and I felt so tired. I'd been following Ste's voice. He was directing me to the girl and telling me what to do once I'd got her. It was then I saw his hand, what I now call ''the hand of God'', sticking out from under the fender. He grabbed me, pulled me in, took the girl from me, lifted her up and put her on his chest."

Both are keen for other staff to share the credit. Ste, who's a dad of 2 said:- "It was a real team effort. This isn't just about me and Ric. Somebody was really looking down on us on that day too. It was so lucky that it was low tide as the The Mersey is one of the fastest tidal rivers in the world. It's also lucky that we were using the rear gangway as it made it easier for us to spot the girl. We'd been using the front one in the morning, but had changed on the request of the stage man who found the rear one easier to manoeuvre as he had a sore shoulder. It was also by sheer good fortune that she fell in the water and not onto the fender. When I think back to Monday my thoughts are still on what could have happened…"

Dad of 2 Ricardo still gets emotional thinking about the moment he grabbed the little girl:- "I can still see the baby's face and those big round blue eyes. I went home and hugged my kids. It doesn't matter whose child it was. We had to do something."

The mother of the 3 year old wants to express her gratitude to all the Merseytravel staff involved. Living in Warrington, she was on a day trip to Liverpool when the incident happened. She has asked not to be named. "We can't explain how grateful we are to the crew who saved our daughter's life. They went into the water without even thinking about it. It all happened so quickly. One minute she was in the Mersey, and the next she was being pulled out. The staff on the quayside couldn't do enough to help either. They were extremely efficient, wrapping her up and calling an ambulance immediately. All they wanted to do was help her. It was a horrific experience, but one that puts your faith in human nature."
GENESIS REVISITED SOLD OUT HAMMERSMITH SHOW TO BE RELEASED ON CD AND DVD TO COINCIDE WITH OCTOBER UK TOUR - UPDATE!!!
IT takes a legend to bring a myth back to life and this legend is back in Liverpool on Tuesday, 29 October 2013, at the Liverpool Philharmonic Hall; Merseyside; from 7:30pm. Steve Hackett will be holding the Liverpool stage of his "Genesis Revisited Part II" and it is not to be missed! A limited number of VIP upgrade packages that are still available. This offer is well worth taking up if you are a true fan!!! Trust us, as you will be extremely pleased with what you get with this upgrade! But if you are missing it, do not worry, as he is also bring out an amazing CD...

A unique treat for music fans worldwide, Steve Hackett's critically acclaimed live production 'Genesis Revisited' has so far triumphed in Europe, Japan and North America alike and is still going strong; on 10 May 2013, it celebrated its success at a sold out London's Hammersmith Apollo with an ecstatic audience. Genesis Revisited - Live at Hammersmith; a unique performance with guests including Nik Kershaw, John Wetton, Jakko Jakszyk, Steve Rothery and Amanda Lehmann - will be released on, 21 October 2013, through Inside Out/Universal Records. The 3CD+2DVD (with 5.1) box set coincides with the return of Hackett's Genesis Revisited Tour to the UK for a second round due to popular demand.

The pioneering guitarist comments:- "The 5.1 DVD with stereo CD out on 21 October 2013, including the whole show from Hammersmith Apollo is a feast for all the senses. I was blown away by the fantastic response to those May UK gigs. The autumn Genesis Revisited shows will include different Genesis material to before as well as all the big faves that bring the house down...See you all soon!"

Details of the DVD/CD set as follows:-

Steve Hackett – Genesis Revisited - Live At Hammersmith.
Release date:- 21 October 2013.
Catalogue Number:- 050664.

Also our readers should take note that next week we will be holding a competition for a copy of the 3 CD 2 DVD box set, that will be out on 21 October 2013... Full details in next weeks issue.